Jordan Canniff joins Washington Spirit – Baltimore Armour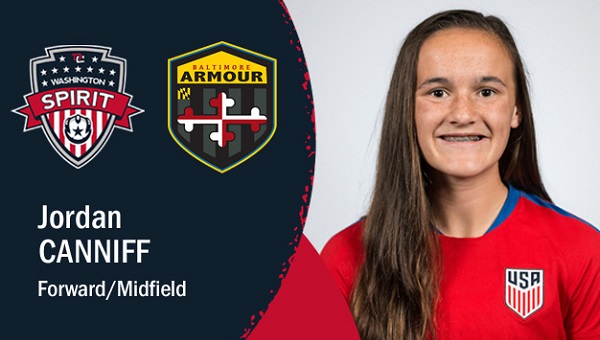 Boyds, MD (Via Washington Spirit) – U.S. U-17 Women's National Team player and Maryland native Jordan Canniff has joined the Washington Spirit – Baltimore Armour U.S. Soccer Girls' Development Academy program ahead of the inaugural 2017-2018 season.
Canniff, who turns 16 in July, has been a regular member of the U.S. U-17 Women's National Team since the age of 14. She earned three caps, including two starts, while helping the U.S. win the 2016 CONCACAF Women's U-17 Championship in Grenada, and scored a goal in the semifinals against Canada.
"We are extremely excited to have Jordan represent the Washington Spirit – Baltimore Armour Development Academy in our inaugural season," said Washington Spirit – Baltimore Armour Technical Director Denise Reddy. "Jordan's international experience will bring a wealth of knowledge and quality to our training environment. We look forward to playing a part in the development of her game and supporting her on this journey."
Canniff also represented her country at the 2016 FIFA U-17 Women's World Cup. She earned one start at the event, as the U.S. narrowly missed advancing to the knockout stage, finishing third in Group D with a win and a pair of one-goal losses against Ghana and Japan.
So far in 2017, Canniff has continued to represent the U.S. U-17 squad, most recently helping the team sweep its three opponents to win the Torneo Femminile Delle Nazioni in Italy. She scored a goal in the team's 2-0 win over England on April 28, the team's second match of the tournament.
A class of 2020 forward and midfielder, Canniff has spent the past several years playing in the Elite Clubs National League for Richmond United, and prior to that, played for Maryland United at the U-13 level. She is verbally committed to play college soccer for Penn State University.
Canniff is expected to play for the Washington Spirit – Baltimore Armour U-19 squad, coached by former professional player and National Women's Soccer League side Chicago Red Stars assistant coach Bonnie Young. Young, a Penn State alum, is no stranger to the elite youth level as well, having spent eight years as Director of Coaching for Illinois-based youth club Naperville Soccer Association.
The Washington Spirit will operate two U.S. Soccer Girls Development Academy programs when the nation's top league and development program for female players kicks off in Fall 2017.

The Spirit will offer a Development Academy program in both Northern Virginia and Maryland, with each fielding U-14, U-15, U-16/17, and U-18/19 teams.
For more information on the Washington Spirit Development Academy programs, visit http://washingtonspirit.com/da and follow @WashSpiritYouth on Twitter.