Jitka Klimkova calls 26 players to U.S. U-19 WNT training camp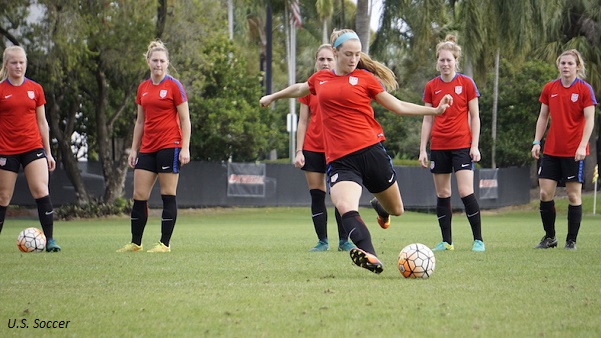 CHICAGO (Via U.S. Soccer) – The U.S. Under-19 Women's National Team will hold its second training camp of 2017 as head coach Jitka Klimkova has called up 26 players for an event running from March 25-April 1 in Sunrise, Florida.
The roster represents an almost totally new group of players than the one that attended the first U-19 WNT camp of the year in January last Florida as just three players will return for this camp. All three of those players were members of the USA's 2016 FIFA Under-17 Women's World Cup Team: defenders Kiara Pickett and Emily Smith and midfielder Sydney Zandi.
However, the January U-19 roster included quite a few players born in 1998, and 19 players from that roster traveled to La Manga, Spain, with the U.S. U-20 WNT in early March.
+READ: US Youth Soccer National League Girls cap off season in Las Vegas
All 26 players on this roster were born in 1999 and all are eligible for the team that will attempt to qualify for the 2018 FIFA U-20 Women's World Cup to be held in France. The age cut-off for that World Cup is players born on or after January 1, 1998.
There are just two college players on the roster – defender Sinclaire Miramontez of Nebraska and forward Emily Madril of Florida State – with the rest playing for their youth clubs.
U.S. U-19 WNT Roster by Position

GOALKEEPERS (3): Hillary Beall (SoCal Blues; Laguna Beach, Calif.), Brooke Bollinger (Space Coast United; Melbourne, Fla.), Zoe Clevely (Pateadores Academy; Huntington Beach, Calif.)
DEFENDERS (7): Joanna Harber (Eastside FC; Bellevue, Wash.), Sinclaire Miramontez (Nebraska, Lenexa, Kansas), Taylor Parker (Colorado Storm; Aurora, Colo.), Olivia Petit (Internationals SC; Akron, Ohio), Kiara Pickett (Eagles SC; Santa Barbara, Calif.), Sophia Serafin (West Coast FC; Glendora, Calif.), Emily Smith (De Anza Force; Los Gatos, Calif.)
MIDFIELDERS (10): Ambere Barnett (SLSG – Illinois; Rockport, Ind.), Tiana Caffey (Space Coast United; Port Saint Lucie, Fla.), Emina Ekic (Javanon FC; Fairdale, Ky.), Alexis Loera (Colorado Storm; Thornton, Colo.), Alyssa Poarch (Continental FC; Middletown, Del.), Delanie Sheehan (West Coast SC; Discovery Bay, Calif.), Danielle Stephan (Michigan Hawks; Lansing, Mich.), Taryn Torres (FC Dallas; Frisco, Texas), Olivia Wade (LaRoca FC; Kaysville, Utah), Sydney Zandi (Penn Fusion; West Chester, Pa.)
FORWARDS (6): Brianna Atterbury (Sereno SC; Gilbert, Ariz.), Sydney Carr (Arsenal FC; Orange, Calif.), Rachael Dorwart (PA Classics; Mechanicsburg, Pa.), Penelope Hocking (SoCal Blues; Anaheim, Calif.), Emily Madril (Florida State; Navarre, Fla.), Adrienne Richardson (Minnesota Thunder; Oakdale, Minn.)