USMNT's Jordan Morris has "incredible development environment" at Stanford, says Jeremy Gunn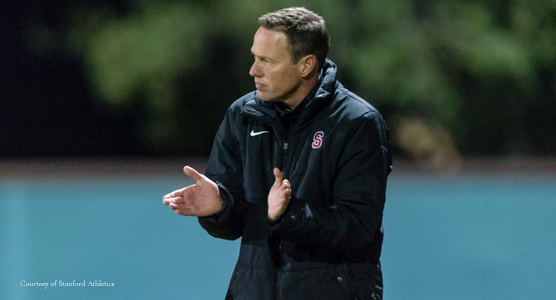 PHILADELPHIA — Stanford men's soccer star Jordan Morris' recent decision to reject an approach from Seattle Sounders FC to sign a Homegrown contract and join the MLS side halfway through his college career has sparked plenty of talk around the U.S. soccer community.
Last year Morris made history as the first NCAA player to receive a full U.S. Men's National Team callup in some two decades, with USMNT coach Jurgen Klinsmann apparently eager to push the young striker's development forward and nudge him towards the professional level.
+READ: Stanford, MLS, Europe? What's next for surprise USMNTer Jordan Morris?
The university's newspaper The Stanford Daily quoted Morris as saying he wished to continue his education before turning professional, and his head coach Jeremy Gunn believes that his decision was based largely on how he can continue to develop as a Cardinal both on and off the field in the near future.
"When somebody comes to our university, it's with the plan of being there and getting the unbelievable degree we offer," Gunn told reporters at the NSCAA Convention on Thursday morning. "When people discuss about him making the decision to stay, isn't it expected that people are staying until they decide to leave?
"For Jordan, he's really enjoying the environment he's in and he's really growing in the environment he's in."
Gunn's program will certainly benefit from Morris' decision, but he believes it's in the player's best interests as well.
"The immediate argument that everybody always comes up with is that the best thing for a soccer player is to be in a professional environment," he said of his attacking phenom.  "If you take it purely from a soccer standpoint, he's getting better every day, he's getting to work on his game every day. And to be a successful pro athlete doesn't just come from a professional environment. It comes from being in a great learning environment.
"Our university environment is one of the best learning environments you could ever imagine, in every part of your growth. You learn to be a better professional soccer player by being around other successful people, not just successful soccer players."
In making this call, Morris received plenty of advice both from Gunn and from Klinsmann, who first called the forward into a USMNT roster for their friendly away to the Czech Republic and handed him his debut against the Republic of Ireland.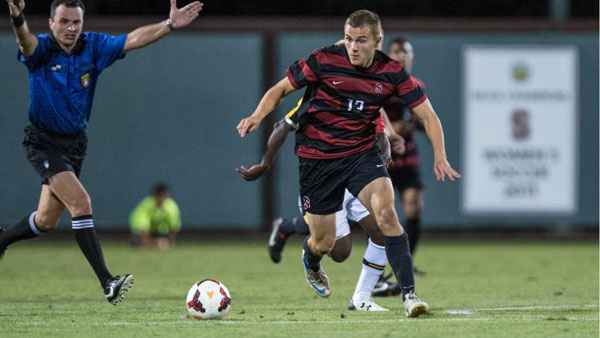 "It's not my job to force anybody to do anything," Gunn said. "We're never going to recruit people forcefully, we're going to show what we have to offer, and if people want to be a part of that, they can be. It's just the same with the process of someone deciding what's best for them and their future. All we do is help and facilitate.
"I think there's lots of great influences that people have with making these decisions, but there's also some poor influences as well. From our standpoint, we've got a wonderful young man that we enjoy working with and we want what's best for Jordan. If it's best for him to move on, then we're happy to say that it's what's best for him.
"There are a lot of assumptions made about what's best for an individual, and it's never going to be the same for each person. You're always going to have different types of circumstances for the growth of each person. Some people in his position, the moment there was an inkling, they would have been gone, but for Jordan and for his growth, he's very happy on the path he's going on and he's really benefiting from it."
+READ: Klinsmann calls 28 players for first USMNT camp of 2015
One of the criticisms leveled at Morris' decision to stay in school is that his development would be stunted by playing and training in college soccer as opposed to being in a professional environment with the Sounders.
"People want to complain about some of the [NCAA] rules we have, but it wasn't all that long ago that MLS decided games on people dribbling at the goal [the abandoned "NASL-style shootouts"]."
However, Gunn rejects that portrayal of the college game.
"There are so many positives about the college game, and I think the game's evolving and there will be different avenues available, but it's still an incredible development environment and always has been," he said. "There's always going to be pros and cons with everything you do. People want to complain about some of the [NCAA] rules we have, but it wasn't all that long ago that MLS decided games on people dribbling at the goal [the abandoned "NASL-style shootouts"].
"What I enjoy about being a college coach is that we partake in a journey with a group of people. For the most part, we know the length of that journey and we know we're on it together. When my right back isn't doing very well, I have to spend time with him and get him to be as good as he can be. If the right back isn't doing well in a professional environment, you cut him and find somebody who can do well."
However, Gunn does acknowledge that the college game needs to change, especially in terms of its schedule and move towards a full-year regular season as opposed to the current system. He believes that to sell that to the NCAA and to athletic directors, the way that it encourages a balance in students' lives must be emphasized over purely athletic concerns.
+FIND more NSCAA Convention coverage here
"I think that [the schedule] is one area where the college game can improve and it's something that we're working very hard on to make happen," he said. "The sporting parts of it are not going to be the most compelling arguments for why we should change when you're dealing in an environment.
"I think the balanced lifestyle is most important, you're talking about enriching the collegiate experience, not making it more difficult. You can talk about the medical aspects, the developmental aspects, but it's truly about giving a balanced lifestyle for people, giving them a better experience. We have an environment where people enjoy being around one another, and hopefully they're doing it for the love of the game."