Jefferson Cup youth tourney still aiming for "different level" in 35th year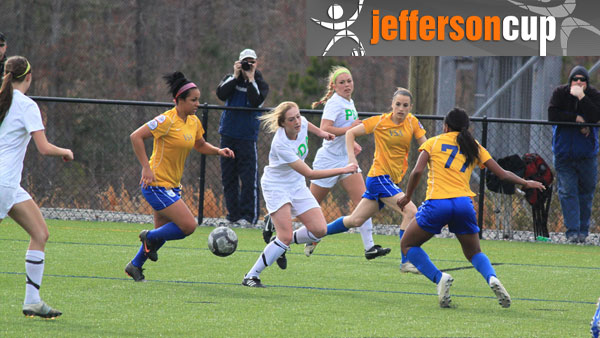 Only a select few youth tournaments on earth evoke a reputation on par with the Jefferson Cup, the March mega-event in Virginia which has grown into a spring institution for much of the United States youth soccer scene over the past three decades.
Hosted by the Richmond Strikers, the tournament – which closes its highly competitive registration window this weekend – has become a two-weekend spectacle featuring nearly 1,000 teams of all age groups and multiple development levels from nearly every corner of the U.S. and Canada. Naturally, this requires dozens of host venues, thousands of hotel-room nights and almost too many logistical challenges for tournament director Chris Friant and his staff to count.
But the tournament industry keeps growing and the competition from myriad events around the world only gets fiercer, pushing the Strikers to keep honing their signature product as it marks its 35th birthday this coming March.
The tournament has helped put the club and its home city on the soccer map, fuelling impressive growth in the Strikers' infrastructure in the form of field facilities like the West Creek Complex and Striker Park. And one event has spun off two new ones, with the creation of the Jefferson Cup Qualifier Weekend in late March and the evolution of October's Capital Fall Classic tournament into another route to Jeff Cup qualification.
But greater size and scope also ratchets up the intensity.
Greater financial and infrastructure commitments lead to more complicated operations, which test the efficiency of Friant and his small crew of full-time staff and legions of volunteers. And of course, no matter how well-oiled that machinery may be, months of hard work can be washed away in a few hours if a storm system washes across the Mid-Atlantic at the wrong time, turning the entire event into a gathering of amateur meteorologists in the weeks leading up to the games themselves (and making the Strikers' growing access to synthetic-turf facilities particularly pivotal).
"The weather, every single time, just dictates all that," said Friant in a conversation with SoccerWire.com last month, flashing the wry smile of a man whose showcase project has been marred by unfortunate rainfall more than once. "Every tournament has its own set of things you have to work through – different levels, different requirements."
2014 will mark something of a new era as Jeff Cup unfolds without the direct influence of Steve D'Adamo, who earlier this year departed his post as the Strikers' assistant director of tournaments to return to the education sector.
"He helped out a lot," Friant said of D'Adamo. "He did logistical stuff and [now] it's kind of reconfiguring, even in my own mind, what I'm supposed to be doing. He would double-check stuff and you don't have that checks and balances quite as much.
"But we've changed some things to get some other people to help me," Friant continued, "teaching them the ropes to re-organize."

Friant's own good work in growing the Strikers' tournament portfolio has been rewarded with a new position as "Director of Club Operations," a move announced alongside the unveiling of elite youth soccer veteran Jay Howell as the club's new executive director and director of soccer.
Much like a winning professional team which aims to "reload, not rebuild" after success is followed by key departures, Friant, Howell and the Strikers hope to maintain momentum. They hope their efforts to expand their reputation – along with the requisite tweaking and improving of the event experience itself – will help stoke even higher demand for Jeff Cup slots.
To that end, over the summer the Strikers hosted the 2013 ECNL National Finals, the ultimate championship event on the calendar of the Elite Clubs National League, the top-flight girls' competition which has become a magnet for strong teams and big-time college recruiters.
Friant and co. adapted on the fly as rain threatened their plans to host those critical matches on ideal playing surfaces, but a successful end product helped turn heads even among the Strikers' ECNL colleagues.
"I think it's going to help bring some teams to the Jefferson Cup – maybe not that level ECNL team, but [other teams from] those clubs, both boys and girls," said Friant, who hopes the league – which is also headquartered in Richmond, right next door to the Strikers – will stage future national events in its own backyard. "We're already seeing some entries from those clubs that had teams here that hadn't been to the Jefferson Cup.
"Every little bit helps."
The countdown to Jeff Cup 2014 begins in earnest on Sunday when registration closes, and another major milestone looms as accepted teams are announced next month. While a few of the main faces may have changed, the Strikers' plan to make sure their March guests marvel at this edition's additions, not its subtractions.
"I think at the end, probably by the time Jefferson Cup comes around, we'll have learned some things and it's not going to be an issue," said Friant.