Jefferson Cup U10-U14 Girls Weekend – Championship Sunday Recap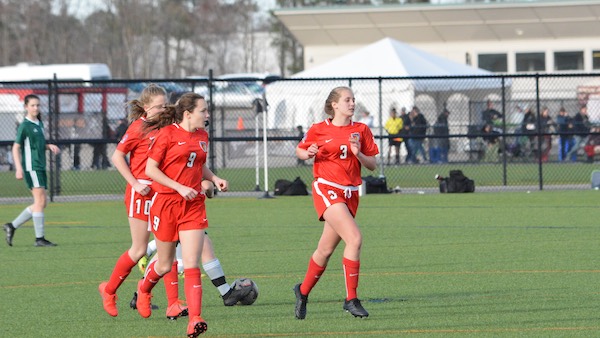 Follow the Jefferson Cup
Twitter | Instagram | Facebook
Results | Website
Jefferson Cup 2019 Championship Division Previews
Boys: U-15 | U-16 | U-17 
Girls: U-15 | U-16 | U-17 | U-18 | U-19
The second weekend of the 2019 Jefferson Cup concluded on Sunday, as teams across the U10-U14 Girls age groups claimed division championships.
Continue reading for a rundown of the action in the top brackets, along with a full listing of champions and finalists…
U-10
Lehigh Valley United finished the weekend at the top of the Championship Division. The Pennsylvania-based side defeated Loudoun Soccer 09G Red 3-0 to claim top honors in the U-10 age bracket. They reached the final after defeating SAC Premier Blue 09 3-0 in their final group match on Sunday, ending a three game span in which they outscored their opponents 11-1. Their defense was particularly on point all weekend, earning three clean sheets.
U-11
In the U-11 Championship Division, Dallas Texans 08G Dallas had their hands full with Richmond Strikers 08G in their final on Sunday afternoon at River City. But the Texans proved to be up for the task, defeating the hosts in a close 5-4 title match. Coming into Sunday's finale the Texans had been on a bit of scoring streak, scoring 13 goals in Group B play. They followed that up on Sunday with a 4-1 win over Nationals Oakland 08 Girls Black. As for Richmond, they reached the final after defeating Loudoun Soccer 08G Red 3-0.
+READ: Jefferson Cup 2019 U10-U14 Girls Weekend Day 1 Recap
U-12
After allowing just one goal during group play, it was kind of hard to see how Clarkstown 2007 Elite could top their defensive performance at this year's Jefferson Cup. But the side from EDP did just that on Sunday, earning two clean sheets to claim the Championship Division crown. Clarkstown defeated Torpedos SC 3-0 in Sunday's Semifinal match-up setting up a tough final against Maryland United FC 2007 Red, But Clarkstown proved to be up for the challenge blanking Maryland 3-0. Clarkstown only allowed one goal in their four matches over the weekend, which was the lowest among all teams in the U-12 age bracket.
U-13
PDA ECNL 06 Blue Wolves continued their dominant form in 2019 on Sunday, picking up two big wins in the Championship Division to claim top honors at the 2019 Jefferson Cup. PDA advanced through an extremely challenging bracket at the Jeff Cup, and narrowly defeated FC Virginia 06 Girls DA 1-0 in the semifinals. Having survived one challenge, PDA braced for another in the finale against Cincinnati United Cup 06 North I, who beat Michigan Jaguars Green '06 I in their semifinal match.
+READ: PDA ECNL 06 Blue Wolves begin spring with Jefferson Cup title run
The PDA attack proved to be too hard to handle in the title match, as the Wolves earned the 5-0 win and top honors. Ainsley Moy recorded a brace, while Mikayla Mandleur, Emma Harmon and Vanessa Sarf each found the net once for PDA in the title match against Cincinnati. The Wolves went 3-0-1 on the weekend, conceding just one goal while smashing in 13 at the other end.
Earning a title early in the season is a great way for a team to get off on the right foot. But for Total Futbol Academy G06 Elite, Sunday's Elite Division Final was a chance to build something more. On Sunday, the Ohio-based club that is just six years old got a massive win for their program, defeating Washington Spirit MD 2006 2-0 to place first in their division.
As with any good Cup final, the first few minutes of the match saw both sides playing a bit conservative, with each midfield making probing runs into their opponent's defensive third. TFA's Tanner Smith and Isabelle Snowden worked together to move the ball back-and-forth down the Spirit's right flank, with the hope of finding some space for a cross into the box. Meanwhile, the Spirit midfielder worked towards opening up play for their No. 10, who found herself marked by multiple TFA defenders throughout the match. Both teams played with a very physical style, which led to few attacking opportunities early.
Although playing with a physical style can be effective, there is also a risk as the Spirit found out in the 26th minute. TFA were awarded a penalty after a Spirit defender committed a foul just inside their own box. McKenzie Carle walked up to take the shot and coolly slotted home the first goal of the match.
In the second half, the Spirit ramped up the pressure on TFA's defense, using the speed of their No. 10 to their advantage. In the 38th minute, she broke past their defense and found herself all alone against goalkeeper Kinsey Sullivan. Her shot though would go wide of the mark. She had another just five minutes later, but Sullivan was more than up for the task, making a diving save to preserve the advantage.
Despite a couple of early scares, the TFA defense put on a clinic during the second half, making timely runs on the counter-attack and managing the pace of the match effectively. Led by Liz Woelfel and Josey Fritz, the TFA defense limited the Spirit's attacking opportunities in the second half and helped maintain possession.
TFA coach Matt Ruehl credited a change in formation to their strong defensive work: "We moved from a back four to a back three so there has been a lot of organizational challenges for us and the girls are starting to pick it up," he said. "Our message to them was 'Keep everything in front and let's not let them get through us' and I thought we did a great job at that."
That level of organization paid dividends for the club on the attacking end. In the 47th minute after a long possession which saw the club move from a defensive posture to an attacking one, they found their second goal. After Madison Thatcher's shot forced the Spirit goalkeeper to make a kick save, Carle scooped up the rebound and poked it in the back of the net.
After playing four games in two days, TFA were running on fumes at the end of the match. But their coach was impressed with how they fought through that adversity to earn the result.
"I thought we battled hard and we certainly didn't have our best match of the day and neither did they," said Ruehl. "But that's what finals are about. We played four games and we had our peaks and valleys but I thought we handled everything really well."
Winning a tournament like the Jefferson was also a huge achivement for Ruehl and his side.
"We are a club in south of Cincinnati and we are really trying to build our club like everyone is. We brought a couple of teams to this event and put two into the final." said Ruehl. "It's great playing big events like this, to see huge teams from across the East Coast, and it was a huge challenge for us which is great as we start our season."
U-14
Maryland Rush Montgomery 05 Coyotes emerged through a truly elite group of nationally-renowned teams to claim the U-14 Championship Division title. Their impressive run culminated with a 2-0 clean sheet victory over McLean Youth Soccer 05 ECNL.
MRM came out on top in Group A, overpowering New Jersey side Watchung Hills NJ Elite by a 3-0 margin on Sunday morning, sealing their spot in the Final. All of the Coyotes' victories came via the clean sheet, as they outscored opponents 6-0 during their three-game winning streak to finish the event.
Annie Faraone converted a penalty kick to put MRM Coyotes up 1-0, and Sydney Allen powered home a header to put the game out of reach in the first half. The Rush defense continued their dominant effort throughout the second half as well, holding a potent McLean attack off the scoreboard.
"Our girls' character and drive to win was the No. 1 thing."

–@MRMCoyotes Coach Kevin Layton on the team's U-14 Championship Division title run! #JeffCup19 pic.twitter.com/T7deaHhl4S

— Jefferson Cup (@jeffersoncup) March 18, 2019
Scoring in extra time is never easy. But doing it twice in one match after games in two days is even more impressive. After a long weekend of soccer and a difficult final against Baltimore Celtic SC 2005 Elite the Dallas Texans 05G FDL proved that they can handle any challenge thrown at them. On Sunday afternoon they were rewarded for their hard work with a 2-0 win and the Elite Orange Division title.
The Texans reached the final after having defeated VDA U14 ECNL 3-2 on Sunday to claim the top spot in Group B. As for Celtic, they held off PDA ECNL White 1-0 to earn their first clean sheet of the tournament.
Building possession through the back was the theme of Sunday's final. Madelyn Cook, Emma Coyne and Sophie Thibeault of Celtic allowed for their side to create the majority of their attacking chances through tight consistent passes, eventually linking up with their attackers. Their best chance at goal came just before half-time after forward Hannah Verreault trapped a cross into the Texans box and hit a volley just went wide of the goal.
As for the Texans, their attacks were also built from the back but eventually using their speed on the outside to break Celtic's defense. Rylee Avery and Jeannette Boyd pulled together a series of one touch passes in the 28th minute, which forced Celtic to give away a corner kick. On the set piece, Haylee Avery had a chance at the top of the box to give her side the lead. However, her shot went just over the bar.
At the start of the second half, Celtic came out on the attack with Thibeault and Sydney Holmes finding space down the right flank. In the 43rd minute, Thibeault found a surging Holmes on the outside hitting a diagonal pass for her teammate. Holmes' shot beat the goalkeeper but would hit the bar and go out of play. Dallas would have their own chances at goal with Boyd's wide shot in the 55th minute being the best opportunity.
But things would change in extra-time for the Texans. Just before the end of the first interval, Camryn Adams hit shot from the top of the box, off of a corner kick to give her side the 1-0 lead. They would put the match away in the second part of extra time with a goal from Madison Khan.
After the match, coach Jesus Diaz credited their preparation and offseason training to pulling off the late result.
"One of the things that we really focus on throughout the year is our fitness," he said. "It was great to see the girls get a result based off of the hard work that they put in during practice and during offseason trainings. I think that our fitness played a huge role in getting the win today."
"This is one of the biggest tournaments that we have attended," said Diaz, speaking about the importance of this competition for his club. "This is my sixth year winning Jefferson Cup. But I think I could honestly say that this year has been very well organized and a great experience for us. I have only had this group for a year and a half so it is a big step for them. The level of competition was also fantastic playing against the likes of Virginia Development Academy, Penn Alliance, and Howell United. This was a great competition."
In the Elite Black Final, Maryland United FC 2005 ECNL had their hands full against Sporting Columbus 2005 in the final match at River City Sports Plex. After the two sides battled to a 0-0 draw during regulation they went extra time to settle things. United throughout the tournament had leaned on their talisman forward Sabba Haghgoo to get them out of jams and in extra time she did it again, scoring the game-winner to give her side the 1-0 win and the Elite Black Division title.
Jefferson Cup 2019 U10-U14 Girls – Champions and Finalists
U-10
Championship
First-Place: Lehigh Valley United 2009 Girls Black
Runner-Up:Loudoun Soccer 09G Red
Elite
First-Place: Cedar Stars Academy Monmouth 2009G RED
Runner-Up:Greater Severna Park Maryland Pride
Superior
First-Place: Harford FC United  Atletico
Runner-Up: Richmond Strikers U10G Elite
U-11
Championship
First-Place: Dallas Texans 08G Dallas
Runner-Up: Richmond Strikers 08G Elite
Elite Orange
First-Place: Solar  08G JDL West
Runner-Up: FC Stars Central Lancaster 08 United Blue
Elite Black
First-Place: Charlotte SA 08G Roma
Runner-Up: PWSI Courage 08G NPL
Superior Orange
First-Place: Sting West 08 Khan
Runner-Up: SJEB Roma
Superior Black
First-Place: Inter Atlanta FC 08G Elite
Runner-Up: Bethesda SC Academy 08
Platinum Orange
First-Place: Beadling 2008 East White
Runner-Up: Harford FC United Lightning
Platinum Black
First-Place: Great Falls Reston 08G Spirit
Runner-Up: Beach FC 08G Red
Platinum White
First-Place: YMS 08 Spirit
Runner-Up: Continental FC Dortmund '08F
Classic
First-Place:FC Europa 2008 Elite
Runner-Up: Herndon Eclipse
U-12
Championship
First-Place: Clarkstown 2007 Elite
Runner-Up: Maryland United FC 2007 Red
Elite Orange
First-Place: Cleveland FC 07 Royal
Runner-Up: Total FA G07 Elite
Elite Black
First-Place: Beach FC 07G R ed
Runner-Up: New York Surf G07 Academy Blue
Superior Orange
First-Place: Pipeline SC Pre-Academy
Runner-Up: GPS MA Elite Red 07 Girls
Superior Black
First-Place: Tophat 07 Gold 2
Runner-Up: Premier SC Gold 07
Platinum Orange
First-Place: Cedar Stars Academy Monmouth 2007G EDP Green
Runner-Up: Wake FC 07G Blue
Platinum Black
First-Place: Maryland Rush Montgomery Blue '07G Coyotes
Runner-Up: OPSA Magic
Classic
First-Place:VSA 07G Pre Academy NPL
Runner-Up: Bethesda SC Academy Blue 07
Premier
First-Place: Pittsburgh Riverhounds 2007 Girls
Runner-Up: Virginia Legacy SC 07G CCL Elite
Gold
First-Place: Penn Fusion SA Predators 2007
Runner-Up: Baltimore SC Union Elite 07
U-13
Championship
First-Place: PDA ECNL 06 Blue Wolves
Runner-Up: Cincinnati United Cup 06 North I
Elite
First-Place: Total FA G06 Elite
Runner-Up: Washington Spirit MD 2006
Superior Orange
First-Place: Richmond United ECNL 2006
Runner-Up: GPS MA Elite Red 06 Girls
Superior Black
First-Place: Northern Steel Bliue
Runner-Up: North Carolina 06G Elite
Superior White
First-Place: Maryland United FC 2006 Blue
Runner-Up: SAC Premier Blue 06
Platinum Orange
First-Place: Scorpions SC 2006 ECNL
Runner-Up: PSA SDFC Elite 06
Platinum Black
First-Place: LMSC Impact
Runner-Up: United Mount Pleasant USA/MP 06 NPL
Classic Orange
First-Place:Ohio Premier OP Green
Runner-Up: New York Surf 06G Academy
Classic Black
First-Place: Charlotte SA 06G North/H'ville G
Runner-Up: Lake Norman SC 06 Eclipse Elite
Classic White
First-Place: Wake FC 06G Blue
Runner-Up: Beadling SC 2006 South Red
Premier Orange
First-Place: PDA NPL 2006
Runner-Up: Cedar Stars Academy-Monmouth 2006G NL
Premier Black
First-Place: Empire United Buffalo G2006
Runner-Up: Cuyahoga Valley SA 2006 Blue
Juniors
First-Place: Solar Colvin FDL
Runner-Up: PDA Heat Pre-ECNL
U-14
Championship
First-Place: Maryland Rush Blue 05G Coyotes
Runner-Up: McLean 05 ECNL
Elite Orange
First-Place: Dallas Texans 05G FDL
Runner-Up: Baltimore Celtic SC 2005 Elite
Elite Black
First-Place: Maryland United FC 2005 ECNL
Runner-Up: Sporting Columbus 2005
Platinum Orange
First-Place: Pittsburgh Riverhounds ECNL 2005 Girls
Runner-Up: Liverpool FC MI Gerrard 05
Platinum Black
First-Place: Carolina Rapids 05 ECNL
Runner-Up: BRYC Elite  Academy ECNL U14
Platinum White
First-Place: New York Surf G05 Academy Blue
Runner-Up: FC Richmond MYSTX 05
Classic Orange
First-Place: Beadling 2005 North White
Runner-Up: Syracuse Development  Academy 2005 Girls
Classic Black
First-Place: Wake FC 05G Blue
Runner-Up: Connecticut FC NPL 2005
Classic White
First-Place: STA-MUSC 2005G NPL
Runner-Up: Penn Fusion SA Pre-Academy 2005
Premier Orange
First-Place: Montgomery Soccer Academy White
Runner-Up: Lake Norman SC 05 Eclipse Elite
Premier Black
First-Place: VA Rush 05G Rush
Runner-Up: Ohio Premier OP Green