Jefferson Cup 2019 U10-U14 Girls Weekend Day 1 Recap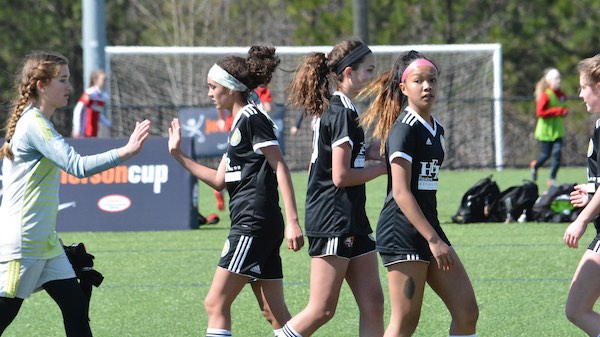 Follow the Jefferson Cup
Twitter | Instagram | Facebook
The 2019 Jefferson Cup U10-U14 Girls Weekend kicked off Saturday, as 404 top teams from around the country completed their first two rounds of group play. Continue reading for a rundown of the Championship Divisions.
U-10 Championship
Loudoun Soccer 09 Red (2-0-0, 19 points) find themselves atop of Group after winning both of their matches on Saturday. They defeated Tophat 09 Gold 3-0 to start Group A play at Striker Park and followed it up with a 2-0 win over Clarkstown 2009 White. Sitting in second is South Shore Select 2009, (1-0-1, 12 points) who drew 0-0 with Clarkstown and edged Tophat 2-1. South Shore will play Tophat on Sunday with the winner advancing to the U-10 Championship Final.
In Group B, Lehigh Valley United 2009 are in first place after two big wins in matchday one. United started their Jefferson Cup with a 3-1 win over PDA 09 Legacy White. In their second match, they found their scoring touch putting seven past Discoveries SC 09 Girls while earning the shutout. While PDA (1-1-0, 19 points) had a tough first match, they ended the day on a high note, defeating SAC Premier Blue 09 2-0. To make Sunday's final, they will need a little bit of help and a big win when they take on Discoveries (9am, Striker Park Field #11).
Jefferson Cup 2019 Championship Division Previews
Boys: U-15 | U-16 | U-17 
Girls: U-15 | U-16 | U-17 | U-18 | U-19
*U-18 / U-19 Boys previews coming soon
U-11 Championship
Loudoun Soccer 08G Red (2-0-0, 17 points) punched their ticket to the knockout stage with two huge wins in Group A action. In their first match, the Loudoun defense held back a potent CSA Impact United 08 team long enough to get the game-winning goal. Their second match saw a few more goals but the result was all the same for Loudoun, this time a 3-1 win over Penn Fusion SA Pre-Academy.
In Group B Dallas Texans 08 (2-0-0, 19 points) are moving on after going through group play undefeated. The high-flying Texans attack was on full display as they beat South Shore Select 2008 AP 8-0 and Pipeline SC Black 5-3. Their ten goals was tied with Sting West 08 Khan of the Superior Orange Division and Solar 08 JDL West of the Elite Orange Division for most goals in the U11 age bracket.
Nationals Oakland 08 Girls (2-0-0, 18 points) will represent Group C in the knockout stage, after winning both of their matches on Saturday. The Michigan-based side weathered a potent North Carolina FC 08 Gold side with a 3-1 win. In their second match, Oakland's defense took over, blanking Arlington SA 2008G Red 2-0.
The final side to make it to Sunday's knockout round is Richmond Strikers 08G Elite (2-0-0, 17 points) who like the other three sides find themselves undefeated in the 2019 Jefferson Cup. The Strikers had to kick off group play in a tough position against a Tophat 08 Gold that had already won 7-3 against World Class FC. But they buckled down and earned the 2-1 win to move on. In their second match against World Class, they pulled through via a 4-3 scoreline.
Sunday's Semifinals Match-ups
Loudoun Soccer 08G Red versus Richmond Strikers 08G Elite (9am, River City Back #12B)
Dallas Texans 08G Dallas versus Nationals Oakland 08 Girls (9am, River City Back #12A)
U-12 Championship
Group A was a real nail-biter with both Clarkstown 2007 Elite (2-0-0, 17 points) and Ginga FC Girls 2007 FC Elite (1-1-0, 11 points) vying for top honors. The two sides both took turns against Penn Fusion SA Pre Academy 2 with Ginga defeating them 3-0 and Clarkstown winning 2-0. That set up a tense finale with Ginga and Clarkstown coming close to winning. In the end, Clarkstown finished on top, winning 3-1 to move on to the knockout stage.
Group B was also a close call with Philadelphia Ukrainian Nationals Olympyk 07 Black (1-0-1, 14 points) just getting past Spirit of Liverpool 2007 (1-0-1, 13 points) on Goal Difference (+2 to +1). Philadelphia drew 2-2 with Liverpool before World Class FC Revolution 2-0.
Maryland United FC 2007 Red (2-0-0, 17 points) leave Group C undefeated having outscored their opponents 7-0 through two matches. United FC 2007, who plays in EDP, shutout both Dallas Texans (2-0) and CSA Impact United (5-0) to punch their ticket to the second stage. They are the only side in the Championship Division to not allow a goal during group play.
Torpedos SC (2-0-0, 18 points) are the final side to advance in the Championship division. The Torpedos defense propelled them to victory in their first match, shutting out Loudoun Soccer 07 Red, 2-0. As for their second match, their attack came alive, edging Cincinnati United CUP 07 4-3.
Sunday's Semifinal Match-ups
Clarkstown 2007 Elite-Torpedos SC (9am, River City Back #11B)
Philadelphia Ukrainian Nationals Olympyk 07 Black-Maryland United FC 2007 Red (9am, River City Back #11A)
U-13 Championship
Thanks to a second half scoring surge, Michigan Jaguars Green '06 drew 3-3 with Virginia Development Academy U13 ECNL, finishing at the top of Group A in the U-13 Championship Division.
Michigan (1-0-1, 15 points) started the tournament strong, pulling off a 3-2 win over Penn Fusion SA DA 2006. That result would come in handy as Penn Fusion (1-1-0, 11 points) would beat VDA 3-1 later in the afternoon.
The Jaguars, who placed second in the U-12 Championship Division last year, wasted little time going on the attack. Using their speed down the flanks, they caught VDA off-guard finding a crease of space and hitting home their first goal of the match in just the fifth minute.
But VDA were more than up for the challenge matching the Jaguars work on the attack some equally impressive chances of their own. Midfielder Lauren Carpenter was constantly disrupting the passing rhythm of the Michigan defense, forcing them to make hasty passes that led to several dangerous chances for the ECNL side. In the 14th minute, she intercepted a pass and made a darting run down the right flank. She found a surging Avery White, who knocked home the equalizer with a low shot at the far post.
White scored her second of the match just seven minutes later, snagging off a cross into the box that was partially saved by the Michigan goalkeeper. While Michigan did have some attacking chances late in the second half, VDA dominated possession using their speed in the midfield to force the Jaguars to chase them North and South.
The second half though was a different story. After surviving an early barrage of chance, the Jaguars started to move more into the attack, particularly in the final fifteen minutes. Midfielder Lillian Kish found pockets of space between the VDA midfield and defense making several quality passes out wide and setting up strong chances late. In the 33rd minute Kish forced VDA to concede a late corner. On the ensuing kick, Allison Hooks headed home the equalizer to make it 2-2.
Michigan took the lead just a moment later when Amalia Villarreal hit a scintillating shot from distance that reached the upper right corner of the goal. But they were denied the full points after White scored her third of the match just before the final whistle.
In Group B, PDA ECNL 06 Blue Wolves have moved on to the knockout stage getting results in their two matches on Saturday in very different ways. In their first match, their scoring stroke was on full display, hitting the back of the net seven times in their 7-1 win over Carolina Elite 08G ECNL. PDA, which leads the ECNL U-13 Northeast Division with 45 goals scored, While their attack is potent so too is their defense, which has allowed just a goal through nine games. Though their attack took center stage in their first match, their second match on Saturday was all defense earning a 0-0 draw with Maryland Rush Montgomery Blue.
FC Virginia (2-0-0,20 points) remain perfect through two matches and are moving on from Group C. Their 'perfect' moniker also applies to their goal differential as the side has yet to allow a goal through two matches. They defeated CSA Impact United 06G and South Shore Select 2006 AP each by a 4-0 scoreline.
Cincinnati United Cup 06 North I (1-0-1, 13 points) defeated North Carolina FC 06g ECNL 2-0 to punch their ticket into the semifinals. Their defense earned their second shutout of the tournament to seal their spot with a 0-0 draw over Cedar Stars Academy Monmouth 2006 Girls DA
U-14 Championship
The Coyotes are still howling. After starting off their 2019 Jefferson Cup on the wrong paw Maryland Rush Montgomery Blue Coyotes found their footing in their second match, working together to earn the 1-0 win over South Shore Select 2005 AP.
After losing in heartbreaking fashion 2-1 in their first match against D'Feeters ECNL 2-1 to kick off Group A the Coyotes went back to basics in match two by building from the back. Their defense, led by Arianna Nnawuchi, Rosa Saavedra, Lydia Ferro and Annalise Jeng controlled the pace of the match, holding the potent South Shore attack at bey, while also making efficient passes to their midfielders. The process worked with the Coyotes dictating the pace of the match early and forcing the compact Shore side out of the center of the pitch.
South Shore created several attacking chances of their own, but Rush goalkeeper Samantha Schmidt made several key saves throughout the match. The goalkeeper made a diving stop in the first half to keep the game scoreless, allowing her side the opportunity to ultimately score the pivotal first goal.
Having survived South Shore's early attack, Rush started to make moves on offense. Using their tightly organized defense, Rush moved their side from a defensive posture to an attacking one, stringing together a series of attacking chances just before halftime. Midfielder Annie Faraone had been working all throughout the match down the left flank with the aim opening up space for her teammates. It paid off just before the break, as she slipped and knocked a low shot past the South attacker to make it 1-0.
In the second, half South Shore began to press the Coyote defense, but the Rush defense continued to hold strong. Nnawuchi, Saavedra, Ferro and Jeng each made several clears to keep the score at 1-0.
Although the win does put Rush back in the hunt for the top spot in Group A, they still have some work to do. They will need to defeat Watchung Hills NJ Elite 2000 Leeuwin (8am, River City Field #1) on Sunday and get a little bit of help in South's match against top of the table D'Feeters (8am, River City Field #2) to make it through. D'Feeters followed their victory over Rush with a 6-0 win over Watchung Hills.
In Group B, Bethesda SC ECNL Real 05 are narrowly ahead of McLean 05 ECNL (1-0-1, 12 points), and Delaware FC 05 Girls (1-1-0,11 points) with one game left to play on Sunday. In a D.M.V. derby match to kick off group play, Bethesda 05 and McLean 05 engaged in a defensive battle which saw both sides walk with points in a 0-0 draw. BSC found their scoring stroke in their second match, a 3-1 win over Philadelphia SC Coppa Rage. Meanwhile McLean edged Delaware 2-1 in their second match to move into the second spot. Delaware are still in it though, having defeated Philadelphia 3-0 in their first match in Group B.
On Sunday, Bethesda will face Delaware (8am,River City Field #4) while McLean will take on Philadelphia (8am, River City Field #2).