Jeff Cup: ASA Milan Black Hawks (Md.) rise from rec team to top dogs
By Charles Boehm
MIDLOTHIAN, Va. — The rise of the academy model and the pervading professionalization U.S. youth soccer has made it increasingly rare to see the same group of children rise through the system together on one team.
That traditional way of doing things has survived at Maryland Under-16 powerhouse ASA Milan Black Hawks, however, as coach Michael Arandia explained after the team's 2-2 draw with the Upper Freehold/Allentown Strikers (N.J.) on Friday in their opening match of the 2013 Jefferson Cup.
"Actually, we are a [recreational-level] team," said Arandia. "We are a rec team and according to Gotsoccer rankings we are four in the nation, number-one in Maryland.
"The boys have come a long way – some of the boys have been together since five years old."
Nominally based in the Anne Arundel County suburbs northeast of Washington, D.C, Milan Black Hawks players and coaches are spread across the entire national capital region these days.
"We have a couple kids in Silver Spring, Bethesda, Ft. Meade, two kids in Virginia," said Arandia. "I actually live in Virginia, in Arlington, so I drive two hours to practice three, four times a week."
But a decade after the core of the team first kicked a ball together, they still gather in unity on the playing field, with very impressive results.
In league play, Milan Black Hawks still compete in the National Capital Soccer League, the traditional home of D.C.-area boys club teams, as well as Maryland State Cup play. But they have traveled to high-level events like Jefferson Cup, the Bethesda Thanksgiving Tournament and the Disney Soccer Showcase, racking up trophies and rankings points along the way.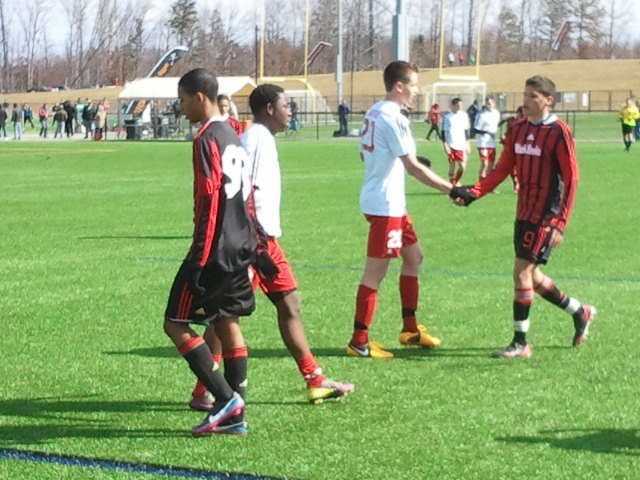 Their championship performance in the U-15 Elite bracket at last year's Jeff Cup paved the way for them to take part in the U-16 Championship division this time around, a step up in quality yet one they seem well-prepared for given their display against Freehold, who needed a late equalizer to snatch the draw in highly windy conditions at the River City Sportsplex.
"We play tough competition and Jefferson Cup is always a pleasure to come to," said Arandia. "We won last year, and I know it's a different format because U-16 level is college showcase, but obviously you want to win all the games you play here.
"But the kids did well and I hope some college coaches liked them today," he added. "[The wind] didn't let us play the type of style we like to play, keeping the ball on the ground. We couldn't do it, the wind was just forcing the ball right back into our own area. But you've got to deal with it."
With a diverse roster full of Latin American and African influence, Milan Black Hawks showed strong possession skills as well as attacking dynamism. One player has already committed to an NCAA Division I school, with forward Donald Benamna – who missed Friday's game due to academic commitments – planning to attend San Diego State.
Arandia and his fellow coaches hope he's one of many in the Milan Black Hawks "family" to continue both soccer and academics at the next level.
"It is [unusual]," Arandia said in regards to the team's evolution from recreational to elite status over the years, "especially with academies and big clubs, they just ship kids in and out looking for the best talent.
"We've kept our core group together, kind of kept it like a little family – a few changes here and there, but it's all about the kids' development. And they've developed well over the years."