Is everything going to be fine now that the USWNT won Algarve Cup? Well…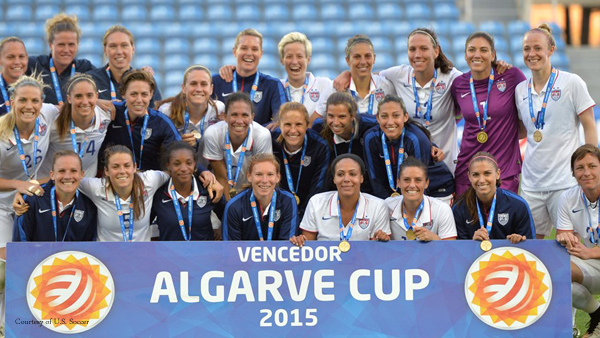 Last Wednesday, the U.S. Women's National Team won a slightly surprising 2-0 victory over France in the final of the 2015 Algarve Cup. Winning the Algarve for a 10th time is good news for a side that surely needed some, and will presumably provide a confidence boost for U.S. players and coach Jill Ellis as the team heads into the run-up to this summer's World Cup.
That said, does this result show that the USWNT has (finally) begun to resolve some of the problems that have plagued it under Ellis's leadership, and started on a path that brings realistic hope of winning the World Cup?
Not necessarily.
+READ: USWNT defeats France 2-0 to win 10th Algarve Cup title
We should at least start with the good news, though. The U.S. got a victory—which they sorely needed after a series of much-criticized performances—and one against a top team. And they kept a clean sheet. The U.S. midfield did a better job of preventing France from getting its short-passing game going than in February's 2-0 defeat.
Hope Solo had a largely mistake-free, confidence-building outing, including saving a well-struck Kheira Hamraoui shot from distance and an (admittedly poor) penalty kick from Amandine Henry.
In the absence of the injured Christie Rampone and Whitney Engen, Julie Johnston staked a claim to partner Becky Sauerbrunn in central defense, looking reassuringly comfortable defending and scoring the opening goal on a Lauren Holiday free kick. (Granted, there were a few anxious moments, and Johnston's ball movement still needs to be faster and more precise, but on the whole she had a strong performance.)
So why am I still worried? For starters, the French lineup was heavily altered from the lineup we saw in February, due to injury, rotation, and experimentation. Five starters from that XI that were absent on Wednesday—including both center backs (Laura Georges and Wendie Renard), and playmaker Louisa Necib. The U.S., on the other hand, started what is probably close to its strongest XI from the current 23. Victory over France's second-choice side only says so much.
+READ: USWNT's performances in the Algarve Cup are worrying, not reassuring
Still, it seems safe to say that France's second-choice side is pretty good. The deeper concern is that the U.S. attack showed little signs of improvement. Yes, the U.S. scored two goals, and even managed to score them in the first half. One of the goals, though, came off a free kick, and the other from a 1v4 slalom run from halfway by Christen Press. (Leaning on that sort of goal for offense is like trying to use lightning as a power source – it's spectacular when it comes off, but it's hardly what you'd call reliable.)
Other than a set piece and a moment of individual brilliance, the U.S. managed only three shots the entire match, and none on goal.
On offense this match was largely the tired story of the last six months: slow ball circulation amidst an empty midfield, a heavy over-reliance on aimless or low-percentage long balls, and an inability to achieve any sort of attacking rhythm in the attacking half, never mind the last third.
The U.S. didn't muster a cohesive, back-to-front passing sequence for the first half hour of the match;, and the first one leading to a shooting chance didn't come until first-half stoppage time. French goalkeeper Sarah Bouhaddi had no saves all match. (Solo had seven.) This is not exactly encouraging.
+READ: U.S. Soccer quietly weighing youth development overhaul as USWNT eye future
What's more, against England, Norway, Switzerland and Iceland, the U.S. could at least make a plausible case that some of the difficulties were due to the opposition defending in depth (or, to use the WNT's preferred term, bunkering). But France came out and played, however poor a fist of it they ultimately managed by their standards. And yet the U.S. was still helpless to put the makeshift French backline under sustained pressure.
Measured by actual performance, not merely bottom-line result, this was more of the same. Whatever possession buzzwords Jill Ellis may proffer to the media, this long-ball approach is how she wants the U.S. to play on offense. And it's (still) not working.
Do these problems—and the obvious strategies they suggest to opposing teams—mean the U.S. can't make a deep run in the World Cup? No. It's a single-elimination knockout tournament, conducted over a time period that favors teams with strong fitness, all of which works to the advantage of the U.S. (Just look at 2011).
But it does make that sort of run a much less likely—and less so with each day that the U.S. attack remains stuck in neutral. The World Cup is less than three months away. If Ellis is going to get the USWNT out of its doldrums, she'd better do it fast.