How the Capital Area Railhawks developed the USSDA's best attack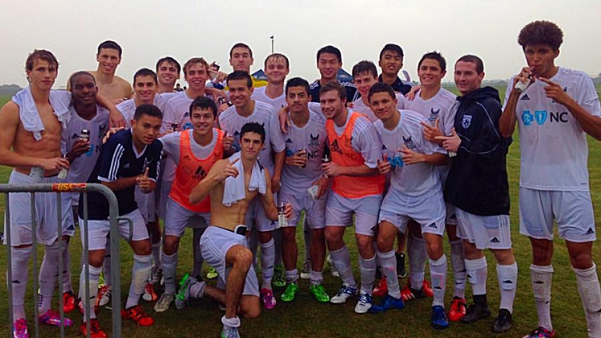 The goals came from everywhere from what seemed like everyone in the Capital Area Railhawks U-17/18 team's 8-3 win over Concorde Fire on April 23.
Alex Rose led the way with a hat trick. Josh Coan and Lucas Del Rosario put home two goals each, while John Walden also got in on the scoring mix. Concorde Fire matched its second-highest scoring output of the season, more than doubling its season average of 1.48 goals per game, but it suffered its worst loss of the season up until that point. The only time it lost by more was a 7-1 defeat two weeks later.
The opponent? Capital Area Railhawks.
Coach John Bradford's bunch set the bar for the type of eye-opening offensive numbers a team could put up during a Development Academy season. Behind six players with 10 or more goals, this squad, based in Raleigh, North Carolina, has scored 109 times in 33 matches. Capital Area Railhawks' mark of 3.30 goals per game is the highest average in the Academy. Kendall SC, which ranks second, has scored 19 fewer goals in one less game.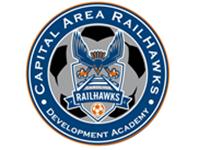 This avalanche of goals throughout the season has led Capital Area Railhawks (23-7-3) to the top spot in the Southeast Division. It'll bring that offensive firepower, one that many teams have yet to see this season, to Frisco, Texas, when it competes in the Development Academy playoffs.
"As a unit, we work really well together and play unselfishly, which helps everyone get involved and translates into scoring goals," said Coan, who has tallied 14 scores this year. "When we're all playing unselfish and everything, I think we definitely have one of the best attacks in the country."
Only Kelly played on Capital Area Railhawks U-17/18 squad last season, but much of this team's chemistry formed long before the 2015-2016 campaign.
+Read: U.S. Soccer Development Academy U-13/14 Showcase Day 1 Recap
Rose (25 goals) said him and Del Rosario (11 goals) have played on "pretty much every outdoor team" up until now. Colby Agu (13 goals) then played with the duo starting on the U-14 squad. Coan (14 goals) came over from the Indiana Fire Academy before last season.
All four players played with the U-16 team a year ago, while Kelly (11 goals) was as on the U-18 team and Walden (11 goals) competed for Triangle United Soccer Academy in Chapel Hill, North Carolina. That U-16 squad qualified for the playoffs and held a 4-0 halftime lead over Seattle Sounders in its final game of group play before allowing three goals after intermission. The Railhawks were left out of the knockout round on goal differential.
[player_box id=71352 leftright=right]
But with those players joining Kelly on the older team, and Walden thriving in his first Development Academy season, Capital Area Railhawks again earned a playoff berth. It'll play in Group H, which also features BW Gottschee Academy (24-1-1), Sporting Kansas City (14-8-4) and San Jose Earthquakes (16-11-5). Coach Bradford's group has scored 40 goals than the other three teams combined.
"Everyone knows what each other's strengths are, and so it's kind of easy to see what someone else is going to do," Kelly said. "Everyone is naturally confident in getting in front of the net. I think we all know how to play with each other, and we formed a very good chemistry attacking wise."
Kelly said Rose, one of the top scorers in the Development Academy, has an uncanny ability to positioning himself correctly around the net. Agu and Coan, Kelly said, thrive in 1-on-1 situations to create opportunities in the attacking third.
@CARailHawksAcad 18's benefitting from Coach Huxford and comprehensive performance training on a regeneration day. pic.twitter.com/pzoCCsRPt6

— C.A. RailHawks Acad. (@CARailHawksAcad) November 9, 2015
Kelly didn't speak about his contributions for this team, but his teammates had plenty of praise for one of their captains.
Rose: "He's the best player on our team. Having him this year has just been incredible because he's one of the best passers in the Academy right now."
Coan: "He's definitely is one of the main reasons we're so successful up front."
Agu: "He's been a great leader this year, and he's been really influential in creating the goals that we score. He's a great playmaker on our team."
+Read: Development Academy Playoffs, Showcase matches to stream live
Bradford said the factors that go into his team's offensive success are the players' quality, unselfishness and ability to build out of the back. It also helps, Bradford said, that Capital Area Railhawks has several players it can look to for goals at any given time.
That depth benefited Bradford's squad when Rose and Del Rosario went through the U.S. U-17 men's national team residency program the first half of the season. In their absence, Coan said himself and other attacking players gained a lot of experience working together as the starting offensive unit.
When the pair returned to Capital Area Railhawks, they joined a team with several established scorers.
"We don't act selfishly," Agu said. "We kind of create opportunities for each other, and we have so many good finishers on the team that we're just able to pour in multiple goals per game."
+Read: Which USSDA clubs have the most U.S. Youth National Team players?
Bradford said his team enjoys being pressed. He believes his players "have the technical ability and speed of play to play out of things."
But in showing the ability to easily break down defensive pressure, Kelly and Agu said more opponents have started player more defenders behind the ball.
Capital Area Railhawks struggled at first, Kelly said, because there weren't many opening in the defensive third to get a shot off. They would pass the ball around the 18-yard box, hoping at some point a gap would open up.
As the season has wore on, though, Kelly said his team has been more successful breaking down these types of defenses by staying patient while still looking to make quick passes.
Rose, meanwhile, isn't concerned with how other teams stack up against them. They're the No. 1 scoring offense in the Academy, and their leading scorer believes this attack can propel Capital Area Railhawks all the way to a Development Academy title.
"As long as we play our game," Rose said, "I don't think there's any team out there that can stop us."