Hope Solo reinstated as Ellis names U.S. WNT roster for Algarve Cup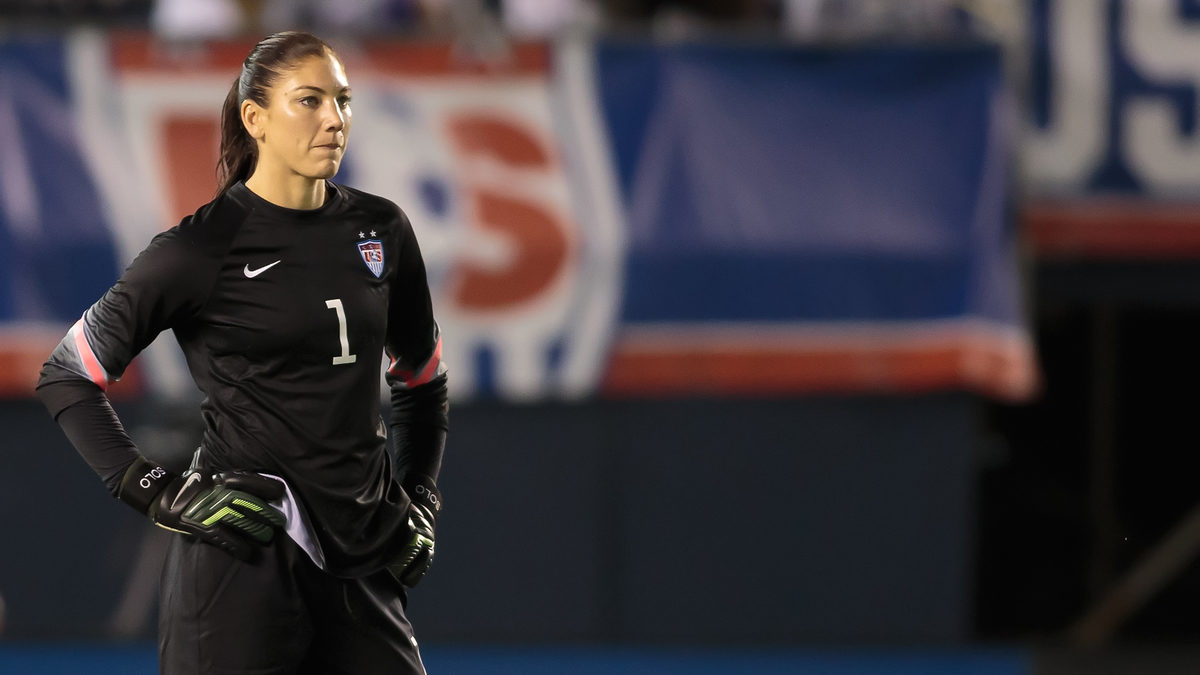 CHICAGO (Via U.S. Soccer) – U.S. Women's National Team head coach Jill Ellis has named a 25-player roster that will travel to the 2015 Algarve Cup in Portugal. It will be the USA's 20th trip to the Algarve Cup. Before the competition begins, Ellis will name 23 players to the tournament roster to face Norway, Switzerland and Iceland in Group B.
The roster includes 22 of the 24 players that were in Europe for the USA's recent matches against France and England, with midfielder Megan Rapinoe, defender Christie Rampone and goalkeeper Hope Solo. After a formal review by U.S. Soccer, Solo was reinstated to the squad after serving a 30-day suspension last month.
This year's tournament will run from March 4-11, and the U.S. team will depart for Europe on Feb. 22. The majority of the games will be played at small venues across the Algarve region on the southern coast of the country, with several matches at the 30,000-seat Algarve Stadium. The placement matches will take place on March 11.
+ANALYSIS: Victory over England does not quell questions about Ellis's vision
The USA will face 2015 FIFA Women's World Cup participant Norway on March 4 (2 p.m. ET) at the Municipal Stadium in Vila Real de San Antonio, which sits right on the border with Spain. The USA then takes on Switzerland, which will play in its first Women's World Cup this summer, on March 6 (12 p.m. ET), also in Vila Real de San Antonio. The U.S. finishes group play on March 9 against Iceland at Municipal Stadium Lagos (1:30 p.m. ET), which is in the western part of the Algarve region.
The USA's first two matches and its placement match on March 11 (time TBD) will be shown live on FOX Sports 1.
Six of the world's top-10 ranked teams are in this year's Algarve Cup, including the top five. Brazil, which is currently ranked eighth, will be participating for the first time. Eleven of the 12 participating countries are ranked in the top-20 in the world.
"The value of the Algarve Cup is of course great games against top teams in a tournament format without much rest," said Ellis. "In any year, this tournament presents great challenges, but as we continue to progress towards the World Cup, we want to get tested at the highest possible levels. Our opponents at this tournament give us another opportunity to gauge our depth and fitness."
Group A features Germany, Brazil, Sweden and China PR. Group C features host Portugal, Japan, France and Denmark.
This will be the 22nd edition of the Algarve Cup and for the first time in 14 years, it will undergo a change in the competition format. When the Algarve Cup expanded from eight to 12 teams in 2001, a Group C was created that generally consisted of lower-tier teams that were eligible to compete only for spots in the placement matches for seventh, ninth and 11th place.
This year, for the first time, all 12 teams will be competing for the tournament title. The final will be contested by the two group winners with the most points (or if all three group winners are tied on points, the top two will be determined by a series of tiebreakers). The third-place match will feature the third-best group winner against the best second-place team from the three groups.
In addition, the fifth-place match will be played between the two remaining second-place teams; the seventh-place match between the two best third-place teams; the ninth-place match between the remaining third-place team against the best fourth-place team; while the 11th-place match will feature the remaining two teams that finished fourth in their groups.
The U.S. Women have won the Algarve Cup a record nine times, including an unprecedented three straight championships from 2003-05. The USA made the championship game for nine consecutive years from 2003-11 and most recently won the tournament in 2013, defeating Germany 2-0 in the final on two goals from Alex Morgan. Last year, the USA had its worst finish ever, taking seventh place with a 3-0 win against Korea DPR.
Eighteen players from last year's Algarve Cup roster return, many of whom have played in numerous Algarve Cup tournaments.
U.S. Women's National Team Roster By Position:
GOALKEEPERS (3): Ashlyn Harris (Washington Spirit), Alyssa Naeher (Boston Breakers), Hope Solo (Seattle Reign FC)
DEFENDERS (10): Lori Chalupny (Chicago Red Stars), Crystal Dunn (Washington Spirit), Whitney Engen (Western NY Flash), Julie Johnston (Chicago Red Stars), Meghan Klingenberg (Houston Dash), Ali Krieger (Washington Spirit), Kelley O'Hara (Sky Blue FC), Christie Rampone (Sky Blue FC), Becky Sauerbrunn (FC Kansas City), Rachel Van Hollebeke (Portland Thorns FC)
MIDFIELDERS (7): Shannon Boxx (Chicago Red Stars), Morgan Brian (Houston Dash), Tobin Heath (Portland Thorns FC), Lauren Holiday (FC Kansas City), Carli Lloyd (Houston Dash), Heather O'Reilly (FC Kansas City), Megan Rapinoe (Seattle Reign FC)
FORWARDS (5): Sydney Leroux (Seattle Reign FC), Alex Morgan (Portland Thorns FC), Christen Press (Chicago Red Stars), Amy Rodriguez (FC Kansas City), Abby Wambach (Western NY Flash)
Additional Notes
Christie Rampone and Megan Rapinoe return to the roster after overcoming injuries that caused them to miss the USA's two-game European tour in early February, while Hope Solo returns after serving her suspension.

The USA has a 53-12-10 record all-time at the Algarve Cup and has scored 165 goals while allowing 61.

U.S. forward Abby Wambach comes into the tournament with 177 career goals, 21 of which have been scored at the Algarve Cup in 10 tournaments. Wambach is the top Algarve Cup scorer in U.S. history, having found the net eight more times than Kristine Lilly's 13 scores.

Rapinoe and Lori Chalupny head into the tournament with 96 caps each and both could earn their 100th if they play in all four matches.

U.S. midfielder Heather O'Reilly heads into the tournament with 215 career caps and earned her 200th last year at the Algarve Cup. O'Reilly will be playing in her 13th Algarve Cup and made her U.S. debut at the tournament in 2002 at the age of 17.

Four other players made their WNT debut at the Algarve Cup: goalkeeper Ashlyn Harris (2013), defender Whitney Engen (2012), defender Rachel Van Hollebeke (2008) and forward Amy Rodriguez (2005).

U.S. captain Rampone, who currently is the second most-capped player in U.S. history with 304, will lead the U.S. team that features 10 defenders. Rampone will be playing in her 14th Algarve Cup.

Midfielder Carli Lloyd was the MVP of the 2007 Algarve Cup after scoring in all four games that year. She also scored three goals in the 2010 tournament and has 10 goals in total at the Algarve Cup. That ranks third among active players behind only Wambach (21) and Alex Morgan (11).

Defender Ali Krieger (2013) and midfielder Tobin Heath (2008) scored their first WNT goal at the Algarve Cup. Both against China PR.

U.S. midfielder Lauren Holiday missed last year's tournament due to a family commitment. She has scored six goals in this tournament, as has O'Reilly.

The tiebreakers within the groups are as follows: 1) head-to-head result, 2) goal differential, 3) goals scored, 4) best Fair Play ranking from the group matches and 5) best FIFA ranking.

If two or more teams have the same points in different groups, the tiebreakers to determine the placement matches will be: 1) goal differential, 2) goals scored, 3) best Fair Play ranking from the group matches and 4) best FIFA ranking.

Each team is allowed six substitutions per game using four stops during the match. However, when the second half starts, each team can only make three stops to perform a maximum of six substitutions.

There are no suspensions for yellow card accumulation during the tournament, but an ejection during the tournament will result in a one-game suspension.