Herzog calls 28 players for U.S. U-23 MNT college identification camp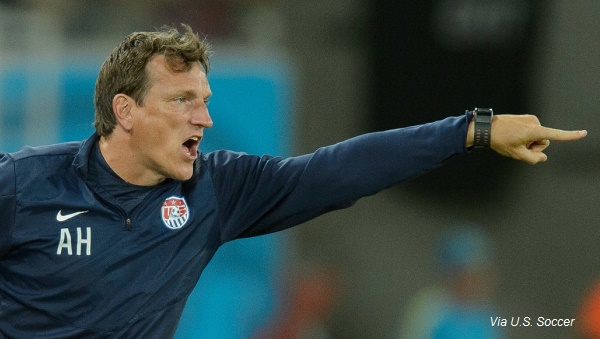 CHICAGO (Via U.S. Soccer) – U.S. Under-23 Men's National Team head coach Andi Herzog has called 28 players to Carson, California, for a College Identification training camp that will allow the coaching staff to scout a new crop of collegiate players as the team continues preparations ahead of October qualifying for the 2016 Summer Olympics in Rio de Janeiro.
The group will train from August 5-8 at the U.S. National Training Center in Carson.
"It will be great to work with this group and have a look at them," head coach Andi Herzog said. "We have brought college players in and have seen them go on to have success with the senior team. Jordan Morris was an example of that this year. This camp is another chance to build our pool of talented players."
Eleven of the 28 players have experience playing in the U.S. Men's National Team youth system.
Roster By Position:
GOALKEEPERS (4): Wade Hamilton (Cal Poly; Murrieta, Calif.), Jonathan Klinsmann (Cal; Newport Beach, Calif.), Kendall McIntosh (Santa Clara; Santa Rosa, Calif.), Andrew Tarbell (Clemson; Mandeville, La.).
DEFENDERS (9): Jonathan Campbell (North Carolina; Greensboro, N.C.), Alex Crognale (Maryland; Gahanna, Ohio), Chase Gasper (UCLA; Alexandria, Va.), Tomas Hilliard-Arce (Stanford, Matthews, N.C.), Grant Lillard (Indiana; Hinsdale, Ill.), Jakob Nerwinski (Connecticut; Lawrenceville, N.J.), Chris Odoi-Atsem (Maryland; Mitchellville, Md.), Sam Strong (UCSB; Santa Barbara, Calif.), Brandon Vincent (Stanford; Valencia, Calif.).
MIDFIELDERS (10): Corey Baird (Stanford; Escondido, Calif.). Andrew Brody (Lousiville; Orlando, Fla.), Mael Corboz (Maryland; Green Brook, N.J.), Niko Hansen (New Mexico; Sacramento, Calif.), Ian Harkes (Wake Forest; Fairfax, Va.), Patrick Hodan (Notre Dame; Brookfield, Wisc.), James Moberg (Washington; Winsdor, Calif.), Adam Najem (Akron; Clifton, N.J.), Keegan Rosenberry (Georgetown; Ronks, Pa.), Jake Rozhansky (Virginia; Germantown, Md.).
FORWARDS (5): Michael Gamble (Wake Forest; Columbia, Md.), Connor Maloney (Penn State; Harrisburg, Pa.), Alex Muyl (Georgetown; New York, N.Y.), Paul Salcedo (Cal; Inglewood, Calif.), Mac Steeves (Providence; Needham, Mass.).