Halftime: Reflections at the midpoint of NWSL's inaugural season
By Joanna Lohman
BOSTON — I recently posed a question on Twitter asking any and all NWSL followers to do a midseason performance review of the league.  I specifically asked for positives, negatives, likes and dislikes.
I got an overwhelming response.
This is good.  This means people care. They care to address league performance.  We all know the opposite of love is not hate – the opposite of love is apathy.  As I read all the responses and attempted to answer every single one of them, I was encouraged to feel the love and at times, the hate.  All the while, I was even more encouraged NOT to feel apathy.
Of course, my twitter feed is quite biased, focusing on gay rights and soccer.  If anything happens in these two spheres, my Twitter feed reflects this.  I feel OK, however, overlooking this bias in my inaugural midway reflection because this is a performance review for those who care.  Those who do not, well, they will not be reading anyway.
Those who care gave me their valued feedback, and so I give mine.
Summarizing all the information, I found prevailing themes in the responses.  Consensus. Let's elaborate on the findings:
Positives/Likes (+): The quality of play, the ability to watch a live stream (albeit not always 100% flaw-proof), the existence of a league (we cannot overlook this), Portland Thorns (crowds, stadium atmosphere, connection with their Major League Soccer partner, the Portland Timbers)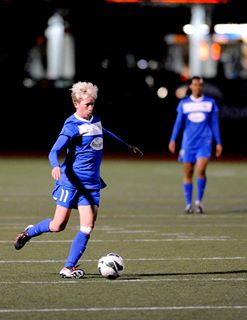 Negatives/Dislikes (-): Communication between league/teams and their respective fans, stadiums/fields, commentators, referees (who is ever happy with the referees?), geographical absences (fans do not have a team within hundreds of miles of them), lack of supporters' group section (all fans mixed together – teeny boppers and 20-something fanatics)
The human species is fickle – there will almost always be more negatives verbalized than positives.  This, on the whole, is not a negative, though.  As long as we have a foundation of appreciation for the league, we can move forward trying to address the smaller issues.  We want our fans to want more – it means they see the potential for something bigger and better – and as I always say, we shall never stop getting better.
Furthermore, even the negatives can be taken as a positive. Yes, a collection of eight teams is not nearly enough to cover the demand for women's soccer across this great land.  But this is a good problem to have. Expansion, if feasible, will eventually allow our supply to meet the demand.
So, let's address a few of these issues to see if we can find a remedy.
Referees
Coming off our last two games – a beyond-stoppage-time goal that enabled Western New York to tie the game, and a goal, an obvious goal, it seemed, scored in Chicago not given to us, this is a sensitive subject for me. In order to avoid a fine, here is my politically correct take…
No one is perfect. We all make mistakes. Players make bad decisions and so do the refs. Bad decisions come with consequences and its heartbreaking when such a decision can determine the outcome of the game.  After our WNY game, I felt like I was punched in the gut.  A tie that felt like a loss – heartbreak. Points are at a premium in this league – remember, we only have 22 games – not enough games for the bad calls that went against you to swing around as good ones in future games. The difference between a tie and a win can be the difference between making the playoffs and not.
However, as we progress as a league, we hope that improvements will be realized on all levels.
My recommendation: Referees, let the game go on. Allow for "advantage" more often. We are a women's pro league but we can take hits. Less is more.
Commentators
My recommendation: I will quote myself here: "Let the game go on. Less is more." Useless chatter is unwelcome.  And the chatter that is welcome is chatter of knowledgeable background on each player and the team.  Do the research.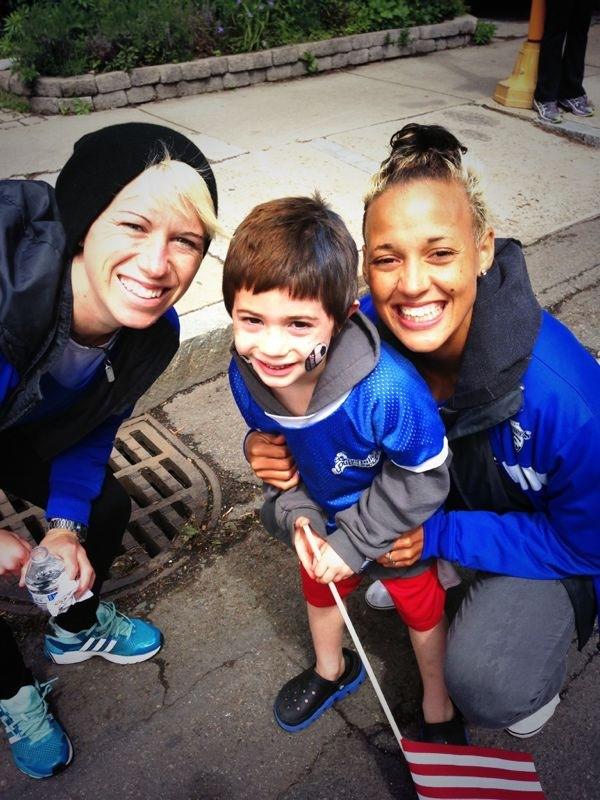 Stadiums/fields
If each team could draw the crowd to play on a grass field in a 25,000-seat stadium – we would.  We can't, so adjust your eyes, adjust your expectations, and plan on seeing many more turf burns.
My recommendation: on the count of three, let's all scream.  1, 2, 3….arggghhh.  OK – now that we have released our frustration, let's focus our energy on immediate issues.
Lack of supporters' group sections
I feel the pain on this one.  My first column on SoccerWire.com addressed the need to cater to the fanatic fan, not the screaming 12-year-old. I can only imagine how awkward it is when the two fans are mixed  This is where the supporters' groups will have to take matters into their own hands.
My recommendation: If club management/staff won't designate a specific supporter's group section as they should, then the supporter group needs to take over an "unofficial" part of the stands for their occupation. Defend your turf. Be loud and be proud.
Geographic team absences
My recommendation: For all supporters who have no local team to support – support the league.  Buy season tickets for the team of your favorite player.  Greater ticket sales = more money = a more convincing sales pitch for future investors. Or, if you win the lottery, buy your own team =)  For all those who do have a local team, you have no excuse. Buy season tickets and come to the games.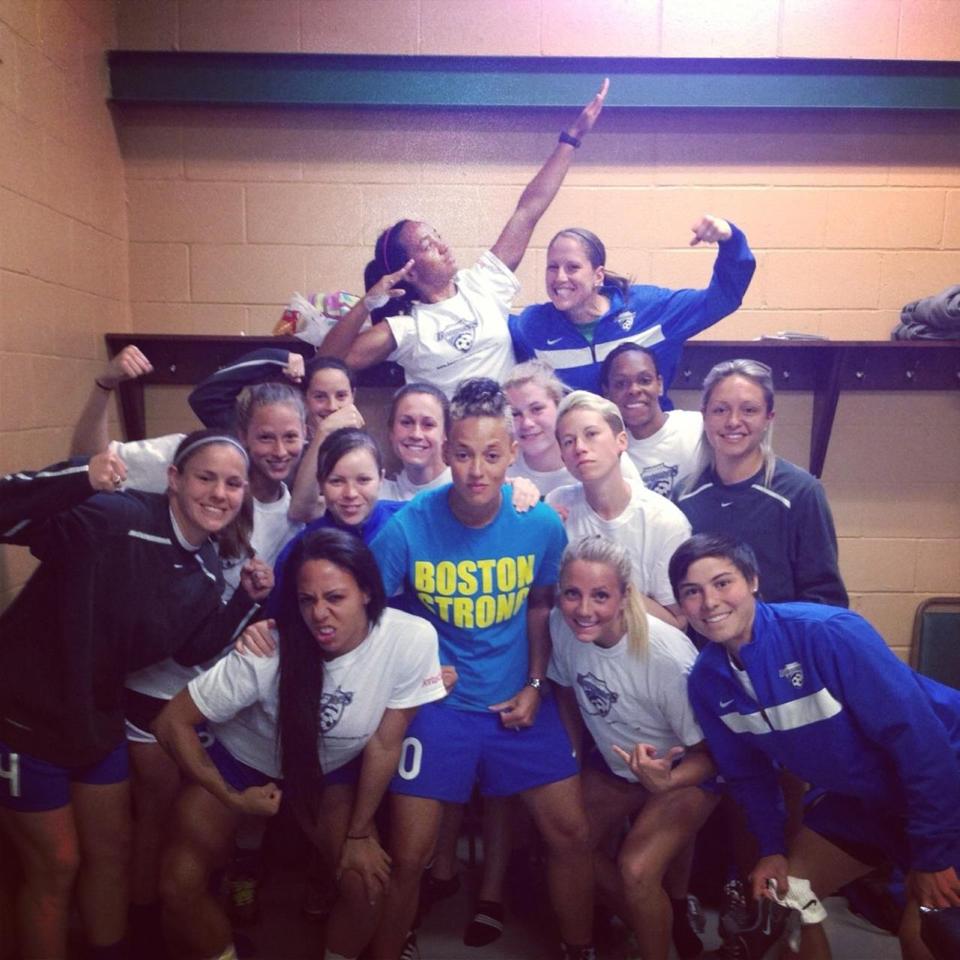 For all of those who want to see the NWSL improve: You are not alone.  We ALL share the same desire for growth, expansion, TV coverage, etc.  When I say "all," this means the league, the players, the fans – everyone involved from top to bottom.
From a player's perspective, we want the standard to be higher (it is a step below the bygone WPS). We want more talent in the league, higher salaries, bigger crowds, deeper media coverage and a closer relationship with the U.S. Soccer Federation and MLS.
With that said, we must not confuse what we want for what we need.  We may not have all of what we want (yet), but we have what we need. We have a US-based league with some of the best players in the world. We are playing the game we love and we are getting paid to do it – albeit minimally. The league is operating within a budget that will allow it to continue for many years. (Do I really need to remind everyone that last year at this time we had NO pro league in the United States?)
Unlike the WUSA and the WPS, we have nowhere to go but up.  I don't know about you, but I am tired of the "over-promise, under-deliver" mantra of previous leagues. I prefer starting at the bottom as opposed to the top – getting your wages cut in half from one year to the next is hard pill to swallow.
I prefer to dream of the days of a million-dollar budget, soccer-specific stadiums and nation wide TV coverage. Better days are ahead. Slowly but surely, if we stay focused, disciplined, united and hopeful, all of our dreams can come to fruition.
Until then, patience is key. Know that you are not alone in wanting things to be better – but the foundation of NWSL appreciation cannot be shaken. We are at halftime in an awesome inaugural season and it is sure to be an incredible race to the finish. Long live the NWSL.