Group winners decided at US Youth Soccer Region III Championships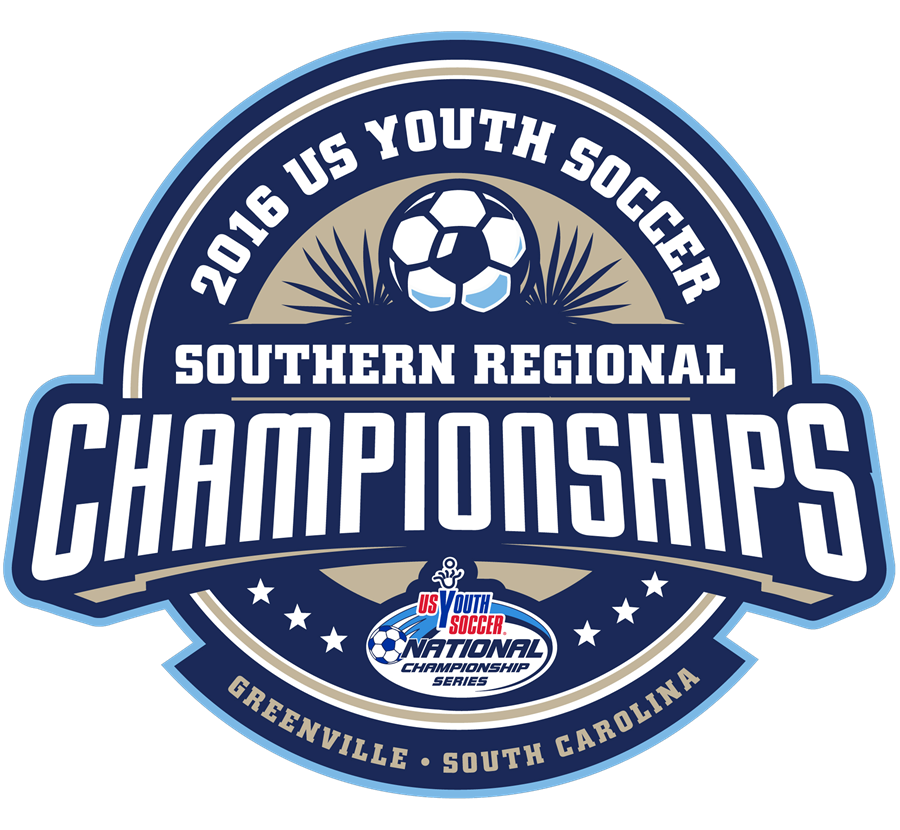 Preliminary Games, Day 3 of 3
Quarterfinal play begins on Monday
Scores & Standings
GREENVILLE, S.C. (Via US Youth Soccer) — Sunday brought an end to exciting preliminary games at the 2016 US Youth Soccer Region III (South) Championships at the MeSA Soccer Complex in Greenville, S.C., and the Carolina FC Soccer Complex in Wellford, S.C. The chase for the Regional and National Championship continues for the 104 teams who have qualified to move on from their preliminary groups.
Monday will feature quarterfinal matches in the Under-14 through Under-16 age groups, along with Under-13 Boys. The earliest games begin at 8:15 a.m. ET and continue throughout the day with the last matches kicking off at 1:30 p.m.
After three challenging days of group play, five of the six returning 2015 Region III Champions are still alive in the hunt to defend their titles.
Eleven of the 12 Region III State Associations are represented in the next round of games, and six states have at least 10 teams moving on. Florida leads the way with 16 teams advancing out of group play, while Georgia and North Texas are close behind with 14 each. Host South Carolina Youth Soccer Association has 11 teams advancing, along with North Carolina and Tennessee.
Sunday's action featured several matchups in which both teams were playing for a single spot in the next round of the tournament. Under-18 Girls Florida Elite 97/98 (FL) played in one such game, and coach Brad Schmidt was pleased with how his team responded in its win.
"These situations are huge. When your back is up against the wall, you can either go hide or come out and play," Schmidt said. "You figure out who will be the players at the end of the day. The good ones rise to the occasion."
Now that his team is moving on to the quarterfinals, Schmidt knows the challenge that's standing in front of his group. He said a lot of the opposing players his team will face are committed to top Division I colleges, and it the games will allow his players to see where they stand in preparation for playing at the next level.
The talent level of the opposition also means there's little room for error in the next rounds of the Region III Championships.
"During pool play, if you have a hiccup, you can make up for it," Schmidt said. "Now, every time you step on the field, you have to bring your best. Everybody knows what the games mean."
Regional winners of the Under-13 through Under-19 age groups earn a berth to the 2016 US Youth Soccer National Championships, which will be played July 25-31 at the Toyota Soccer Center in Frisco, Texas.
The US Youth Soccer National Championships will consist of US Youth Soccer Regional Champions, as well as the US Youth Soccer National League qualifiers in the Under-14 through Under-18 Boys and Girls age groups to complete the field of 96 teams.
Here are a few recaps from the final day of group play…
Girls Recaps
In a must-win game for both teams, Solar Chelsea Red (TX-N) edged CASL Junior Ladies (NC), 2-0, to advance to the Under-13 Girls quarterfinals. Allison Perry scored shortly before halftime to put the North Texas side up, 1-0, and Lola Stanley added an insurance goal with less than 10 minutes to play. The Solar defense did the rest, as recorded its second straight shutout. Solar Chelsea 03 (TX-N), which won a 1-0 matchup between the club mates earlier in the week, finished first in the group.
Just one point separated Sting East Dunstan (TX-N) from South Carolina United FC 01 Elite (SC) entering Sunday's Under-14 Girls Group C matchup. Julia Gherardi put SCUFC, which needed a win to advance, up early in the game when she found the back of the net. However, Sting's Caroline Havard netted a pair of second-half goals to go along with a Kaylee Swaner strike, as the North Texas side held on for a 3-1 win. The result helped Sting to a second-place finish in the group, while Florida Rush 01 Rush (FL) finished first.
Entering Sunday in a tie for second, NASA Elite (GA) picked up a key 4-0 win over VHSC Attack 01 Black (AL) to book its place in the Under-15 Girls quarterfinals. NASA jumped out to an early two-goal lead after Megan DuMond and Karsen Brantley each converted penalty kicks. Nicole Icen extended the lead shortly after halftime, and Brantley added her second shortly after to help cap the 4-0 victory. OFC 01 Phillips (OK) finished on top of Group B after U.S. Youth National Team goalkeeper Hensley Hancuff and the defense recorded their second clean sheet of the week to wrap up group play.
Following a finals appearance in 2014 and a semifinals berth a year ago, OFC 00 Hampton (OK) is back on the hunt for a Region III title after securing an Under-16 Girls quarterfinal berth with a 3-2 win on Sunday. The Oklahoma side narrowly edged out Dallas Texans 00 Red FTW (TX-N), which came out on the wrong side of three very close games in group play. OFC received a first-half goal from Samantha Barnett, but the Texans' Maddison Kyle netted two quick tallies around the hour mark to put her side in front. With two minutes remaining in regulation, Barnett equalized for OFC, and teammate Mackenzie Holub followed with the game-winner in the final minute of play to secure the victory. Florida Krush Black (FL) went 3-0 during preliminary action to finish first in Group B.
Under-17 Girls Sunrise Sting 98/99 (FL) capped an undefeated preliminary round with a 2-1 win over Tennessee SC 17 (TN) on Sunday. U.S. Youth National Team goalkeeper Laurel Ivory anchored a Sunrise defense that allowed only the goal to Tennessee during its three group games. After reaching the semifinals in 2013, Sunrise is looking to make its deepest run yet at the Region III Championships. Tennessee will also advance to the quarterfinals as the Group B second-place team.
In a must-win matchup, Florida Elite 97/98 (FL) found success utilizing the width of the field to earn a necessary 4-0 win over TSC Hurricane 98 (OK) to advance to the Under-18 Girls quarterfinals. TSC needed just a tie to advance, but Florida made sure to press the issue and grabbed a 9th-minute lead on Jessica Quixley's goal. Abbegale Newton doubled the advantage 10 minutes later, and Kirsten Pavlisko extended Florida's lead to 3-0 with a goal in the 55th minute. Newton added another insurance goal later in the half to seal the win, which allowed Florida to jump past TSC into second place in Group C. Oklahoma FC 98 (OK) recorded three wins to finish atop the group.
After three very successful days at the Carolina FC complex, CESA (SC) is heading to its home turf at the MeSA Soccer Complex as the Under-19 Girls Group B winner. CESA will be joined by IMG Academy (FL) from Group B, while 96 TFCA Alliance (NC) and Brownsville United FC 97 (TX-S) advance out of Group A.
Boys Recaps
With a spot in the Under-13 Boys quarterfinals on the line, Oklahoma FC 03 (OK) earned a 1-0 win over Solar Chelsea Red 03 Stricker (TX-N). Marco Romero recorded the game's lone goal in the 7th minute, and the Oklahoma back line held off Solar to record its first clean sheet of the week. The win allowed the Oklahoma side to finish first in Group A, while Florida Elite Soccer Academy (FL) finished second with a win and two draws.
Defending Region III Champion South Carolina United FC 01 Elite (SC) is heading to the Under-14 Boys quarterfinals after securing a second-place finish in Group B with a 4-1 win over BUSA 02 Elite (AL). Travis Sewell and Damon Williams spotted SCUFC a 2-0 lead before Dylan Colle pulled BUSA within one with a 27th-minute strike. Alexander Williams pushed the South Carolina advantage back to three goals, and Joshua Bruinsma sealed the 4-1 win with a first-time strike that curled inside the far post following a late SCUFC corner kick. West Pines United Carrillo (FL) won the group after three victories to open the week.
Elsewhere in Under-14 Boys play, Group C teams entered Sunday all tied at three points apiece. Goals from Noah Burnette and George Buete helped 01 CASL Red North (NC) to a 2-1 win against GSA 02 Premier (GA), which allowed the North Carolina side to finish first in the group. In the other matchup, Concorde Fire Central Elite (GA) received two early goals from Andrew Rodgers to go along with Lucas Anderson, Jesus Tadeo and John Franks strikes, as it defeated Lobos Rush 02 Premier (TN), 5-2, to take second in the group.
A big win on Sunday helped Davie United Sharks 00/01 Blue (FL) earn a spot in the Under-15 Boys quarterfinals with a second-place finish in Group B. Knowing they likely needed points from their matchup with local side CESA 00 Premier (SC), the Sharks came out focused and took control as the game unfolded. Anibal Morral put Davie United in front in the 27th minute only to see William Brandenburg quickly equalize for CESA. The Florida side controlled the second half and received a goal apiece from Andres Sanchez and Sebastian Vidarte, as well as two from Ian Tomancik, to earn a 5-1 win. The Sharks will move on, along with Group B winner GSA 01 Premier (GA), which tied 00 CSA Charlotte Predator (NC) on Sunday to complete an undefeated run in group play.
With all four teams tied at three points apiece entering Sunday's games, all was to play for in Under-16 Group C. Defending Region III Champion Dallas Texans 00 Red (TX-N) was one of the teams fighting to advance from the group, but it fell behind against in-state foe FC Dallas 2000 Premier (TX-N). FC Dallas jumped in front in the 5th minute on a Garrett Baughman goal, and Jesus Castro extended the lead to 2-0 with a 54th-mintue tally. The Texans pulled a goal back on a free kick with just four minutes to go in regulation, as Wyatt Priest hit a low drive past the wall and just inside the right post. Minutes later, Sergio Saucedo cut inside and onto his right foot before blasting a tying goal into the upper-90. FC Dallas denied a couple Texans chances in stoppage time to preserve the tie.
However, a draw in the other Group C game gave Andromeda FC 00 Red (TX-N) and NASA 18 Elite (GA) the point each team needed to advance via a goal differential tie-breaker. Colton Izard and Skyler Davis scored the goals for Andromeda and NASA, respectively, to help their teams move on to the quarterfinals.
In a matchup of 1-1 teams looking to advance, 99 Lobos Rush Premier (TN) earned a 4-1 win over BSA Elite (FL) to finish second in Under-17 Boys Group B. Trevor Piel netted a hat trick for Lobos, including two goals in the first 12 minutes to give the Tennessee side an early cushion on the scoreboard. Cole Cannon also added a goal for Lobos, while Nicholas Burgess provide the one tally for BSA. Joining Lobos in the quarterfinals will be Group B winner FC Dallas 99 Premier (TX-N).
A 2-1 win over Tennessee SC 2016 Showcase (TN) on Sunday helped 2015 Region III Champion FC Dallas 98 Premier (TX-N) pull away from a crowded Under-18 Group C and finish on top of the standings. Gerber Chavez opened the scoring for FC Dallas with a 14th-minute strike to put his side on top. Tennessee pulled level in the 39th minute on an Alex Bautista-Diaz tally, but FC Dallas immediately regained the lead when Brooks Fergerson found the back of the net. The North Texas side held on to its narrow lead for the length of the second half to earn the 2-1 victory. Despite a loss on Sunday, KSA 98 Premier (GA) finished second in the group.
Two wins in group play helped FC Florida 96/97 Elite (FL) win Under-19 Boys Group A, while CESA 96 Premier (SC) advances as the second-place team thanks to a tiebreaker over Premier Soccer San Antonio DTSAN 97 (TX-S). In Group B, 96 TFCA Alliance (NC) won all three of its games to finish first, and Barcelona 97 (TX-N) used the age group's highest-scoring attack to finish second.