Good enough: "Job well done" as weary USMNT book World Cup advancement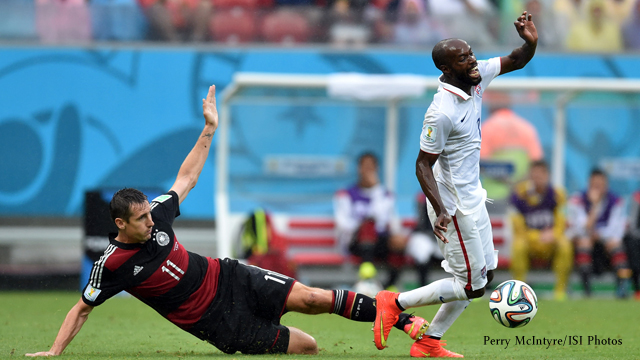 RECIFE, Brazil – Germany defeated the U.S. Men's National Team 1-0 at Arena Pernambuco on Thursday afternoon, and barely had to reach fifth gear to do so in a composed, nearly relentless display of world-class soccer capped by Thoams Muller's clinical second-half strike.
But American heads were high, smiles were wide and fists were pumped after the final whistle, because the USMNT advanced to the World Cup's round of 16 all the same, thanks to Portugal's 2-1 win over Ghana in the other final Group G game thousands of miles away in Brasilia.
[ +READ: U.S. Men lose 1-0 to Germany, but advance with help from Portugal ]
"Last game's draw felt like a loss and today's loss felt like a win," said center back Omar Gonzalez. "It's pretty weird but hey, our mission from the very beginning was to get to the next round, and job well done."
Pushed onto the back foot for long periods, the U.S. were brave, but heavy-legged and poor in possession in the wake of their energy-sapping 2-2 draw with Portugal in the Amazon on Sunday. Yet what they had left was good enough to survive Brazil 2014's "Group of Death."
"Germany did a great job when the ball turned over – they put a lot of numbers to the ball. Maybe heavy legs, maybe the conditions – I would say that's the one thing we're disappointed in, is how we didn't keep the ball," said Matt Besler after yet another standout performance in the USMNT central defense, this time next to Gonzalez instead of Geoff Cameron.
"But everything else, the way that we battled, the way we did create a couple of dangerous chances, the way that we defended, it's great. We're moving on."
The U.S. knew coming in that a draw would be good enough, yet they insisted in the leadup to the game that victory was the goal. And as it turned out, Portugal – who kept the Yanks from qualifying for the next round on Sunday with Silvestre Varela's last-second equalizer – lent the most important helping hand.
[ +READ: World Cup Competition: The best and worst we can be ]
"Today was a different type of game," said USMNT captain Clint Dempsey, who worked hard in his second straight appearance as a lone striker, but seemed a bit off the pace when it came to his decisions on the ball.
"[We're] just happy not to be in a situation of trying to calculate: 'OK, this happens, if this team scores, how many goals do we need to have?' This and that. I'm just happy to be in the knockout stages and keep progressing."
Head coach Jurgen Klinsmann felt his team gave his homeland (and former employers) too much respect in the early going as Germany set the tone with buzzing pressure and confident passing sequences that forced the North Americans to chase.
The Yanks hung on with plenty of the spirit and tenacity that is their calling card, and eventually carved out a few opportunities of their own. But on balance it was yet another lesson of the ruthlessness and relentlessness required to overcome elite sides.
[ +WATCH: Official match highlights on FIFA.com ]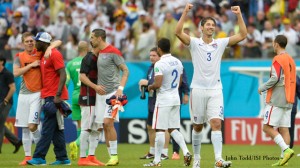 "I think we needed to do a better job at the beginning of not letting them have 'the German effect.' A lot of times teams will just sit back and allow them to come at them," said winger Graham Zusi. "We didn't really want to do that. It took about 15, 20 minutes for us to realize that we can knock the ball around as well. We had some good moments in that first half, doing just that."
As Klinsmann noted, the math now gets clearer in the knockout stages: Win or else. And despite coming off second-best to the three-time World Cup champions, they feel vindicated to have earned that opportunity, defying widespread doubts about their prospects.
"Now two World Cups in a row, we've gotten to the knockout stages," said Dempsey. "Especially in the group that we were in this time, I think this was some of the most exciting games to watch. The back and forth between the teams that were in our group, how close – it came down to the last game, and I think all the fans of each country can appreciate all the quality that was there and how difficult it was to advance out of this group."