Girls National League kicks off alongside Disney Showcase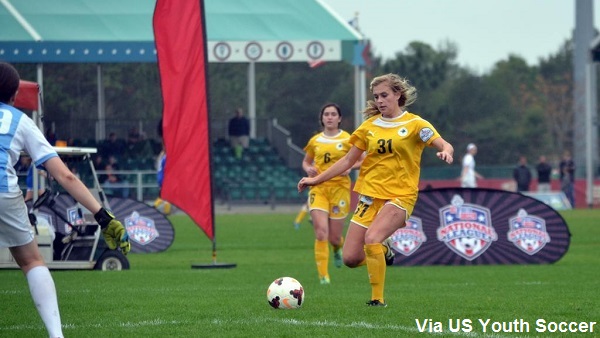 Day 1 of 3 complete
Scores and Standings 
ORLANDO, Fla. (Via US Youth Soccer) — The 2014-15 US Youth Soccer National League Girls resumed league play Wednesday, as 32 of the 80 teams competed at the ESPN Wide World of Sports in Orlando, Fla., alongside the Disney Soccer Showcase.
The National League provides an avenue for teams to play in meaningful matches against top competition from across the country for continued development and opportunities for exposure at the national team, collegiate and professional levels. In addition to recruiting opportunities, the top two finishers from each division will earn a ticket to the 2015 US Youth Soccer National Championships, making each match valuable to the teams' fate as it could make or break their chance at competing for the National Championship.
 +Read: Five teams earn berths to 2015 US Youth Soccer Nationals
Everything is still to play for after the first day of play in Orlando, as all division titles and second-place finishers have yet to be decided. All games continue to be intense as teams fight to separate themselves in the tight standings.
A veteran National League side picked up a key win Wednesday, as Under-18 Kings Hammer Academy (OH-S) earned three important points to move toward the top of the Red Division with two games remaining in Florida. KHA coach Jon Pickup stressed the importance of gaining every possible point to have a legitimate chance to finish in the top two in its group.
"We've got to come here this weekend and win all three games, in my opinion, in order to qualify for Nationals. That's always been our goal," Pickup said. "We've had some good preparation. We knew these would be tough games, and it's going to be even tougher tomorrow. It doesn't matter whether you're top of the league or bottom of the league, anybody can beat anybody."
Kings Hammer knows what it takes to earn a berth to the National Championships through the National League, as the Ohio side has finished in the top two each of the three previous seasons it has competed in the league. During that time, Pickup said the skill level of opponents has only grown.
"I think the competition has gotten harder and harder," he said. "This year and last year, the teams are getting tougher. Teams used to have five or six great players. Now, they're up to nine, 10, 11, 12 or 13 great players. That's made a huge difference. The level of play has gotten a lot harder."
The National League teams that do not compete in Orlando, including all Under-14 squads, will complete their season at the Players College Showcase in Las Vegas — with boys games held March 13-15 and girls games played March 20-22.
The National League is an extension of the US Youth Soccer Regional Leagues (US Youth Soccer Region I Champions League, Midwest Regional League, Region III Premier League and Far West Regional League).
Some highlights from Wednesday's matches…
Under-15
JFC Storm 99/00 (FL) earned an important 2-0 victory over Team Chicago Academy – Cruzeiro (IL) to get some momentum going in its hunt for a top-two finish the Under-15 Red Division. The Florida side jumped in front in the 17th minute on a Molly Miller goal, and Jessica Shapiro doubled the lead with a strike midway through the second half. The defense did the rest, as JFC recorded a shutout victory to jump into second place in the group. With three of the top four teams in the division still to play in Las Vegas, JFC will need all the points it can get this week.
In Under-15 Blue Division action, Tophat 18 Gold (GA) maintained a six-point lead atop the standings with a 2-0 win over second-place Cleveland FC (OH-N). Hannah White put the Georgia side in the lead when she found the back of the net just before halftime. Tophat held on to that lead until Rachel Jones added an insurance goal in the final minutes to cap the 2-0 victory. The Hatters can clinch the division title on Thursday with a win or tie against Grand Rapids Crew Jrs. 00 Gold (MI), which jumped into second place in the group with a 2-0 win on Wednesday.
Under-16
Loudoun 98 Red (VA) and NSA Rockets (IL) each had a shot to make up some ground on the group leaders with a win in their Under-16 Blue Division matchup on Wednesday. After a scoreless first half, Emma Kerns broke through for Loudoun in the 59th minute to give her side the lead. NSA applied pressure as it looked for an equalizer, but Allyson Brown netted a second Loudoun goal in the 72nd minute to cap a key 2-0 victory for the Virginia side.
Defending National Champion JFC Storm 98/99 (FL) edged Futura Academy Forte Elite (MO) to gain a temporary hold on first place in the Under-16 Red Division. JFC fell behind in the seventh minute when Futura's Abigail Groom scored the game's opening goal, but Leila Azari responded for the Florida side to send the match to halftime tied at 1-1. Azari found the back of the net twice more in the second half to push the JFC advantage to 3-1. Both goals proved to be necessary as Kassandra Ginther pulled Futura within one, but JFC held on to win, 3-2.
Under-17
Tampa Bay United 97 Premier (FL) moved into sole possession of first place in the Under-17 Blue Division, as it played third-place KHA Red (OH-S) to a scoreless draw on Wednesday. The two sides went back and forth for the duration of the match, but each defensive unit did enough to keep the opposition in check. Now sitting just outside the top two, KHA will need to pick up some points during the final two days at Disney to give itself a chance at qualifying for Nationals.
In Under-17 Red Division play, Tophat 16 Gold (GA) is still in the hunt for a ticket to Nationals after a 2-0 win over FC United Select (IL). Just seconds before halftime, Grace Jackson sent a great left-footed strike past a diving keeper and into the upper-90 to give Tophat a lead at the break. The Georgia side doubled that advantage in the 61st minute on a Kendall Parks goal and hung on for the 2-0 shutout victory. Tophat will meet group leader Michigan Jaguars 98 Green (MI) on Thursday in a match that will impact the top half of the group standings.
Under-18
Quick starts in each half helped Kings Hammer Academy (OH-S) defeat 97 Louisiana Fire Navy (LA), 3-2, in a back-and-forth Under-18 Blue Division contest. It took just 20 second for KHA's Patrice Dipasquale to slide her shot inside the left post for a 1-0 lead. Alexandra Thomas equalized for Louisiana, but KHA retook the lead with another Dipasquale goal less than a minute after the start of the second half. Once again Louisiana had an answer, as Samantha Jordan headed a 68th-minute shot into the net to level the score. In the 79th minute, KHA's Katie Murray made a nice run down the left flank before cutting inside and slipping a pass to Bayley Feist, who hit a first-time blast past the keeper for the game-winning goal.
VSA Heat 96 Blue (VA) moved into a second-place tie in the Under-18 Red Division with a 3-0 win Wednesday against KC Metro Dynamos (KS). Amanda Philip netted a 19th-minute goal to put the Virginia side in front, and teammate Karina Lacey hit home a loose ball off of a corner kick to double the advantage in the 67th minute. Kayla Christian then added an insurance goal for VSA, as it held on for the shutout victory — keeping the Virginia side in the hunt for a top-two finish.
National League action continues Thursday, Jan. 1, at ESPN Wide World of Sports with games at 9:30 a.m., 11:30 a.m. and 1:30 p.m.