Girls ECNL announces partnership with International Champions Cup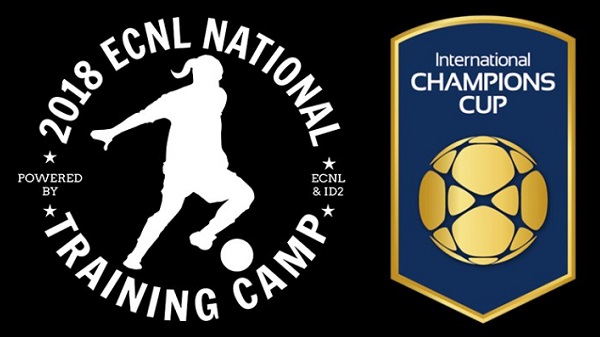 RICHMOND, VA (Via Girls ECNL) – The Girls Elite Clubs National League has  announced a new partnership with the International Champions Cup (ICC), and the expansion of the 2018 Girls ECNL National Training Camp.
From July 21-26, 2018, an ECNL National Selection of approximately 40 female players born in 2001 and 2002 will participate in an Integrated Training Camp in Portland, Oregon, to learn from and participate in training sessions with two of the top women's professional teams in the world: Paris Saint-Germain and Manchester City FC.  Beyond these integrated training sessions, the ECNL National Selection players will have additional trainings and friendly competition during the week.  Paris Saint-Germain and Manchester City will also participate in a featured match at the University of Portland Stadium during the camp on the evening of July 24th, before departing for Miami, FL for the first Women's International Champions Cup.
Approximately 90 additional youth players born in 2003, 2004 and 2005 will be invited to the annual ECNL/id2 National Training Camp from July 25-29, 2018.  These players will have the opportunity to play with and against the best athletes in the country in their age groups, learn from a staff of some of the country's top youth coaches, and watch the match between Paris Saint-Germain and Manchester City.
+READ: Three more clubs join Girls ECNL for 2018-2019 season
"The ECNL's relationship with the International Champions Cup, and the Integrated Training Camp this summer with two of the most iconic sporting brands in the world, will provide incredible learning and growth opportunities for some of the best female players in the country," said ECNL President Christian Lavers. "This relationship and these events help fulfill our vision to provide unprecedented and innovative programs and experiences for our clubs, teams, and players to make the game better."
The 2018 ECNL/id2 National Training Camp is a joint effort between the ECNL, U.S. Club Soccer's id2 National Player Identification and Development Program, and Nike.
There is no cost to players for participating in the ECNL / id2 National Training Camp, aside from travel to and from the camp. Lodging, meals and training gear are provided by the ECNL, US Club Soccer, and Nike.