Girls Development Academy U15 and U16/17 Finals match-ups set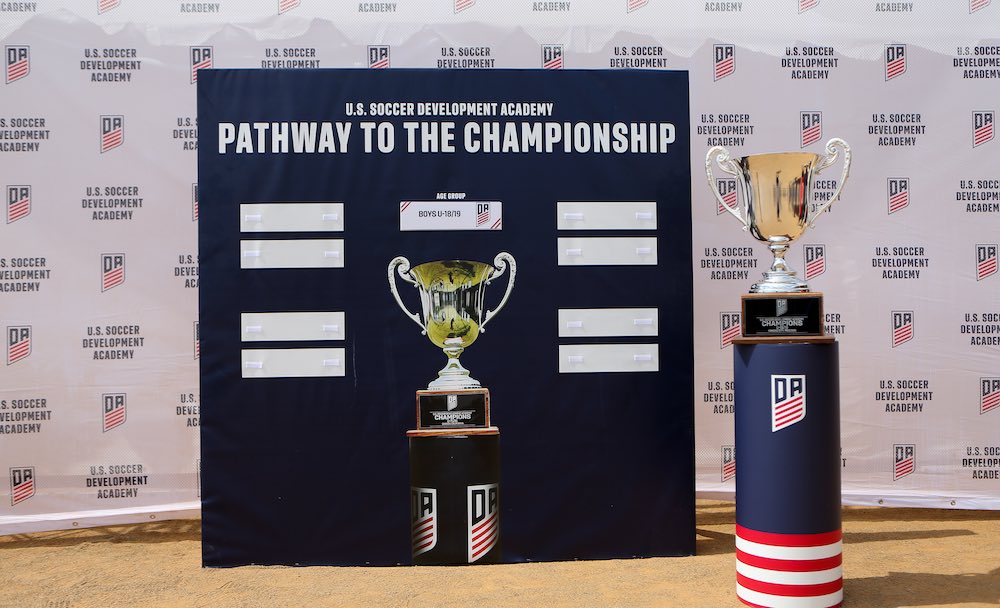 At the U-15 level, San Jose Earthquakes Academy and Colorado Rush advanced through Tuesday's semifinal round with clean sheet victories against tough opponents.
It will be an all-Texas Final in the U-16/17 age group, as Lonestar SC and Solar SC will do battle for all the marbles on Thursday.
DA Championships Home Page | Live Streams
U-15 Final
San Jose Earthquakes vs. Colorado Rush
Thursday, July 11 | 4:00 p.m. PT
Continuing their dominant run through the Girls DA postseason, San Jose Earthquakes stormed past Placer United SC 6-0 in Tuesday's semifinal match. Five different players found the net for San Jose, scoring 1 goal each, as their relentless attacking pressure also forced an own goal by Placer United.
San Jose's balanced offense has left opponents reeling throughout the postseason, with U.S. Youth National Team roster pool players America Frias and Jasmine Aikey highlighting their talented group of attackers. USYNT defender Elise Evans and the rest of the San Jose back line have been superb as well, shutting out 4 of their 5 postseason opponents.
Riding a Cinderella run of sorts, Colorado Rush is one win away from capturing the National Championship title, despite placing 4th in the Frontier Division and reaching the Girls DA Playoffs via a Wild Card berth.
Rush reached the semifinals by winning one of the most thrilling games of the entire postseason in the quarterfinals against No. 4 seed Tophat Soccer. In Tuesday's semifinal match, Rush shut down FC Dallas' red-hot offense, winning 2-0 behind a fantastic defensive effort.
Entering Tuesday's semifinal, FC Dallas had outscored its 4 Playoff opponents by a margin of 16-0. Dallas had a shutout streak of 6 games dating back to May 4, and a winning streak of 10 games which started on April 14. Both of those streaks ended as Rush received goals from Kaylie Chambers (16') and Jordynn Dudley (72'), while goalkeeper Harlee Head and the back line combined for the clean sheet.
Head and her back line will now be tasked with slowing down a San Jose offense which racked up 108 goals in 31 games during the regular season. The No. 1 overall seed Earthquakes are the only U-15 team that has not lost a game all season long, with a 33-0-3 record including Playoffs.
U-16/17 Final
Solar SC vs. Lonestar SC Academy
Thursday, July 11 | 7:00 p.m. PT
Solar SC has made their path to the Final appear easy, as they have outscored their 5 postseason opponents by a combined margin of 36-5. They cruised past Beach Futbol Club 4-0 in Tuesday's semifinal match, as 4 different players found the net. Led by some of the USA's top young prospects, including Alexis Missimo (61 goals) and Trinity Byars (40 goals), Solar scored a jaw-dropping 182 goals as they posted a 31-1-1 record during the regular season.
Lonestar's impressive run to the Final began with them earning a Wild Card berth in the Girls DA Playoffs after placing 4th in the Frontier Division during the regular season.
At the Girls DA Playoffs in Oceanside, Calif, Lonestar's dominant defense led them through the group stage, earning 3 straight clean sheets. They punched their ticket to the DA Championships with a 2-1 win over New England FC in the quarterfinals.
Lonestar came out on top, 3-2, in a thrilling semifinal showdown on Tuesday against FC Dallas. Yasmin Parkar scored 2 goals, including the heroic game-winner in overtime. Jillian Martinez scored the other goal for Lonestar, a critical equalizer in the 67th minute, after FC Dallas had pulled ahead 2-1 in the 54th minute.
Although No. 1 seed Solar SC has been the unquestioned favorite to win the national title for some time, their Frontier Division foe Lonestar SC has proven to be a worthy opponent.
Solar swept their 3 regular season meetings against Lonestar, but 2 of those games were decided by a single goal. In their most recent meeting on March 30, Solar had to overcome a 2-1 deficit in the 2nd half, earning a 3-2 comeback victory.