Generation adidas Cup to be live streamed exclusively on Twitch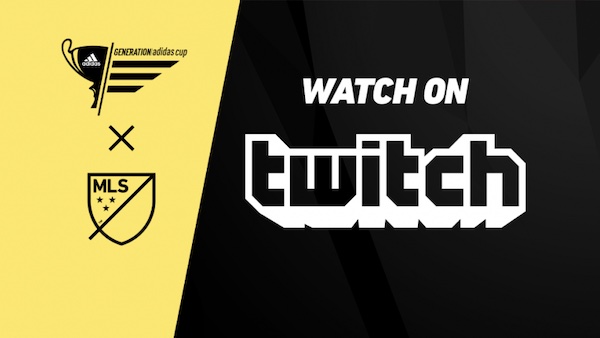 NEW YORK (Via MLS) – Major League Soccer (MLS) announced today that it has come to agreement with Twitch, the leading service and community for multiplayer entertainment, to be the exclusive streaming destination for the 2019 Generation adidas Cup. As part of the agreement, Twitch will stream video coverage of 66 matches from the elite youth tournament to a global audience live from Toyota Soccer Center at Toyota Stadium in Frisco, Texas from April 13-20. [+Full Schedule]
In addition to streaming live match action, MLS will also showcase off-field programming through player engagement seminars and coaching symposium talks from some of the game's top minds across the world.
"We're excited to work with Twitch to showcase the elite players at Generation adidas Cup and engage with Twitch's vast community for this event. Streaming soccer live on Twitch is a new way for MLS to reach our fans and provide them with access to view and engage with this exciting tournament," said MLS Senior Vice President of Media, Chris Schlosser.
MLS will stream video coverage of 66 Generation adidas Cup matches across both U-17 and U-15 divisions, including enhanced productions of 38 matches from the marquee contests of the day. All matches at Toyota Stadium will be streamed and incorporate the use of Video Assistant Referee (VAR).
The full schedule of matches to be streamed by Twitch can be found here.
"This agreement with MLS provides a new avenue for developing and growing an active community through interactive viewing," said Eric Brunner, Business Development and Partnerships, Sports at Twitch. "MLS is a forward-thinking brand that looks to provide innovative methods that allow their community to make meaningful connections on a global scale."
Generation adidas Cup is the latest MLS event to integrate Twitch as a featured distribution platform, joining eMLS Cup on March 30 in Boston.
This year's Generation adidas Cup will see the introduction of a new U-15 tournament between MLS and Liga MX clubs, the latest competitive initiative in the partnership between the two leagues. Additionally, Generation adidas Cup will feature an expanded U-17 competition including 15 premier international clubs, making up the largest field of participants in tournament history.