First day complete at US Youth Soccer ODP Boys Florida Interregional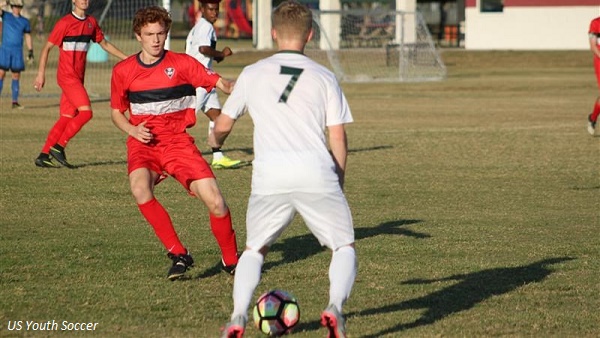 Day 1 of 3
Schedules, Scores and Standings 
Rosters: 1999 | 2000
BRADENTON, Fla. (Via US Youth Soccer) — The annual US Youth Soccer ODP Boys Florida Interregional opened Friday at Lakewood Ranch High School.
The three-day event will take place Dec. 2-4 and feature teams in the 1999 and 2000 age groups comprised of the top male players in the country.
The event will feature more than 140 of the nation's top players selected from US Youth Soccer State Association and Regional level evaluations. In each age group, players will attend scheduled training sessions and also compete in matches against each of the other regional teams.
The US Youth Soccer ODP Boys Florida Interregional annually attracts many college coaches, as well as several U.S. Soccer scouts. The talent on display from each team allows coaches and scouts to evaluate players in an environment similar to what they will face at the next level of play.
Highlights from Day 1:
2000s | Region I 4, Region IV 3
In an exciting back-and-forth match, Region I defeated Region IV, 4-3. In the first half, Harrison Kepp was first on the scoresheet for Region IV. Alec Kosinski from Region I then forced an equalizer to make the score 1-1. Region IV finished out the first half with two goals from CJ Neville and Noel Moncada to give Region IV a 3-1 lead. However, in the second half, it was all Region I. Two quick goals from Cole DiCicco, and a late goal from Patrick Adams was enough for a win for Region I.
2000s | Region III 1, Region II 0
In a close matchup, Region III was able to hold out for a 1-0 win over Region II. The lone goal for Region III was scored by Michael Chappelear. Region III had a strong defensive presence throughout the game to ensure Region II was not able to equalize the score.
1999s | Region IV 0, Region I 2
The Region I 1999 team started its interregional play with a 2-0 win over Region IV. Felix Wu scored first for Region I and then Matthew Sloan converted on a penalty kick to double the lead. The Region IV's defense held strong to ensure its 2-0 victory.
1999s | Region III 2, Region II 0
When the final whistle blew, the 1999 Region III team topped Region II 2-0. Goals from Payne McKiver and Bryson Smith were enough to give Region III a win, clean sheet and a 1-0 record to start its interregional event.