Fourteen teams win 2018 US Youth Soccer Eastern Presidents Cup titles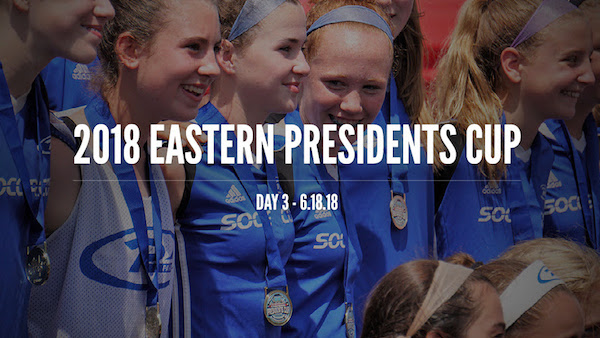 Schedules, Scores and Standings | Finals Photos
Facebook | Twitter | Instagram
BARBOURSVILLE, W.Va. (Via US Youth Soccer) – US Youth Soccer has announced the 2018 US Youth Soccer Eastern Presidents Cup champions, who earned victories Monday in Barboursville, W.Va.
Winning teams in the 13U through 18U Boys and Girls age groups advance to the 2018 US Youth Soccer National Presidents Cup, July 11-15 in Westfield, Ind.
"With the Eastern Region, the competition level is fantastic. I told the girls, there are basically eight teams remaining in the whole country playing at these regional events at this point in the finals," said Brian Hearn, coach of the 16U Girls champion Montgomery United 2002 (PA-E). "Being one of those teams is something to proud of, and it's a once in a lifetime opportunity.
"To now play in a national event, representing the East Region, is fantastic. It's an absolutely humbling experience. How many players get to play for a national title? Not many. I couldn't be more proud of the kids."
Eastern Pennsylvania led the way with eight teams claiming titles, while Maryland and New Jersey each saw three teams finish as champions.
2018 US Youth Soccer Eastern Presidents Cup Champions:
| | | |
| --- | --- | --- |
| 12U Boys | SAC Premier Blue | MD |
| 12U Girls | FC Bucks Cyclones | PA-E |
| 13U Boys | SCCSA Dragons '05 | PA-E |
| 13U Girls | Pipeline Black | MD |
| 14U Boys | ASA PGSA REAL BARZA 04 | MD |
| 14U Girls | PA Rush 04 | PA-E |
| 15U Boys | Den of Lions Gunners | NJ |
| 15U Girls | HFC Ready 03 | PA-E |
| 16U Boys | VE Green Gunners | PA-E |
| 16U Girls | Montgomery United 2002s | PA-E |
| 17U Boys | Mainland United South Jersey Futbol Club | NJ |
| 17U Girls | Rage United Comets | PA-E |
| 18U Boys | Ocean Twp United Spartans | NJ |
| 18U Girls | Vereinigung Erzgebirge – VE United | PA-E |
The tournament featured teams from nine East Region State Associations, including host West Virginia. The other state associations represented include Connecticut, Delaware, Eastern Pennsylvania, Maryland, New Hampshire, New Jersey, Pennsylvania West and Virginia.
The US Youth Soccer Presidents Cup offers teams the challenge of experiencing different types of play by competing from state to regional to national levels. The Presidents Cup provides teams with a progressive, competitive experience that highlights competition, camaraderie and community.
Final Match Recaps:
12U Boys
After enduring several close matches in the lead-up to the 12U Boys final, SAC Premier Blue (MD) put together a strong effort to win, 4-0, against CHSC Knights (NJ). Rowan Nelson netted the first two goals for SAC, while Kayin Oladinni and Ronaldo Reid helped extend the advantage to 4-0. That score held up, as the Maryland side claimed the title.
12U Girls
In their first taste of regional competition, FC Bucks Cyclones (PA-E) came away with the 12U Girls title after a 1-0 win over Victory Express (PA-W). Brynn Donohue provided the lone goal of the game when she buried a shot in the 51st minute. FC Bucks relied on its defense to do the rest, as it finished the tournament without conceding a single goal.
13U Boys
A rematch of an earlier Group A game produced the same result, as SCCSA Dragons 05 (PA-E) earned a 1-0 victory over Thunder PSG (MD) to claim the 13U Boys title. The lone goal in the game came from Justin Wyatt, who found the back of the net early in the second half. The Dragons capped off a strong week with their fifth shutout. Thunder PSG proved to be a worthy finalist, as it was the lone team to hold the Dragons to less than six goals in a game — limiting them to one in each of the teams' two matchups.
13U Girls
Pipeline Black (MD) rode an impenetrable defense to the 13U Girls title, as it defeated STA 2005 EDP (NJ), 2-0, on Monday. Wesleigh Dartnell recorded an early goal for Pipeline, and Lauren Bullock added a late strike to provide the difference in the match. The shutout was the fifth of the tournament for Pipeline, as it finished its weekend without conceding a single goal.
14U Boys
ASA PGSA Real Barza 04 (MD) wrapped up a strong weekend with a 6-2 win against Farmington Indians (CT) to take the title. Giovanni Marquina scored twice in the opening 12 minutes to put ASA in front before Farmington replied with a strike from Michael Gudewicz in the 30th minute. Dennys Cruz Fuentes scored on either side of halftime to push the ASA lead to 4-1, and Taslim Raji pushed extended the advantage with a strike in the 52nd minute. Colin Wright added a goal for Farmington, and Milton Noel Carbajal Jr. capped the scoring with ASA's sixth go seal the victory.
14U Girls
With its fourth shutout of the tournament, PA Rush 04 (PA-E) captured the 14U Girls title following a 1-0 win against Bordentown Jaguars 04 (NJ). Anna May gave PA Rush the upper hand early on in the contest, as she found the back of the net in the seventh minute. A strong defensive effort from the full Eastern Pennsylvania side made it difficult for Bordentown to generate any sustained pressure in the attacking half. May's early goal proved to be all PA Rush needed, as it held on for the 1-0 victory.
15U Boys
An early brace from Joao Miranda helped propel Den of Lions Gunners (NJ) to a 3-0 win against FC Ballyhoo Black (PA-E) in the 15U Boys final. Miranda found the back of the net twice in the first 27 minutes to give his side control of the game entering the second half. The New Jersey side did not let Ballyhoo get any momentum going, and Grant Shevrin sealed the win with a goal in the final minute.
15U Girls
A pair of late goals helped HFC Ready 03 (PA-E) pull away for a 4-2 win against New Jersey Rush 2003 Grey (NJ). Shortly after Lauren Edgar gave NJ Rush the first lead of the game, Raina Adelman provided a quick equalizer for HFC to pull the game level at 1-1 after 19 minutes of play. Rianne Moll put HFC in front right after halftime, but that lead lasted just six minutes before Gabriella Caruso replied with a New Jersey goal. Moll put HFC back in front in the 70th minute, and Alexandra Kiernan sealed the win with a late goal to cap the 4-2 HFC victory.
16U Boys
A quick start helped VE Green Gunners (PA-E) come away with a 3-1 win over HMMS Eagle FC Force (PA-E). The Gunners grabbed fourth-minute lead on a Kolby Palmer goal, and Sean McCartney doubled the advantage in the 46th minute. Christopher Rowland added even more breathing room with a 53rd-minute strike before Jacob Nickel pulled HMMS back within two. However, VE Green didn't let the match get any closer, as it held on for the 3-1 win and 16U Boys title.
16U Girls
In a matchup of group winners, Montgomery United 2002 (PA-E) earned a 2-0 victory against WVFC 2002 Black (WV) in the 16U Girls final. After the teams went back and forth early, Montgomery broke through with a goal from Nikki FollerMoll in the 25th minute. That strike was all the separated the teams until Kloey Carminati doubled the lead in the final minutes of regulation. The Montgomery defense held on for it second shutout of the tournament to earn the title.
17U Boys
A dominant run by Mainland United South Jersey Futbol Club (NJ) concluded with a 3-0 win against Penn Fusion SA Predators 2001 (Cappo) (PA-E), as the New Jersey side earned the 17U Boys title. Trevor Paone gave Mainland an early advantage in the fifth minute, as his team received the benefit of playing with a lead for much of the 90 minutes. Penn Fusion remained close, but Matt Brook and Nick Talvacchio each added second-half goals to help Mainland pull away for the 3-0 win.
17U Girls
It took overtime for Rage United Comets (PA-E) to outlast in-state foe Montgomery United Bombers (PA-E), 3-2, in the 17U Girls final. The back-and-forth game kicked off the scoring immediately, as Sophia Kane gave Montgomery United a lead within the first two minutes. Rage United equalized just before half with a Lauren Breneman strike and took a 63rd-minute lead on a goal from Kayden Bedwell. Dorian McMenamin pulled Montgomery United even with a goal 10 minutes later, which sent the game to overtime. In the 101st minute, the Comets' Lauren Pettoni found the back of the net for what proved to be the title-winning goal.
18U Boys
Behind a potent attack that produced five goals per game in the tournament, Ocean Twp. United Spartans (NJ) claimed the 18U Boys title with a dominant victory over Liverpool FCIA Western Maryland (MD). Six different players got on the score sheet for Ocean Twp. on Monday, as Stephen Carton, Santieno Harding, James Schutz, Vincent Cinko, Dylan Dougher and Leonardo Montesinos each found the back of the net. Bryce Corbett added a strike for Liverpool, but it wasn't enough to overcome the offensive firepower from Ocean Twp.
18U Girls
A pair of quick second-half strikes helped Vereinigung Erzgebirge – VE United (PA-E) defeat Waynesboro PA Dynamite (PA-E), 3-2, to claim the title. Gabriella Lecuona put Waynesboro in front in the 14th minute, but VE United pulled even just after halftime with a goal from Gabrielle Sowers. Dynamite immediately regained the lead thanks to Layne Kimple, but VE United once again had a response. Emma Maley recorded the equalizer in the 66th minute, and just a minute later, Caroline Weir put VE United in front, 3-2. VE United held on for the final 20 minutes to come away with the narrow victory.