Former USMNT player Andrew Giallombardo joins FC Copa as coach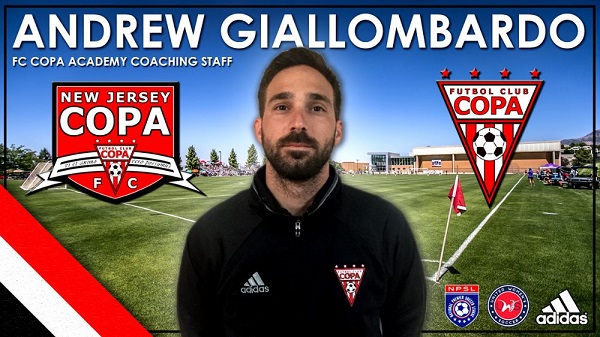 (Via FC Copa Academy) – FC Copa Academy has announced the addition of Andrew Giallombardo to the club's coaching staff.
Giallombardo, who is a New Jersey native, is a former USMNT player and a longtime youth coach. After getting capped on the U-14, 15, 17, 18 and 20 National Team, Giallombardo played overseas for Southampton FC from 2006-2009 before returning to the United States to play for the USL Pro side Dayton Dutch Lions. Upon the conclusion of his playing career, Giallombardo went on to win State Championships and reach Regional Finals as a coach at NJCSA.
"We are very pleased to have Andrew join our staff at FC Copa Academy," stated Roberto Aguas, President and Executive Direction of Coaching. "Not only does he have experience playing at the highest level, but he has proven himself to be an extremely successful and effective coach. We look forward to having his energy and passion around our organization but more importantly in the development of our players and teams."
Giallombardo has significant experience in the coaching world in New Jersey. From 2010–2015, he was the Director of Coaching at Soccer Specific Training in Wall, NJ. He led NJCSA Elite U9 to U14 Girls team to a State Championship, a Regional Final, a top 10 ranking in New Jersey and a top 25 ranking nationally. Coach Giallombardo has also served as a staff coach for Indiana University Soccer camps for the last two years. As a player, Giallombardo has played and trained with every USNT from U-14 to U-20 which included international call ups to Japan, Ireland, Argentina, Mexico, Germany and England. Additionally, Giallombardo was a member of the Residency Program at IMG Academy, Bradenton FL, from 2004 to 2006 while he was a pool player in the USMNT U15 to U20 squads.
"I am extremely excited to be joining such a well-established and respected organization in FC Copa Academy," said Giallombardo. "Having coached against the club for many years, I have seen first-hand the high standards Copa holds itself to. I am really looking forward to joining this staff and working with such great players and coaches."
Giallombardo holds a USSF Coaching License and his FA EAC Coaching Badge.