Former U.S. Youth WNT coach Jitka Klimková joins Internationals SC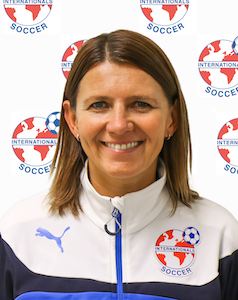 (Via Internationals SC) – Internationals Soccer Club has announced that former U.S. U19 and U20 Women's National Team head coach Jitka Klimková has joined the club as a staff coach.
"We have a long history of attracting quality coaches and quality people to the club and adding a coach with Jitka's background, passion, knowledge, and love for the game is another example of our commitment to surrounding our players with the best resources to aid in their development," Internationals SC Founder, President, and Director of Coaching Zdravko Popovic said. "Jitka has a great soccer brain and an unparalleled ability to teach the game. She has only been here for a month and has already made an immediate impact – connecting with players and coaches and fully embracing and contributing to our strong culture. I am thrilled that she has chosen to commit her time and energy to our club."
Klimková brings extensive experience, including 16 years of coaching at the highest level of the game, to Internationals SC.
In New Zealand, Klimková gained experience as the head coach for the U17 Women's National Team, assistant coach for the New Zealand U20 National Team, and assistant coach with the senior Women's National Team from 2013-2014. In Australia, she was head coach in the professional ranks with W-League Canberra United FC from 2011-2013, winning the league championship and Coach of the Year honors. In the Czech Republic, she was active coaching at the club and national team levels from 2003-2011, serving as club director and head coach for FC Slovácko Uherské, head coach for the U19 Women's National Team, assistant coach for the U17 Women's National Team, and head coach and assistant coach for DFC Compex Otrokovice.
"We are extremely thrilled to welcome Jitka Klimková to the Internationals Soccer Club," Internationals SC Director of Coaching Keri Sarver added. "After working with her at US Soccer for the past four years, I knew that her coaching philosophy and personal values were aligned perfectly with what we do at the club. Her international and professional experience is obviously a huge benefit but what I am most excited about is for our players to absorb her knowledge, passion, and love for the game. She creates a fun, safe and challenging environment where players have the freedom and courage to take risks and be themselves. She has an amazing ability to connect with players and coaches and engage them in an extremely positive way."
Klimková also boasts an impressive playing career that spanned from 1991 to 2003, including time with the Czech Republic Women's National Team, DFC Compex Otrokovic, and Slávia Holíč.
Klimková possesses the highest level of licenses available, including the UEFA "Professional," UEFA "A," UEFA "B," and the Coerver Coaching Youth Diploma.
"I'm pleased to join the Internationals coaching team," Klimková concluded. "I have coached alongside Keri Sarver for almost four years now and we are like-minded and aligned philosophically. Zdravko Popovic has established a powerful vision for the club and I feel fortunate to be part of the team. Honestly, I'm overwhelmed with the style of play of each team and with the amazing culture the club embodies. It is all about what is best for the team and the individual players. Being here just for couple weeks now, I see how and why the Internationals are one of the special clubs in the nation and have a history of developing amazing people, players, and teams."