Five players sign with University of Memphis men's soccer program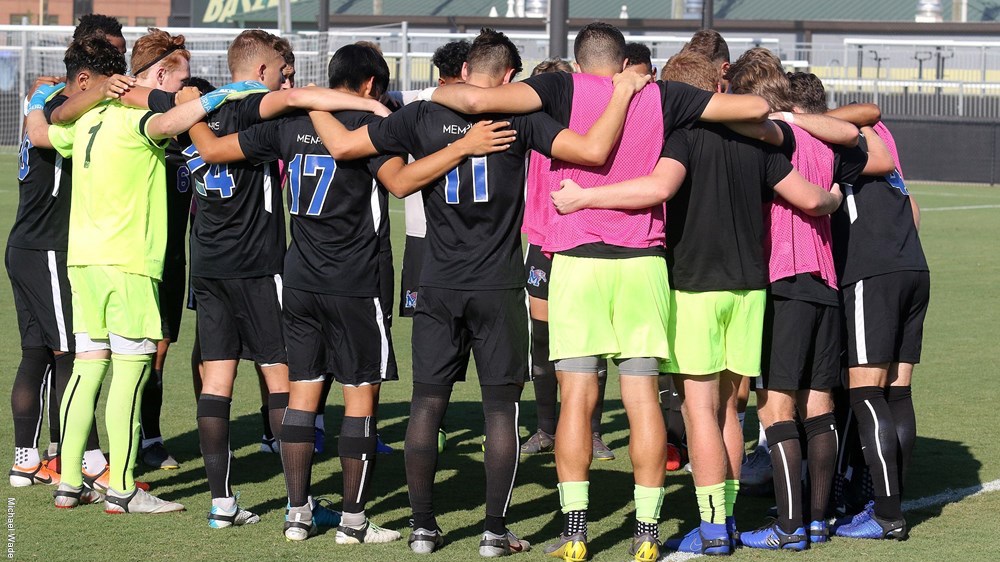 MEMPHIS, Tennessee – The University of Memphis men's soccer team announced the signing of five student-athletes in the opening week of the signing period.
With one community college transfer and four high schoolers, the Tigers add a blend of youth and experience to the squad for the 2020 season.
"These five commitments are going to be the cornerstone of our 2020 class," Head Coach Richard Mulrooney said of the group. "These kids are incredibly talented, and each one brings something unique to this team."
Ntezey Swalita / Defender / Kampala, Uganda
Joining Memphis from Salt Lake Community College, Ntezey Swalita looks to bring the success he had in Taylorsville, Utah with him to Memphis. During his two years as a Bruin, Swalita helped lead SLCC to a combined 29-4-2 record, including a 19-2-1 conference record. He anchored a defense that allowed a 0.73 goals-against average, climbing as high as No. 3 in the NJCAA rankings.
This past season, Swalita's squad carried a 14-1-1 record, with a perfect 9-0 mark in the Scenic West Athletic Conference. The Kampala, Uganda native scored two goals on the year, leading his team to an NJCAA District Final.
Coach Mulrooney on Swalita:
"In addition to being an incredible defensive presence, he possesses great technical tools that allow him to play the ball out of the back. His athleticism and experience should provide an immediate impact on our backline."
Caden Wells / Midfielder / Germantown, Tenn.
Signing on to be a Tiger from St. George's Independent School, Caden Wells chose to attend Memphis, staying with his hometown team. He is a former teammate of current Tiger Grant Caldwell. A four-time all-district player, Wells was also an all-metro, all-region and all-state performer while at St. George's.
Entering the spring of his senior season, Wells has recorded 29 goals and 30 assists during his high school career. As a freshman, he helped St. George's to the State Finals. As a member of the Lobos Rush Premier team, he helped lead the squad to seven-consecutive club championships, two regional semifinals and four region championships.
Coach Mulrooney on Wells:
"Caden is one of the best attacking players in the region. We're excited to get the band back together, with Caden, Brandon (Brackett) and Grant (Caldwell). They were one of the most dominant trios in the region over the past three or four years, and Caden should come in and immediately compete for minutes."
Brandon Brackett / Midfielder / Germantown, Tenn.
Brandon Brackett chose to attend Memphis after a successful career at Evangelical Christian School in Germantown, Tenn. Also a former teammate of Caldwell and Wells, Brackett played on the same club team that brought home a seventh-consecutive state championship.
While at ECS, Brackett averaged 4.3 points per game as a junior, earning all-state recognition, as well as a district MVP after recording 34 goals and 17 assists. In the region championship match against St. George's, he recorded two goals and two assists.
Coach Mulrooney on Brackett:
"Brandon is a winner. He's a blue-collar talent that shows up and finds a way to grind out results. He is a consistent, incredibly hard-working player who finds a way to get the job done."
Jackson Peterson / Defender / Prosper, Texas
Enrolling at Memphis from Prosper, Texas, Jackson Peterson brings a successful club career with Solar Soccer Club of the U.S. Soccer Development Academy. An anchor on the back line, he was an honorable mention for the Best 11 in the central conference of the Development Academy.
Last season, Peterson started 24 of the club's 25 matches, adding a pair of goals to his stellar defense.
Coach Mulrooney on Peterson:
"We originally saw Jackson playing with Solar in the DA, and he was such a solid and consistent performer. He has a very high soccer IQ, he communicates well and he brings a sense of calm on the backline. He can play center back, outside back or center midfielder, so he brings a lot of versatility to our defense."
Daniel Espinoza / Midfielder / Katy, Texas
Daniel Espinoza rounds out the signees, joining Memphis from Katy, Texas. An all-state midfielder, Espinoza added an MVP trophy and a first-team all-district nod to his high school accolades. Scoring 11 goals and adding 20 assists, he led his team to a 2019 district championship behind a 22-2-4 record.
A former high school teammate of current Tiger Jovan Prado, Espinoza also led his club team, the Albion Hurricanes FC, to a National Qualifier in 2016. During his five years with the club, he netted 112 goals.
Coach Mulrooney on Espinoza:
"Daniel is an incredibly gifted attacking midfielder with a silky smooth touch and great range of passing. He is explosive and deceptive in tight spaces and can attack on the dribble or through the pass."