First semifinals set at US Youth Soccer Region III Championships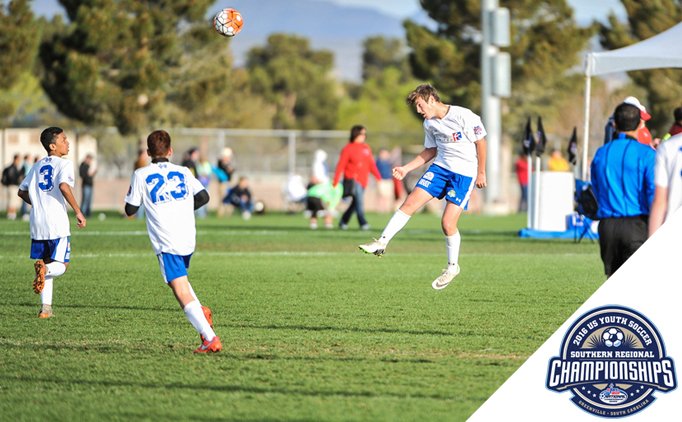 Scores & Standings
GREENVILLE, S.C. (Via US Youth Soccer) — The next step in achieving National Championship dreams started Monday for teams in the Under-14 through Under-16 age groups, as well as Under-13 Boys, at the 2016 US Youth Soccer Region III (South) Championships in Greenville, S.C.
Monday saw those age groups narrow the field from eight teams to four, as the sides took part in exciting quarterfinal matchups. The advancing teams are now preparing for the upcoming semifinal matches and a chance to get one step closer to a spot in the 2016 US Youth Soccer National Championships, held July 25-31 at the Toyota Soccer Center in Frisco, Texas.
The quarterfinal round of the US Youth Soccer Region III Championships will wrap up on Tuesday at the MeSA Soccer Complex, as the final eight teams compete in the Under-13 Girls, Under-17 and Under-18 age groups. Meanwhile, the first finalists of the tournament will be decided when the Under-19 squads square off in the semifinals.
The winners from Monday's games will get a day of rest before Wednesday's semifinal matchups after they each competed in intense quarterfinals. With the quality of players competing in Greenville, it takes skill and determination for teams to get to this point.
"The competition has been fantastic. I don't think there's been a game decided by much more than a goal," said Sachin Patel, coach of Under-13 Boys USA/MP 21 Premier (SC). "We were in a tough bracket. Any team could have come out of it. The boys have been working hard, and their dedication is paying off."
Patel's team managed to earn a 3-1 win on Monday and will have a chance to play for advancement to the Under-13 Boys final when the players take the field on Wednesday. Getting this experience in their first year at the event is something that Patel believes can benefit his players.
"This week has been great because a lot of what we say and do is for the future," Patel said. "When they can see that goal early on, it's fantastic because they can learn what it takes at that level."
Here are some recaps from Monday's quarterfinal action…
Under-14 Girls
The 2015 Region III finalist, Florida Elite 01/02 (FL), is heading to the Under-14 Girls semifinals after a 1-0 win over Sting East Dunstan (TX-N). The North Texas side did well to keep the Florida offense in check after Elite scored 10 goals in group play. The Florida defense was just as good, as the team once again recorded a clean sheet and has yet to concede this week in Greenville. The game's lone goal was provided by Florida's Aaliyah Thompson, who ran onto a bouncing ball behind the defense and chipped it past the keeper for the game-winner.
Semifinalists: Tennessee SC 20 (TN), FC Alliance 02 (TN), SLSC Comos Blue (OK), Florida Elite 01/02 (FL)
Under-15 Girls
Dallas Kicks SC 01 (TX-N) added a couple of late goals to make a 4-1 win over NASA Elite (GA) appear much more comfortable than how it played out. The Kicks took early control when Jaida Thomas was slipped in behind the defense and cut her shot past the keeper to put Dallas up, 1-0. Morgan Atencio responded in the 27th minute for NASA, as she cut onto her right foot and blasted a shot under the crossbar to level the score. Shortly after halftime, Emily Tovar hit a first time shot from 30 yards that bent inside the far post to put the Kicks back up by one. After some close calls for both sides, Thomas gave Dallas some breathing room in the final minute with she tipped a shot around the keeper to make it 3-1. In stoppage time, Samantha Meza dribbled around the length of the box and cut a pass to Jordan Michie, who scored to seal the 4-1 win.
Semifinalists: Dallas Kicks SC 01 (TX-N), Sunrise Sting 00/01 (FL), OFC 01 Phillips (OK), MSC Laker 00/01 Elite (LA)
Under-16 Girls
Tennessee SC 18 (TN) earned a trip to the semifinals for the second straight year after pulling out a 1-0 win over United FA 00 Premier (GA) on Monday. The game went back and forth in the first half, with Tennessee generating the best scoring opportunity. United FA goalkeeper Courtney O'Malley was forced into making a series of three sprawling saves in the 25th minute to keep Tennessee off the scoreboard. However, Tennessee finally managed to break through in the 68th minute when Julie Garst found the back of the net. That goal proved to be the game-winner, as Tennessee held on for its second shutout of the week.
Semifinalists: OFC 00 Hampton (OK), South Carolina United FC 99 Elite (SC), Florida Krush Black (FL), Tennessee SC 18 (TN)
Under-13 Boys
A back-and-forth Under-13 Boys quarterfinal saw USA/MP 21 Premier (SC) pull away for a 3-1 win against Florida Elite Soccer Academy (FL). Both defenses stood tall for the early stages of the game before USA/MP grabbed a 40th-minute lead on Garrett Laney's goal. Florida's Zachary O'Rourke found the back of the net in the 62nd minute to level the score, but the South Carolina side immediately responded with a Pedro Andrade strike. Lance Friedrich added a late insurance goal by converting a penalty kick, and USA/MP booked its spot in the semifinals with the 3-1 victory.
Semifinalists: 02 CASL Academy Juniors (NC), Concorde Fire Central Elite (GA), USA/MP 21 Premier (SC), Lonestar 03 Red (TX-S)
Under-14 Boys
Under-14 Boys Group B winner West Pines United Carrillo (FL) continued its strong week with a 5-1 quarterfinal win against MS Rush 02 Premier (MS). Ashtoon Cooper scored twice in the opening 10 minutes, and Leonardo Perez put West Pines up, 3-0, with a 14th-minute strike. The Rush settled in and pulled a goal back when Isaiah Wilson found the back of the net in the 26th minute. Mississippi kept the game within reach while trying to climb back from the 3-1 deficit, but Cooper and Spencer Mallion netted insurance goals for West Pines in the final few minutes to cap the 5-1 victory.
Semifinalists: Liverpool 02 Elite (TX-N), 01 CASL Red North (NC), West Pines United Carrillo (FL), Concorde Fire Central Elite (GA)
Under-15 Boys
A couple of second-half goals helped defending National Champion Houstonians 2001 (TX-S) to a 2-0 win against FC Dallas 01 (TX-N). Neither team managed to grab a hold of the game in the first half, as the two Texas sides searched for the important opening goal. In the 52nd minute, a Houstonians player split a couple defenders to penetrate into the FC Dallas penalty area, where he was brought down to earn a penalty kick. Victor Velasco stepped up to the spot and calmly slid his shot home to put Houston in front. Less than 10 minutes later, Juan Rodriguez added a second goal for the defending champions, as the Houstonians came away with a 2-0 victory.
Semifinalists: Davie United Sharks 00/01 Blue (FL), Houstonians 2001 (TX-S), GSA 01 Premier (GA), United FA 01 Premier (GA)
Under-16 Boys
Behind some late heroics, MSK Rayados Barcelona (TX-S) came back to defeat NASA 18 Elite (GA), 4-2, in overtime of the Under-16 Boys quarterfinals. NASA jumped in front early off of a free kick. Jose Anthony Robledo hit a powerful dipping shot that was saved, but Will Freudenberg buried the rebound to put the Georgia side in front. NASA doubled its lead in the 15th minute when a dangerous low cross from Langston Blackstock was deflected in for an own goal. Kevin Ramirez pulled MSK within one midway through the second half, and in the final minute of regulation, Edgar Benitez hammered a shot off the near post that found its way into the goal to force overtime. The South Texas side took a lead early in the second overtime period when Ricardo Sesmas placed a penalty kick just inside the left post. Ramirez added his second goal of the match shortly after to seal the 4-2 win that pushed MSK into Wednesday's semifinals.
Semifinalists: United FA Premier (GA), Andromeda FC 00 Red (TX-N), Concorde Fire 99/00 (GA), MSK Rayados Barcelona (TX-S)
Regional winners of the Under-13 through Under-19 age groups earn a berth to the 2016 US Youth Soccer National Championships, which will be played July 25-31 at the Toyota Soccer Center in Frisco, Texas.