First champions crowned, more finals set at Region III Championships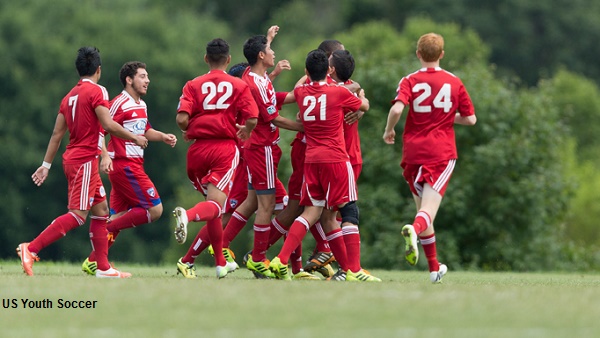 Five champions crowned at Burns Park Soccer Complex
Scores and Standings 
NORTH LITTLE ROCK, Ark. (Via US Youth Soccer) — Determination turned into celebration on Wednesday at the Burns Park Soccer Complex in North Little Rock, Ark., as five teams claimed 2015 US Youth Soccer Region III (South) Championships. By winning the title, the five teams — U-13 Girls Albion Hurricanes 02 (TX-S), U-13 Boys SCUFC 01 Elite (SC), U-18 Girls 97 Louisiana Fire Navy (LA), U-19 Girls Tampa Bay United Premier (FL) and U-19 Boys GSA 96 Premier (GA) — have secured a spot in the prestigious US Youth Soccer National Championships, which will be played July 21-26 in Tulsa, Okla.
The remaining Region III Champions will be crowned on Thursday, as finals are played the Under-14 through Under-18 age groups.
Under-19 Boys GSA 96 Premier (GA) are finishing up a long run together with a trip to Nationals after claiming the Region III Championship. With several trips to the Southern Regionals through the years, GSA coach Nuno Piteria and his team know the regional title means something special.
"I think people underestimate how incredibly challenging this event is. It's an amazing accomplishment," Piteria said. "Just getting to the final itself is an accomplishment, and to still have the legs, fortitude and mental toughness to see it through — and do it two years in a row — is an amazing accomplishment."
While five teams realized Region III Championship dreams on Wednesday, several others moved one step closer to being crowned regional champions with semifinal wins. On the boys' side, FC Dallas is sending two teams to finalson Thursday. Meanwhile, Tophat SC has a team in each of the four remaining girls' finals.
The Under-17 Girls age group will be missing a familiar name in its final, as three-time defending Region III Champion Tennessee SC 16 (TN) fell to Tampa Bay United 97 Premier (FL), 1-0 (4-3 PK), in a shootout. Tampa coach Adrian Bush knew what it meant to come away with the victory.
"We come here to play the top teams, and Tennessee is first-class," Bush said of Wednesday's matchup. "They're three-time Region III Champions, and we knew if we were going to win a Regional we would have to go through them. They're a fabulous team. Both groups played their hearts out."
Tampa Bay, which has yet to concede a goal this week, has used strong defensive play to have past success at the regional and national level. However, the 2014 National finalist has yet to claim the Region III Championship, and the team is excited to have the opportunity to play in the final after facing tough competition all week.
"It's grueling, and that's why it's a region championship. This is the way it's supposed to be," Bush said. "With the temperatures, you've got to be fit. This is the ultimate preparation for the girls as they get ready for college. This is what they're going to need to do. We played against one of the best teams in the country today."
Finals Recaps
Albion Hurricanes 02 (TX-S) punched its ticket to Tulsa with a 2-0 win over Creeks Krush Elite (FL) in the Under-14 Girls final. Nicole Cybul managed to find the back of the net in the 17th minute to give Albion an early advantage. The South Texas side held off Creeks Krush, as the Florida side pushed for an equalizer. Lauren Geczik helped ease the pressure for Albion with a 55th-mintue insurance goal, and the Hurricanes held on for the shutout victory to claim the Region III title.
An early goal helped propel SCUFC 01 Elite (SC), as it claimed the Under-13 Boys title with a 1-0 win over Solar Chelsea 02 Red (TX-N). Jordan Johnson struck quickly for South Carolina, as he finished his chance in the fourth minute go put SCUFC in front. Despite Solar's effort to tie the game for the length of the match, the South Carolina defense stayed organized and picked up the clean sheet to secure the victory and regional championship.
For the second time in three years, 97 Louisiana Fire Navy (LA) are the Region III Champions. The Fire defeated AHFC 97 (TX-S), 4-1, on Wednesday to claim the Under-18 Girls title. Cadie Higginson headed in a fifth-minute corner to put Louisiana in front, and Eleanor Pratt doubled the lead with a well-struck shot that glanced off the keeper's finger tips before finding the net. Just before halftime, Alexandra Thomas netted her seventh goal of the week to push the Fire advantage to 3-0. Kirsten Diaz pulled AHFC within two goals with a tally early in the second half, but Martha Jane Williams later pushed Louisiana's lead back to three goals as the Fire hung on to take the Region III title.
Under-19 Girls Tampa Bay United Premier (FL) quickly overcame a deficit against BUSA 96 (AL) to post a 2-1 victory in the Region III final and earn a spot at Nationals. A promising start by BUSA resulted in an early lead for the Alabama side as Jean Moffitt struck for a 19th minute goal. However, Tampa responded quickly and pulled back even when Debra Hahn found the back of the net. Just three minutes later, Abigail Sanchez hit a looping header inside the right post to give Tampa the lead. Hahn's tally proved to be the difference, as Tampa held on to the slim advantage and walked away with a 2-1 victory.
Defending Region III Champion GSA 96 Premier (GA) is heading back to Nationals thanks to a 3-0 win over TSCH 96 Nsien (OK) in the Under-19 Boys final. The Georgia side took a 27th minute lead on a strike from Trenton Whitely. GSA doubled the lead when it produced some good buildup play that resulted in an Aigbekan Nosegbe tap-in at the far post in the 64th minute. TSC pushed its players forward and produced some good looks at goal, but GSA iced the game with a Brahan Gamarra tally just before the final whistle. The 3-0 win sends GSA to Tulsa for another chance to play for the James P. McGwire Cup after the club came up just short of the raising the storied trophy in 2012.
Semifinals Recaps
Tophat 19 Gold (GA) defeated defending Region III Champion Dallas Kicks SC 01 (TX-N) to advance to Thursday'sUnder-14 Girls final. Tophat will face Sunrise Sting 00/01 (FL), which kept a clean sheet in a 1-0 semifinal win against 2014 finalist OFC 01 Phillips (OK).
GSA 01 Premier (GA) earned a chance to defend its Region III title with a 2-0 win over 2014 finalist Tampa Bay United (FL) in the Under-14 Boys semifinals. GSA will meet Houstonians 2001 (TX-S) in the final after the South Texas side also came away with a 2-0 win, defeating WSA 01 White (OK).
Both Under-15 Girls semifinals were very competitive and needed overtime to decide winners. U.S. Under-17 National Team forward Rachel Jones drew and converted an overtime penalty kick to give Tophat 18 Gold (GA) a 1-0 victory, while Solar Chelsea Elite 00 (TX-N) pulled away in overtime for a 6-3 victory.
In Under-15 Boys action, defending National Champion United FA 00 Premier (GA) needed two late goals to beat in-state foe Concorde Fire 99/00 (GA), 2-1. Cristian Rodriguez put Concorde in front in the 15th minute and his side held that lead for much of the contest. However, United FA managed to net an equalizer in the 64th minute when Trevor Byrne found the back of the net. United FA capitalized on the momentum generated from the equalizer and took the lead three minutes late on a Nyger Hunter strike. That proved to be the game-winner, as United FA held on for the 2-1 win. Dallas Texans 00 Red (TX-N) will challenge the Georgia side in the final after coming away with a 2-1 win on Wednesday.
A Paola Ellis hat tricked helped fuel 99 Lady Lobos Rush Premier (TN) to a 4-2 victory against NASA 17 Elite (GA) in their Under-16 Girls semifinal. The Tennessee side fell behind in the second minute when NASA's Elizabeth Mayfield opened the scoring. Ellis quickly responded for Lobos, but NASA regained the lead just before halftime thanks to a Casey Wertz strike. Lobos equalized in the 43rd minute when Bobbie Willis found the back of the net, and a pair of Ellis goals later in the half capped Lobos' 4-2 victory. The Tennessee side will meet Tophat 17 Gold (GA), a 2-0 winner on Wednesday, in the final.
In the Under-16 Boys age group, Houston Express (TX-S) and CESA 98 Premier (SC) each managed to secure wins in their semifinal match-ups to move on to Thursday's final.
A pair of tight games in Under-17 Girls action saw Tophat 16 Gold (GA) and Tampa Bay United 97 Premier (FL) win to advance to the final. Tophat defeated Carolina Rapids 97 Burgundy (NC), 2-1, while Tampa Bay needed a shootout to slip by three-time defending Region III Champion Tennessee SC 16.
After falling short in the regional final two years ago, FC Dallas 98 Premier (TX-N) earned another chance to play for the Region III title with a 5-1 win in Wednesday's Under-17 Boys semifinal. The Texas side will face FC Alliance 98 Black (TN), which earned a hard fought 1-0 semifinal win over Bryson Park/ KSA 98 Premier (GA).
The Under-18 Boys age group featured a wild semifinal between Bryson Park/ KSA 97 Premier (GA) and FC Dallas 97 Gold (TX-N) that needed overtime after finishing regulation tied at 1-1. The teams exploded for seven overtime goals, with FC Dallas finishing on top with a 5-4 victory. FC Dallas will face NASA 15 Elite (GA) — a convincing winner on Wednesday — in the Under-18 Boys final.
Regional winners of the Under-13 through Under-19 age groups earn a berth to the 2015 US Youth Soccer National Championships, which will be played July 21-26 in Tulsa, Okla.
The US Youth Soccer National Championships will consist of US Youth Soccer Regional Champions, as well as the US Youth Soccer National League qualifiers in the Under-14 through Under-18 Boys and Girls age groups to complete the field of 96 teams.
Daily reports and complete results from the US Youth Soccer Region III Championships are available on http://championships.usyouthsoccer.org/regionIII/.
Complete scores from Wednesday's action are below.
| | | | | | |
| --- | --- | --- | --- | --- | --- |
| Under-13 Girls Final | | | | | |
| Albion Hurricanes 02 | TX-S | 2 | Creeks Krush Elite | FL | 0 |
| Under-13 Boys Final | | | | | |
| Solar Chelsea 02 Red | TX-N | 0 | SCUFC 01 Elite | SC | 1 |
| Under-18 Girls Final | | | | | |
| 97 Louisiana Fire Navy | LA | 4 | AHFC 97 | TX-S | 1 |
| Under-19 Girls Final | | | | | |
| BUSA 96 | AL | 1 | Tampa Bay United Premier | FL | 2 |
| Under-19 Boys Final | | | | | |
| GSA 96 Premier | GA | 3 | TSCH 96 Nsien | OK | 0 |
| Under-14 Girls Semifinals | | | | | |
| Dallas Kicks SC 01 | TX-N | 1 | Tophat 19 Gold | GA | 3 |
| OFC 01 Phillips | OK | 0 | Sunrise Sting 00/01 | FL | 1 |
| Under-14 Boys Semifinals | | | | | |
| Houstonians 2001 | TX-S | 2 | WSA 01 White | OK | 0 |
| GSA 01 Premier | GA | 2 | Tampa Bay United | FL | 0 |
| Under-15 Girls Semifinals | | | | | |
| Tophat 18 Gold | GA | 1 | Tennessee SC 18 | TN | 0 |
| Solar Chelsea Elite 00 | TX-N | 6 | FC Alliance 00 | TN | 3 |
| Under-15 Boys Semifinals | | | | | |
| Concorde Fire 99/00 | GA | 1 | United FA 00 Premier | GA | 2 |
| Dallas Texans 00 Red | TX-N | 2 | South Carolina United FC 99 Elite | SC | 1 |
| Under-16 Girls Semifinals | | | | | |
| Oklahoma FC 99 | OK | 0 | Tophat 17 Gold | GA | 2 |
| 99 Lady Lobos Rush Premier | TN | 4 | NASA 17 Elite | GA | 2 |
| Under-16 Boys Semifinals | | | | | |
| 98 CASL Red | NC | 1 | Houston Express | TX-S | 3 |
| CESA 98 Premier | SC | 2 | Oklahoma FC 99 | OK | 1 |
| Under-17 Girls Semifinals | | | | | |
| Tampa Bay United 97 Premier | FL | 0 | Tennessee SC 16 | TN | 0 |
| Tophat 16 Gold | GA | 2 | Carolina Rapids 97 Burgundy | NC | 1 |
| Under-17 Boys Semifinals | | | | | |
| FC Dallas 98 Premier | TX-N | 5 | CESA 97 Premier | SC | 1 |
| FC Alliance 98 Black | TN | 1 | Bryson Park/ KSA 98 Premier | GA | 0 |
| Under-18 Boys Semifinals | | | | | |
| Bryson Park/ KSA 97 Premier | GA | 4 | FC Dallas 97 Gold | TX-N | 5 |
| NASA 15 Elite | GA | 5 | South Carolina United FC 96 Elite | SC | 0 |