Finals set at US Youth Soccer Far West Regional Championships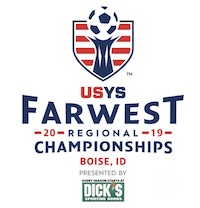 BOISE, Idaho — The remaining teams are just one game away from glory, as the semifinal round wrapped up Saturday at the 2019 US Youth Soccer Region Far West Regional Championships in Boise, Idaho.
Winners of Sunday's final matches at the Simplot Sports Complex will earn a berth to the 2019 US Youth Soccer National Championships, Regional winners of the 13U through 19U age groups earn a berth to the 2019 US Youth Soccer National Championships, which will be played July 22-28 at the Overland Park Soccer Complex in Overland Park, Kan.
The US Youth Soccer National Championships will consist of US Youth Soccer Regional Champions in the 13U through 19U Boys and Girls age groups, as well as the US Youth Soccer National League qualifiers in the 14U through 19U Boys and Girls age groups to complete the field of teams.
See how the teams advanced to the Far West Regional Championships finals…
13U Boys                                
The battle for California will take place in the 13UB age group on Sunday. Rebels SC (CA-S) and Newark Elite Soccer 06B Orange (CA-N) both won on Saturday to advance to the finals. The Rebels took its 2-2 game to penalty kicks and advanced off of a 6-5 penalty kick advantage. Despite losing its first two games in group play, the Rebels rebounded and are now heading to the Sunday finals. Newark Elite has only been improving as the tournament goes on. This team has recorded 3 shutouts in 5 games and look to battle a familiar foe in the finals. When the two teams met in group play, Newark earned a 3-2 victory and will be looking to repeat its success.
13U Girls
It will be Albion SC Academy Whittaker (CA-S) and Legends FC G06 Pre-Academy (CA-S) in the 13U Girls final match. After a, 4-2, win in the semifinals for Albion and a, 2-1, victory 2-1 for Legends FC, the teams will battle for the opportunity to represent CA-S at the National Championships. Legends FC faced a tough opponent on Saturday with the winning goal being an own goal in favor of FC Legends. Albion SC's overpowering offense takes the headlines as the squad heads into Sunday's game with 27 goals, averaging over five goals per game and currently has five different players with three goals or more.
14U Boys
LAUFA 2005 (CA-S) and LVSA 05 Red (NV) will face off on Sunday to determine the 14U Boys Far West Regional Champion. LAUFA played to close results in Tuesday, Wednesday and Friday's games but this was not the case in Saturday's game as it cruised to a 5-0 win over Santa Clara Sporting 05 White (CA-N). Sometimes the best defense is offense, and LVSA 05 teams is ready to prove that. In five games, LVSA has scored a whopping 27 goals with 11 of those coming from Isaac Calderon. LVSA earned a, 3-1, victory over Santa Clara Sporting 05B Green on Saturday to secure its place in the championship final on Sunday.
14U Girls
Forza FC 05DN (UT) and Snohomish United 05 Black (WA) will face each other for the 14U Girls regional title Sunday and for a spot in the 2019 US Youth Soccer National Championship Series in Kansas. In the semifinals on Saturday, Forza FC picked up a lead in the 38th minute and defeated Sparta 05 Premier DM (UT), 1-0. Snohomish United scored two first half goals to seal the team's spot in the final. Forza FC will need to watch out for Snohomish United's Kirsten Crane as she is the age group's leading goal scorer with nine goals in five games. Each team is headed into the game with a perfect five wins, and only one will leave with six wins and a spot in the 2019 National Championships.
15U Boys
LA Galaxy South Bay B04 Elite (CA-S) and Downtown LVSC 04 Gold (NV) battle to be crowned regional champions on Sunday. The LA Galaxy squad had a challenging run in Group A with one win and two ties. LA Galaxy has been able to pull away during the quarterfinal and semifinal stages with two dominating wins (4-0 and 3-0). The Downtown LVSA squad has given an impressive defensive performance in this tournament run. The Nevada side has only given up two goals in five games while securing three shutouts. Downtown LVSA did have a close call on Saturday that was ultimately decided by penalty kicks against Sparta Premier JK (UT) and will look to use that grind-it-out mentality to secure a regional championship.
15U Girls
04 Boise Thorns Elite are the lone home state team to make it to the finals. Boise Thorns went undefeated in Group A and rely on its defense to keep their opponents at bay. The Thorns would need a late goal in the semifinals to win for a chance at a regional title on Sunday but the defense held for its fourth clean sheet of the event. Utah Celtic FC (UT) claimed victory on Saturday with a, 4-1, win over Santa Clara Sporting 04G Green (CA-N) in a controlling fashion. After its tie in the opening match of group play, the Group D winners, Utah Celtic, have found their offensive stride and have scored 15 goals in four games.
16U Boys
In the 16U Boys age group, LVSA 03 Silver (NV) claimed a win over LA Galaxy San Diego Elite (CA-S) with a 2-0 win. WPFC B03 Black (WA) took its game into penalty kicks and secured a finals spot with a win over Eastside FC (WA). LVSA has relied on a stout defense throughout the tournament which has only allowed one goal in the five days of games. Even though the defense has been a focal point of this team, LVSA will have to be prepared for WPFC's Dugsiye Ahmed who currently has a three way tie for first place in goals with a total of four. WPFC's most impressive victory came on Wednesday when the team defeated Barca Academy 03 (AZ) in a 4-1 victory. Other than that victory, most of WPFC's games have been very close and will need to find creative ways to score on this LVSA defense.
16U Girls
LVSA 03 (NV) and Arsenal Colorado Academy 2003 (CO) will meet in the 16U Girls final match. Earlier this week, LVSA went on a scoring spree against opponents in group play scoring a total of 20 goals with 0 goals allowed. During quarterfinals and semifinals, LVSA scored 8 goals and allowed just one goal. LVSA's Olivia Garcia currently leads the entire age group as the top scorer with a total of 9 goals. Arsenal Colorado defeated Cresenta Valley SC G03 White (CA-S) on Saturday in the semifinals, 2-1. The match up on Sunday will highlight two powerhouse offenses, however, both teams will advance to the 2019 National Championships in July regardless of the outcome with LVSA having already clinched a spot via the National League.
17U Boys
Desert United Coachella (CA-S) will face Santa Clara Sporting 02B Green (CA-N) to determine the regional champion on Sunday in an all California final. Despite a late effort from Folsom Lake Earthquakes National Premier, Desert United was able to hold off its opponents and punch its ticket to the final. Santa Clara Sporting earned a tight win on Saturday with a late 1-0 win over 2018 National Championships participant Tuzos Academy (AZ). The two teams faces off on the first day of the event with Desert United earning a 2-0 victory. Santa Clara will need to put that game behind them and create new history to punch its ticket to Nationals.
17U Girls
Legends FC 02 Academy II (CA-S) and Sparta 02 Premier SP (UT) will have one more chance to claim victory in the 2019 US Youth Soccer Far West Regional Championships. Sparta Premier SP went a perfect 3-0 in group play but faced its closest challenge yet in Pride SC Predators where it earned a come from behind, 3-2-, victory.  Legends conceded its first goal of the event against UT Celtic 02 Premier (UT) but earned a convincing, 4-1, win to grab a spot in tomorrow's final. Sparta's high flying offense has put up 27 goals through five games and will have to break through a Legends defense that has only conceded once all event if it wants to win the regional title.
18U Boys
Strikers 2001 Black 18U (CA-S) will face Sparta 01 Premier JK 18UB (UT) on Sunday for a chance to be named regional champion. Strikers defeated Santa Clara Sporting 0 Green 18UB, 3-0, on Saturday. The Cal South team has waged an impressive offensive campaign in the tournament so far, netting 19 goals in five games. Despite losing its opening game on Monday, the Sparta 01 Premier JK (UT) team has made a quick turnaround and has not looked back. Saturday's game resulted in a, 3-0 win, over LVSA 01 Red and set up its date with Strikers in tomorrow's final.
18U Girls
La Roca PO (UT) and Celtic FC Premier JR (UT) will duel for the right represent the state of Utah and to be named champion at the 2019 Far West Regional Championships. La Roca and the 01 Boise Timbers Elite (ID) would score three goals each in regulation, one goal each in overtime andLa Roca claimed victory in kicks-from-the-mark with a 4-3 advantage. Celtic FC has had two tight games this week but has overcome the close scorelines for a chance to play for a regional championship on Sunday. Celtic has conceded just one goal all tournament and should present a staunch challenge to La Roca when they meet on Sunday.
19U Boys
Downtown LVSC 00 Gold (NV) will face FC Golden State White (CA-S) on Sunday for a chance to be named the 19U Boys regional champion. Downtown LVSC defeated Strikers FC South Bay (CA-S), 3-2, on Saturday and it was tight until the final whistle. In the 87th minute, Strikers had brought the game within one goal but came up just short of sending the game into overtime. Despite losing the first game of group play, LVSC has been able to fight through adversity and claim the goals needed to win. FC Golden State White (CA-S) are no strangers to the US Youth Soccer National Championship Series and know what it takes to make it through this tournament. The Cal South team has shown some offensive firepower in the tournament so far while netting 18 goals in 5 games. FC Golden State controlled much of the game on Saturday in its, 2-0, victory over Westside Timbers 00 (OR). Each of these teams will play their most important regional match Sunday with the winner earning the right to compete for the 19U Boys James P. McGuire Cup in Kansas next month.
19U Girls
A game of tight margins highlighted the 19U Girls games on Saturday with Celtic FC 00 Premier (UT) winning, 1-0, over the 00 Boise Thorns Elite (ID) and CDA Slammers FC HB 00 Elite (CA-S) winning over Broomfield Blast SC 00 Girls Prestige (CO) in kicks from the mark. CDA and Broomfield Blast had two late overtime goals to send the game into kicks and CDA edged out Broomfield, 5-3. Celtic FC had its tightest game in the event so far and needed a late 85th minute goal to seal the win. The Celtic FC squad has had a dominating run in this year's Far West Regional Champions while scoring 18 goals and conceding none. CDA Slammers will look to avenge its lone loss to Celtic FC in group play.