Final two matches for USWNT World Cup Victory Tour confirmed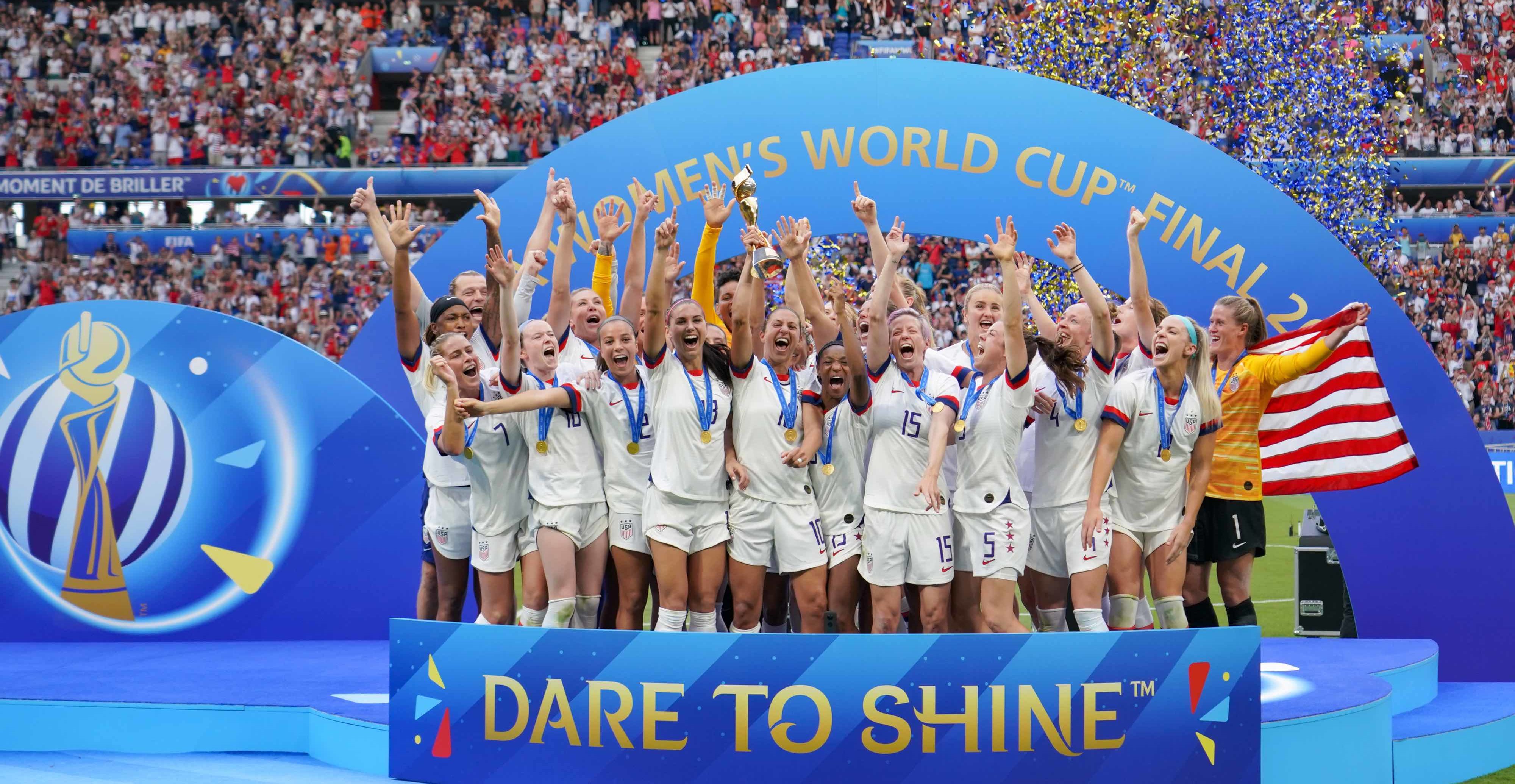 CHICAGO (Aug. 1, 2019) – The final two matches of the five-game U.S. Women's National Team Victory Tour have been confirmed.
The 2019 FIFA Women's World Cup champions will play matches against Korea Republic on Thursday, Oct. 3, at Bank of America Stadium in Charlotte, N.C. (8 p.m. ET on FS1 and the Fox Sports App [pregame coverage starting at 7:30 p.m. ET] and Univision Networks) and Sunday, Oct. 6, at Soldier Field in Chicago (1 p.m. CT on ESPN and the ESPN App).
The match in Chicago – home of the U.S. Soccer Federation – will mark the 132nd and final match for Jill Ellis as head coach of the U.S. Women's National Team. On July 30, Ellis announced that will be stepping down after five extremely successful years at the helm of the world's top-ranked women's soccer team, a span that included 2015 and 2019 FIFA Women's World Cup titles.
The first match of the 2019 USWNT Victory Tour will take place on Saturday, Aug. 3, when the USA hosts the Republic of Ireland at the Rose Bowl in Pasadena, Calif. More than 32,000 tickets have been sold to date. The game will be the USA's first on home soil after winning the 2019 FIFA Women's World Cup in France and will be broadcast on ESPN2 and the ESPN App starting at 7 p.m. PT.
The USA will also face Portugal on Thursday, Aug. 29, at Lincoln Financial Field in Philadelphia (7 p.m. ET; FS1, Fox Sports App), where over 36,000 tickets have been sold after the first day of public sales, and Tuesday, Sept. 3, at Allianz Field in St. Paul, Minn. (7 p.m. CT; ESPN2, ESPN App), where only limited availability remains at the 19,400-seat venue.
The USWNT has not played in Charlotte in 19 years, last visiting in April of 2000 for a match against Iceland in the run-up to the Sydney Olympics. They did successfully launch their World Cup Qualifying campaign in North Carolina, however, winning their opening three games in the Concacaf Women's Championship last October in Cary, home of the reigning National Women's Soccer League champion North Carolina Courage and site of the 2019 NWSL Championship Game on Oct. 27.
The U.S. Women have made numerous trips to Chicago and this will be the eighth match in team history at Soldier Field, where the USWNT has never lost.
The USWNT roster for the Victory Tour matches will feature all 23 players of the 2019 FIFA Women's World Cup championship squad.
Victory Tour tickets are currently on sale through ussoccer.com and ticketmaster.com.
U.S. WOMEN'S NATIONAL TEAM VICTORY TOUR, PRESENTED BY ALLSTATE
| | | | | |
| --- | --- | --- | --- | --- |
| Date | Kickoff | Opponent | Venue; City | TV |
| Aug. 3 | 7 p.m. PT | Republic of Ireland | Rose Bowl; Pasadena, Calif. | ESPN2, Galavision |
| Aug. 29 | 7 p.m. ET | Portugal | Lincoln Financial Field; Philadelphia, Pa. | FS1 |
| Sept. 3 | 7 p.m. CT | Portugal | Allianz Field; St. Paul, Minn. | ESPN2 |
| Oct. 3 | 8 p.m. ET | Korea Republic | Bank of America Stadium; Charlotte, N.C. | FS1, Univision Networks |
| Oct. 6 | 1 p.m. CT | Korea Republic | Soldier Field, Chicago, Ill. | ESPN |
ADDITIONAL VICTORY TOUR NOTES:
Korea Republic played in the 2019 FIFA Women's World Cup – its third Women's World Cup – but finished at the bottom of a difficult Group A after falling to host France in the opening game of the tournament, then dropping matches to Nigeria and Norway.
The USA has played 11 games against Korea Republic in its history, going 9-0-2, with the most recent pair coming in October 2017, a 3-1 win in New Orleans and a 6-0 win in Cary, N.C.
Korea Republic notably tied the USA 0-0 in its final warm-up game before the Americans went on to win the 2015 FIFA Women's World Cup.
Korea Republic was also the opponent on June 20, 2013, in a 5-0 U.S. win that featured Abby Wambach scoring four first half goals to tie, and then break, Mia Hamm's all-time world scoring record for international soccer.
The match at Bank of America Stadium will be the USA's third at the facility. The first two were remarkably different results, a 9-0 win over Japan in 1999 and a 0-0 draw with Iceland in 2000.
The WNT has a 15-0-1 all-time record in the state of North Carolina, including the aforementioned visits to Charlotte (2), along with stops in Davidson (3), Greensboro (1) and Cary (10).
Since losing its first game of 2019 to France in Le Havre, the USA is unbeaten in its last 16 matches, including a 13-game winning streak and seven consecutive victories at the World Cup.
ADDITIONAL WOMEN'S WORLD CUP NOTES:
At the World Cup, the USA set a record for most goals in tournament history with 26, breaking its own record of 25, set in 1991 in six games.
The USA also set records for most goals in a single Women's World Cup match and largest margin of victory when it beat Thailand 13-0 in its Group F opener, a game that featured 10 second-half goals, also a record.
Alex Morgan tied the record for most goals in a single match when she scored five against Thailand, matching the feat of Michelle Akers against Chinese Taipei at the 1991 Women's World Cup in China.
Jill Ellis became the first coach to win two Women's World Cup titles. Italy's Vittorio Pozzo won the Men's World Cup in 1934 and 1938.
The USA has now won 12 consecutive World Cup matches (five in 2015 and seven in 2019), which is the longest winning streak in Women's World Cup history.
The title was the USA's fourth out of eight Women's World Cups that have been contested. No other country has more than two.
Rose Lavelle (24 years, 54 days) became the second-youngest American to score in a World Cup Final, trailing only Alex Morgan (22 years, 15 days) in 2011.
The USA scored inside of 12 minutes in six of its seven Women's World Cup matches. Only in the World Cup Final did the USA fail to score early.
The USA was ahead in its World Cup games for 70.2 percent of the time. The Americans never trailed in their seven contests and led for 442 of 630 total minutes.
With six goals and three assists in the World Cup, Megan Rapinoe won the Golden Boot as the tournament's top scorer and also won the Golden Ball as the tournament MVP.
Alex Morgan won the Silver Boot as the second-leading scorer. She also had six goals and three assists but played more minutes than Rapinoe.
Lavelle won the Bronze Ball as the third-best player in the tournament.
Rapinoe's goal against the Netherlands made her the oldest player, at 34 years and two days, to score in a Women's World Cup Final. She broke teammate Carli Lloyd's record set in 2015. Lloyd was 32 years, 354 days old when she scored three times against Japan.
The USWNT is now 40-4-6 all-time in the Women's World Cup, outscoring its opponents 138-37 in 50 games. The 40 wins, 50 games-played and 138 goals scored are all FIFA Women's World Cup records.
The USWNT had nine different goal scorers at this tournament. Only the 2003 Germany team (10) and the 1999 U.S. team (10) have had more at a single WWC.
The United States is the only nation to have made it to all eight semifinals of the Women's World Cup and the only team to advance to five Women's World Cup Finals. The USA has four Women's World Cup titles, one second-place finish and two third-place finishes.