Final matchups set at US Youth Soccer Far West Regional Championships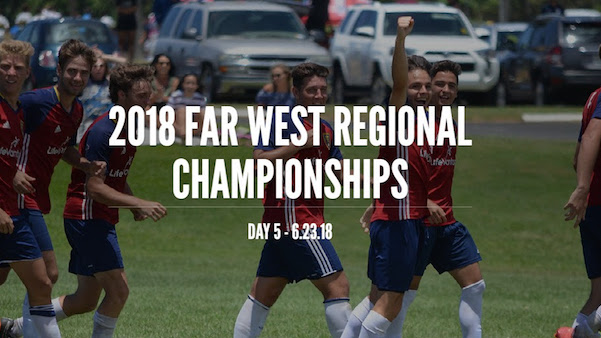 Scores & Standings | Photo Gallery
Twitter | Facebook | Instagram | #ROADtoTX
HONOLULU (Via US Youth Soccer) — The remaining teams are just one game away from glory, as the semifinal round wrapped up Saturday at the 2018 US Youth Soccer Region Far West Regional Championships in Honolulu. Winners of Sunday's final matches at the Waipio Peninsula Soccer Complex will earn a berth to the 2018 US Youth Soccer National Championships, which will be played July 23-29 at the Toyota Soccer Center in Frisco, Texas.
As a familiar coach in the US Youth Soccer National Championship Series, Bob Friedland of the 19U Boys FC Golden State White (CA-S) understands that making it to the final match can be a long road for the team.
"They deserve it. They've had a good run and I'm looking forward to [the final]," Friedland said. "I think it means a lot to them and so does it to everyone else that's here, but when you stay focused and you have a common goal, it's only going to get you closer to where you want to go. It's a lot of soccer for a lot of people right now and going into the sixth game, I just want them healthy and to get the result."
+READ: US Youth Soccer Far West Regional Championships Day 3 Recap
The US Youth Soccer National Championships will consist of US Youth Soccer Regional Champions in the 13U through 19U Boys and Girls age groups, as well as the US Youth Soccer National League qualifiers in the 14U through 18U Boys and Girls age groups to complete the field of 96 teams.
See how the teams advanced to the Far West Regional Championships finals…
13U Boys
CDA Slammers FC (CA-S) and LVSA 05 Red (NV) both advance to the 13U Boys regional championship after 1-0 wins in the semifinals. Slammers earned its goal in the 34th minute thanks to Devin LaClair, while LVSA's goal came when a free kick from about 30 yards out was lofted over the defense for Isaac Calderon to tap the ball in. Neither Slammers nor LVSA finished on top of their respective pools during group play as Slammers went 1-0-2 and LVSA went 1-1-1. Slammers' LaClair is currently tied for first in the 13U Boys top scorers list with five goals, so LVSA will have to keep an eye on him.
13U Girls
San Diego Surf 05 Academy Select (CA-S) will face Rush 05 (HI) for the 13U Girls final match. After a 4-0 win in the semifinals for Surf and a victory in kicks from the mark for Rush, the two teams will battle for the second time this week as they both come from the same pool in group play. On Wednesday, Surf claimed a 3-0 win, so Rush will look for a different result in its favor. Surf's Maryn Wolf and Nicole Anderson both sit on top of the 13U Girls top scorers list as Wolf holds six goals and Anderson tallies five.
14U Boys
ECFC Salinas United 04 (CA-N) claimed a 5-2 win against Central Valley Liberty FC Fresno 04 (CA-N) to earn a spot in the 14U Boys final game. Miguel Marcos and Alejandro Ibarra Moreno each tallied two goals for the match. The Cal North side finished group play undefeated, and ECFC has three players at the top of the 14U Boys top scorers list, including Victor Narez (6), Ibarra Moreno (5) and Marcos (5). LV Revolution FC Gunners 04 (NV) will meet ECFC in the final match after going 2-0-1 in group play.
14U Girls
Arsenal FC (CA-S) and Seattle United Copa (WA) will battle each other for the second time this week in the 14U Girls regional championship. The two teams met on Monday and played to a scoreless draw, but Arsenal finished group play with a 2-0-1 record, while Seattle United finished with a 1-0-2 record. In the semifinals on Saturday, Arsenal picked up an early lead and defeated Rush 04 (HI), 2-0, and Seattle United had to go to kicks from the mark against Beach FC 04 (CA-S) to determine it would go on to the final. Seattle United will have to watch out for Arsenal's Emma Frausto and Elizabeth Worden as they are among the 14U Girls leading scorers. Frausto holds four goals, while Worden has three.
15U Boys
FBSL Tuzos Academy 03 (AZ) will meet Total Futbol Academy (CA-S) in the 15U Boys final on Sunday. It took the semifinal match against Santa Barbara Soccer Club Premier (CA-S) to go to kicks from the mark before Tuzos knew they were going on to the championship game, while Total Futbol Academy defeated La Roca S CS (UT), 3-1 in overtime with the help of two Christian Briseno goals. Tuzos finished preliminary play with a 2-0-1 record, and Total Futbol Academy finished with a 2-1-0 record.
15U Girls
Beach FC (CA-S) will play against Leahi 03 Premier (HI) for the 15U Girls regional championship match. Beach defeated Inland Empire Surf SC (CA-S) in the semifinals on Saturday. The Cal South side has yet to lose a game as it went undefeated through group play. On the other side, despite Leahi and Arizona Arsenal 03 Premier Teal (AZ) remaining tied for the majority of the first half, Leahi scored in the 58th minute to earn a spot in the final game.
16U Boys
In the 16U Boys age group, Tuzos Academy 02 (AZ) claimed a significant victory over LVSA 02 Red (NV), and Boca Junios USDA-LA 02 (CA-S) defeated Desert United SC "Coachella" 02 (CA-S), 2-1 to each make it to the championship game. As the defending Far West Regional Champion and a 2017 National Championship finalist, Tuzos will look to keep up its performance in order to have another shot in Frisco. Both Tuzos and Boca finished second in their respective groups during preliminary play, but they have battled their way to the regional final. In addition, Tuzos' Jason Villalba currently leads the 16U Boys age group in goals with five.
16U Girls
USA 02 Premier (UT) and WA Timbers 02 Red 1 (OR) will meet once again in the 16U Girls final match. Earlier this week, USA went on a scoring spree against Timbers, and the Utah side finished on top of the group with three wins, but anything can happen in tomorrow's match. USA had to defeat Real So Cal 02 (CA-S) in kicks from the mark on Saturday in order to earn a spot in the final game. After going down a goal, USA fought back to tie up the match in the 74th minute and went on to win the game through the kicks. Timbers claimed a 2-1 win against PacNW 02 Maroon (WA) to make it into the final. Aanya Friedman got the Oregon side going when she launched a shot to the upper net out of the way of the PacNW goalkeeper, while Olivia Fothergill's goal also helped the Timbers on Saturday.
17U Boys
Santa Barbara Soccer Club (CA-S) defeated 2017 National Championship finalist WCFC Armour 2001 (CA-S), 2-0 for a place in the 17U Boys final. A wall pass combination play led to Santa Barbara's first goal with James Yonally taking the credit, and Abubakar Fofanah sealed the win when he beat the WCFC goalkeeper and hit the ball into the net. LVSA 01 Red (NV) will face Santa Barbara after it secured its regional championship spot with a 7-2 win over HSC Bulls Academy 01 (HI). Despite both teams finishing the round robin at the top of their respective pools, Santa Barbara earned a 2-0-1 record and LVSA had three wins on its record. The matchup could be a close one. LVSA's Antonio Gomez and Michael Vogel have played huge roles this week as each player has scored five goals for the team.
17U Girls
Arizona Arsenal Teal (AZ) will battle a familiar opponent, Rebels 2001 Elite (CA-S), in the 17U Girls regional championship as the two teams met earlier this week. While Arizona Arsenal defeated Rebels by a large amount on Wednesday, the Cal South side made its way to the final game to have a rematch. Arizona Arsenal defeated HSC Bulls Academy 01 (HI), 4-1 on Saturday, while Rebels earned a 2-0 victory over USA Stars 01 (CA-N). Additionally, Mollie Griswold has contributed 10 of Arizona Arsenal's 20 goals, clearly differentiating herself as the 17U Girls top scorer.
18U Boys
The 18U Boys regional final will feature Downtown LVSC 00 Academy (NV) and Strikers FC South Bay (CA-S). Despite going down two goals in the first 18 minutes of the game against Eastside FC 00 Red (WA), LVSC tied up the match and earned a last-minute game winner to make it to the championship. On the other side, Strikers had to work as well after being down 3-1 against UDA 00 Blue (UT) and coming back to equalize, eventually taking UDA in kicks from the mark. Both LVSC and Strikers finished with a record of 2-0-1 in the preliminary round.
18U Girls
Both CDA Slammers FC HB 00 Elite (CA-S) and Greater Seattle Surf 00A (WA) defeated their opponents, 3-2 in the semifinals, earning spots in the 18U Girls final. Slammers had to do a little more work as it came back from a two-goal deficit to defeat the defending Far West Regional Champion, Celtic FC 00 Premier (UT), in overtime. Lily Slater earned all three of Slammers' goals and scored the game winner by lofting the ball into the upper net. For Greater Seattle Surf, a goal from Jadyn Edwards and two from Isabel Kembel against Legends FC South (CA-S) moved the Washington side on to the final match. The 18U Girls top scorers will be playing in the regional championship as Slater tallies seven goals, while Edwards, Kembel and Slammers' Erika Sosa each have five.
19U Boys
After a kicks from the mark win for Sereno 99 Thompson (AZ) and a 3-0 victory for FC Golden State White (CA-S) in Saturday's semifinal games, the two teams will face off for the 19U Boys regional championship. Zeke Shull scored in the 90th minute to keep Sereno in the competition, and the team ultimately went to kicks from the mark to defeat Strikers FC North (CA-S). Meanwhile, FC Golden State played a consistent yet steady game against Players SC 99 Boys Elite (NV) as Luan Carlos Oliveira Camilo got the game going when he bent a free kick to the right side of the goal. Felipe Fernandes Da Silva and Matheus Francisco Ribeiro also contributed to the match, adding to FC Golden State's 25 goals for the week. Both Sereno and FC Golden State finished group play with 2-0-1 records. Felipe Fernandes Da Silva is tied for first on the 19U Boys top scorers list with six goals.
19U Girls
Utah FC 99 Black (UT) and Hawaii Heat FC 99 (HI) will play in the 19U Girls final for a rematch of Tuesday's game during group play. Utah FC made it through with two first half goals against Leahi 99/00 Premier (HI), while Hawaii Heat came back from a one-goal deficit to beat Hawaii Rush 00/99 (HI), 2-1 during the semifinals. Utah FC finished group play with a 2-0-1 record, and despite Hawaii Heat tallying three draws in the preliminary round, the team managed to make its way into the final match. Utah FC and Hawaii Heat played to a 1-1 draw, so tomorrow'sgame could be an exciting one.