Final 36 teams determined at US Youth Soccer Region I Championsh​ips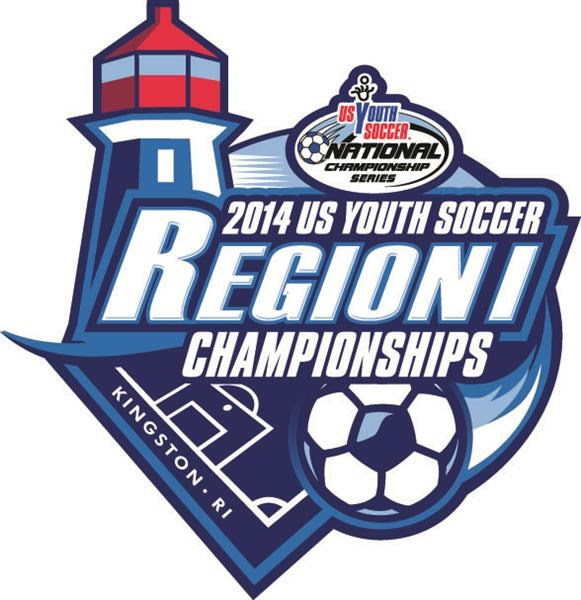 Kingston, R.I.  (Via US Youth Soccer) – Final matchups have been set as teams battled in semifinal games today at the 2014 US Youth Soccer Region I Championships at the University of Rhode Island in Kingston, R.I.
Six 2013 champions have advanced to defend their title, while four others were knocked out in today's semifinals.
Girls Under-14 Girls  *NEFC Elite (MA) 2-0 Quickstrike FC (NY-E) Under-15 Girls  NEFC Elite (MA) 3-4 OT *YMS Premier Xplosion (PA-E) Under-17 Girls *Toms River FC United (NJ) 5-3 Bayside FC Bolts (RI) Under-18 Girls * Beadling SC Thunder (PA-W) 3-0 Bayside FC Bolts (RI)
Boys Under-17 Boys CFC Sound Azul Juniors (CT) 1-2 PKs *Smithtown Kickers SC Arsenal (NY-E) Under-19 Boys *PDA Harkes (NJ) 2-0 Ironbound SC Inter (NJ) *2013 Regional Champion
Regional winners of the Under-13 through Under-19 age groups earn a berth to the 2014 US Youth Soccer National Championships, presented by the National Guard, to be played July 22-27, at Maryland SoccerPlex in Germantown, Md.
The US Youth Soccer National Championships will consist of US Youth Soccer Regional Champions in the Under-13 through Under-19 Boys and Girls age groups as well as the US Youth Soccer National League qualifiers in the Under-14 through Under-18 Boys and Girls age groups to complete the field of 96 teams.
Notes from a few of today's games…
Under-14 Girls
NEFC Elite (MA) look posed to repeat as regional champions as they defeated Quickstrike FC (NY-E) 2-0 in their semi-final matchup. Quickstrike almost held off the reigning champions in the first half but NEFC's Taylor Kofton scored in the 30th minute. Kofton's teammate Marykate McGuire continued to show her scoring prowess by adding a goal just four minutes later. NEFC's defense held strong and the Massachusetts side won 2-0 and advance to play FC Penn Strikers (PA-E) in the Under-14 girls final.
Under-15 Girls
The level of competition at Region I Championships was shown as YMS Premier Xplosion 98, finalists in last year's National Championships, faced off against NEFC Elite of Massachusetts. NEFC Elite took a commanding lead over the National finalists with two first half goals. A corner kick by Emily Longo was smashed home by McKenna Kennedy as it bounced through the box. Just a few minutes later Crea Baker-Durante dibbled in from the right side, beat a defender and smashed a shot into the top right corner for a 2-0 lead at the half. Kennedy scored for NEFC just two minutes into the second half to give NEFC an even bigger lead. The fight of YMS showed as they started to claw their way back into the game. YMS' Casey Kilchrist scored in the 62nd minute and teammate Brie Pavol scored just nine minutes later to cut the NEFC lead to one. YMS' Murphy Agnew scored in the 80th minute, just before the final whistle, to force extra time. YMS striker Andrea Amaro didn't waste any time scoring just two minutes into extra time completing the comeback. NEFC couldn't find an equalizer and the score finished 4-3.
"One thing they've got is a lot of character and determiniation," YMS coach John Greaves said about his girls. "We got the first goal, got the momentum and we never looked back from there."
"We were down three nothing. We realized at halftime we needed to pick it up because we really want to go for the three-peat," said YMS player Brynn Skelly.
"Honestly, I thought it was over, we're going home," YMS player Andrea Amaro added. At halftime Brynn was like, if we get one we'll get four more. That's how our team is, if we get one the momentum comes and we keep scoring"
YMS will advance to play Loudoun Red (VA) in the Under-15 girls final.
U-16 Girls
MRM Coyotes have already qualified for the 2014 US Youth Soccer National Championships as runner up in the Blue Division of the US Youth Soccer National League but don't seem content with leaving Region I Championships without the title. Brentwood got on the scoreboard in the first half with a goal from Claudia Cagnina to take a 1-0 lead over the former national champions. The Coyotes came ready to play in the second half and Deena Desilva scored just five minutes into the half to even the score. Desilva would find the back of the net again in the 70th minute to give the Maryland side a 2-1 lead and the win. Coyotes advance to play Beadling SC Wolfpack (PA-W) who they tied in last year's group play.
Under-19 Girls
VSA Heat Blue from Virginia defeated FC Stars of Mass after going down 1-0 in the first half. Haley Dowd scored in the 23rd minute to put the Massachusetts side up but VSA responded just 6 minutes later with a goal from Tori Burress. VSA's Sarah Ferguson scored just four minutes later to complete the Virginia side's comeback. FC Stars of Mass couldn't find a goal in the second half and VSA would finish with the 2-1 win. VSA now advances to play FC Frederick (MD) who made it to last year's semi-finals before being knocked out.
Under-15 Boys
In a battle of US Youth Soccer National League teams, Penn Fusion SA (PA-E) faced off against Loudoun SC Red (VA) in a Under-15 boys semi-final. Both teams searched for goals with Penn Fusion missing a great early chance by blasting a close ranger shot over the goal. Defense was the story of the game but Loudoun's Nicolas short found the back of the net half way through the second half with the game winning goal. Loudoun's defense couldn't be broken and they now advance to play Delaware Rush (DE) in the finals.
Under-16 Boys
Maryland side, Baltimore Celtic, jumped all over Manhattan SC Cruzeiro (NY-E). Celtic scored in the 13th minutes with a Charles Thorne goal and then Keegan Kelly blasted a shot past the keeper just 10 minutes later to put Celtic up 2-0. Celtic came out in the second half right where they left off in the first half scoring just four minutes in with an Aquinas Akinlosotu goal. Grant Robinson scored another for Celtic just five minutes later to bring the score to 4-0. Celtic held strong and now advance to play Synergy Football Club Academy (VT) in the Under-16 boys final.
Under-18 Boys
In one Under-18 boys semi-final, Lehigh Valley United 96 faced off against Annandale United FC Hawks of Virginia. In a physical battle between the two teams, it would take almost all 90 minutes for a goal to be found by either side. In the first half, Lehigh Valley United had a superb chance as miscommunication between an Annandale defender and keeper led to a shot for LVU going just wide.  LVU seemed to have found a game winner late in the first half but the chance was called offside. LVU's Gabriel Tagliamonte found the game winner for the Eastern Pennsylvania side in the 81st minute. Annandale couldn't break the LVU defense and LVU now moves on to the final to face fellow National League team Penn Fusion SA (PA-E).
Finals Schedule
| | | | | |
| --- | --- | --- | --- | --- |
| Time | Age group | Home Team | Away Team | Field |
| 8:00 AM | U12 Girls | PDA Storm (NJ) | Sachem Speed (NY-E) |  Field 9 |
| 9:45 AM | U12 Boys | PDA Kaka White (NJ) | FSA FC Navy (CT) |  Field 9 |
| 8:00 AM | U12 8v8 Girls | Greater Binghamton FC (NY-W) | Victory Express (PA-W) |  Field 8 |
| 9:45 AM | U12 8v8 Boys | PWSI Courage Red (VA) | Baltimore Celtic Darby (MD) |  Field 8 |
| 10:15 AM | U13 Girls | Greater Binghamton FC Select (NY-W) | South Shore Select Elite (MA) |  Field 7 |
| 8:15 AM | U13 Boys | Baltimore Celtic Dynasty (MD) | BRYC Elite (VA) |  Field 7 |
| 8:00 AM | U14 Girls | FC Penn Strikers (PA-E) | NEFC Elite (MA) |  Field 14 |
| 10:00 AM | U14 Boys | Delaware Rush SC (DE) | Arlington SA Eagles Red (VA) |  Field 14 |
| 10:00 AM | U15 Girls | YMS Premier Xplosion (PA-E) | Loudoun Red (VA) |  Field 2 |
| 10:15 AM | U15 Boys | Loudoun SC Red (VA) | Delaware Rush (DE) |  Field 3 |
| 8:00 AM | U16 Girls | MRM Coyotes (MD) | Beadling SC Wolfpack (PA-W) |  Field 2 |
| 8:15 AM | U16 Boys | Synergy Football Club Academy (VT) | Baltimore Celtic (MD) |  Field 13 |
| 10:00 AM | U17 Girls | VSA Heat Blue (VA) | Toms River FC United (NJ) |  Field 1 |
| 10:15 AM | U17 Boys | Manhattan SC PSG (NY-E) | Smithtown Kickers SC  (NY-E) |  Field 13 |
| 8:15 AM | U18 Girls | Beadling SC Thunder (PA-W) | PDA Ginga (NJ) |  Field 3 |
| 8:00 AM | U18 Boys | Lehigh Valley United (PA-E) | Penn Fusion SA (PA-E) |  Field 1 |
| 8:30 AM | U19 Girls | VSA Heat Blue (VA) | FC Frederick (MD) |  Field 6 |
| 10:30 AM | U19 Boys | Beadling SC (PA-W) | PDA Harkes (NJ) |  Field 6 |
Semi-finals scores:
| | | | |
| --- | --- | --- | --- |
| Under-12 Girls | | | |
| PDA Storm (NJ) | 11 | RI Strikers FC – Bettencourt (RI) | 0 |
| FSA FC Navy (CT) | 0 | Sachem Speed (NY-E) | 1 |
| | | | |
| Under-12 Boys | | | |
| PDA Kaka White (NJ) | 4 | GPS-NH Classics Elite (NH) | 0 |
| FSA FC Navy (CT) | 4 | Levittown Gunners FC (NY-E) | 0 |
| | | | |
| Under-12 8v8 Girls | | | |
| Greater Binghamton FC (NY-W) | 2 | Alleycats Soccer Club (NY-E) | 0 |
| Victory Express (PA-W) | 3 | Stars of Mass NH United (NH) | 0 |
| | | | |
| Under-12 8v8 Boys | | | |
| PWSI Courage Red (VA) | 2 | North Union United Cannons (PA-E) | 0 |
| Baltimore Celtic Darby (MD) | 4 | West Chester United Predators (PA-E) | 0 |
| | | | |
| Under-13 Girls | | | |
| Delaware Rush (DE) | 0 | Greater Binghamton FC Select – Riley (NY-W) | 1 |
| Bethesda SC Academy Blue (MD) | 1 | South Shore Select Elite (MA) | 2 |
| | | | |
| Under-13 Boys | | | |
| Baltimore Celtic Dynasty (MD) | 1 | Global Premier Soccer (NH) | 0 |
| BRYC Elite (VA) | 3 | Bruno United Red (RI) | 2 |
| | | | |
| Under-14 Girls | | | |
| FC Penn Strikers (PA-E) | 2 | Empire Revolution SA Buffalo Blue (NY-W) | 0 |
| NEFC Elite (MA) | 2 | Quickstrike FC (NY-E) | 0 |
| | | | |
| Under-14 Boys | | | |
| FSA FC Navy (CT) | 0 | Delaware Rush SC (DE) | 1 |
| Arlington SA Eagles Red (VA) | 3 | GPS-MA Crusaders Elite (MA) | 0 |
| | | | |
| Under-15 Girls | | | |
| NEFC Elite (MA) | 3 | YMS Premier Xplosion (PA-E) | 4 |
| Delaware Rush (DE) | 0 | Loudoun Red (VA) | 1 |
| | | | |
| Under-15 Boys | | | |
| Penn Fusion SA (PA-E) | 0 | Loudoun SC Red (VA) | 1 |
| Delaware Rush (DE) | 2 | Marlboro SA Warriors Blue (NJ) | 0 |
| | | | |
| Under-16 Girls | | | |
| MRM Coyotes (MD) | 2 | Brentwood SC Pride (NY-E) | 0 |
| Beadling SC Wolfpack (PA-W) | 2 | New Jersey Rush (NJ) | 0 |
| | | | |
| Under-16 Boys | | | |
| Synergy Football Club Academy (VT) | 1 | PDA Pele (NJ) | 0 |
| Manhattan SC Cruzeiro (NY-E) | 0 | Baltimore Celtic (MD) | 4 |
| | | | |
| Under-17 Girls | | | |
| YMS Premier Wildcats (PA-E) | 1 | VSA Heat Blue (VA) | 3 |
| Toms River FC United (NJ) | 5 | Bayside FC Bolts (RI) | 3 |
| | | | |
| Under-17 Boys | | | |
| Manhattan SC PSG (NY-E) | 5 | Empire Revolution SA Buffalo Blue (NY-W) | 0 |
| CFC Sound Azul Juniors (CT) | 1 | Smithtown Kickers SC Arsenal (NY-E) | 2 |
| | | | |
| Under-18 Girls | | | |
| Beadling SC Thunder (PA-W) | 3 | Bayside FC Bolts (RI) | 0 |
| Richmond Kickers YSC Elite (VA) | 0 | PDA Ginga (NJ) | 1 |
| | | | |
| Under-18 Boys | | | |
| Lehigh Valley United (PA-E) | 1 | Annandale United FC Hawks (VA) | 0 |
| Penn Fusion SA (PA-E) | 1 | OBGC Rangers (MD) | 0 |
| | | | |
| Under 19-Girls | | | |
| FC Stars of Mass (MA) | 1 | VSA Heat Blue (VA) | 2 |
| FC Frederick (MD) | 1 | Smithown Kickers SC Spirit (NY-E) | 0 |
| | | | |
| Under-19 Boys | | | |
| Pipeline Soccer Club Black (MD) | 0 | Beadling SC (PA-W) | 1 |
| PDA Harkes (NJ) | 2 | Ironbound SC Inter (NJ) | 0 |