Fifteen ECNL alums tabbed as candidates for 2018 Senior CLASS Award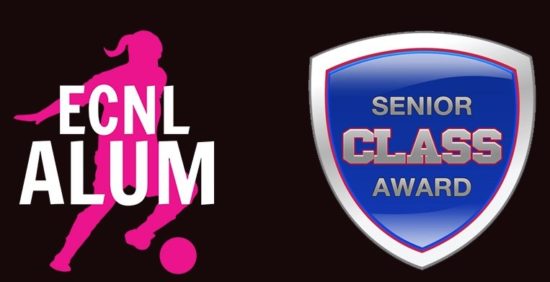 RICHMOND, VA (Via ECNL) – The ECNL would like to congratulate 15 alums who have been selected as candidates for the Senior CLASS Award which highlights achievements in four areas of excellence: community, classroom, character and competition.
Each year, 30 total NCAA Division I senior student-athletes are selected as candidates for the Senior CLASS Award.
Fifteen ECNL Alums were selected as candidates for this year's Senior CLASS Awards. CLASS is an acronym for Celebrating Loyalty and Achievement for Staying in School. This award focuses on the complete student-athlete and encourages students to use their platform in athletics to make a positive impact as leaders in their communities.
Congratulations to the following ECNL Alums on their Senior CLASS Award candidacy:
Madeline Anderson, Hofstra (East Meadow SC)
Julia Ashley, North Carolina (Match Fit Academy)
Hailie Mace, UCLA (Eagles Soccer Club)
Kayla McCoy, Duke (Sockers FC)
Alana Cook, Stanford (Match Fit Academy)
Paige Monaghan, Butler (PDA)
Emily Ogle, Penn State (Internationals SC)
Christine Etzel, Brown (Connecticut FC)
Brielle Preece, Pepperdine (Pleasanton Rage)
Katie Glenn, Texas (Lonestar SC)
Jennifer Hiddink, Air Force (D'Feeters SC)
Julie James, Baylor (Sting Dallas)
Emma Tyrnauer, Loyola Marymount (DeAnzaForce)
Elizabeth Woerner, Memphis (Eclipse Select SC)
Cece Kizer, Ole Miss (Sporting Blue Valley)
Ten candidates will be selected halfway through the regular season and will be placed on a public ballot where media, coaches and fans can vote. Voting will remain open through the remainder of the season, with the winner announced at the 2018 Women's College Cup.