FIFA's Tatjana Haenni adamant: 2015 Women's World Cup will be played on artificial turf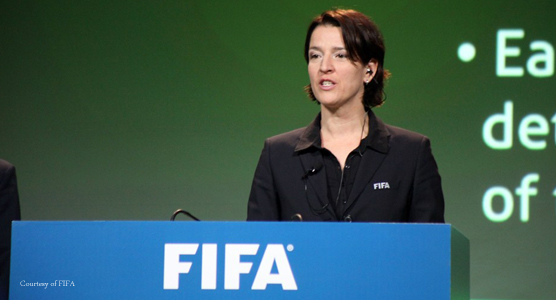 PHILADELPHIA — The controversy surrounding the decision to play the FIFA Women's World Cup on artificial turf in Canada this summer has been a source of contention before the start of the tournament, but on Friday FIFA moved to quash any remaining doubts and reiterate that the competition will be played on turf and not on natural grass.
Speaking at a news conference for FIFA's Live Your Goals Tour, which arrived in Philadelphia during the NSCAA Convention, the world governing body's deputy director of the competitions division and head of women's competitions Tatjana Haenni emphasized their position after meeting with players during the Ballon D'Or ceremony in Zurich, Switzerland.
+READ: Women's World Cup Draw takes place amid more Turf War controversy
"There was a meeting with our secretary general Jerome Valcke and some players," Haenni told reporters during the briefing. "All the players who attended the FIFA Ballon D'Or awards [ceremony] were invited to that meeting. The discussion was very open and frank and a very good one, people had their opinions but it was a good talk.
"At the end of that discussion, I think we can take it off, that topic should be over by now. There have been so many talks about it. It has been said before that there are no plans to change any turf, so the FIFA Women's World Cup 2015 in Canada will be played on artificial turf.
"FIFA is making sure right now with the national organizing committee that all stadiums and training facilities will be the highest quality of turf up to national standard. I also think by now, and also some players do as well, that the time is now to focus on football and the event. All those teams, players and coaches want to win the WWC, and I think we need to focus."
There have been significant concerns raised about the standard of the turf at BC Place, home of Vancouver Whitecaps FC in MLS and where nine games will be played in this summer's tournament, including the final on July 5. However, Haenni indicated that FIFA would work closely with the national organizing committee and ensure that all turf is up to a high standard.
+READ: U.S. National Soccer Team Players Association: 'Women's World Cup on turf would be serious mistake'
"There's a process to get FIFA-qualified turf to stadiums, and there will be new turf coming to [Vancouver]," she said. "We have a meeting next week in Zurich where we establish those timelines when that turf can be tested and changed. We know that Vancouver is an issue, we had some players commenting on that, also from the German national team who have played an international friendly there."
Haenni also was noncommittal about whether future Women's World Cups would be held on turf or on grass. She did indicate that the two countries to have submitted bid documents for the 2019 edition — France and South Korea — have proposed holding the tournament in stadiums that have natural turf.
However, with the tournament in Canada now just four-and-a-half months away, FIFA are hopeful that now the focus can switch away from the fields and onto the competition itself.