FC Virginia U-18/19s earn No. 1 overall seed in Girls DA Playoffs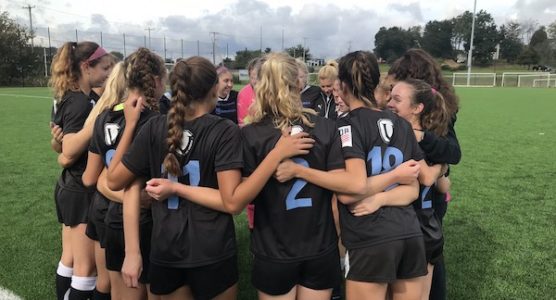 The FC Virginia U-18/19 side captured the top overall seed for the 2019 U.S. Soccer Girls' Development Academy Playoffs, finishing the regular season with a 21-2-2 record.
FCV stormed through the Atlantic Division and Eastern Conference competition all season long, outscoring opponents 92-25. They earned the No. 1 seed for the 16-team playoff field by averaging 2.6 points per game.
The FCV U-18/19 squad ended the regular season in the midst of an 11-game winning streak, and they have not lost a game since a 2-3 result against Sockers FC on December 7, 2018 at the Girls DA Winter Showcase in Florida.
In their regular season finale on June 1, FCV locked up the top overall seed with a thrilling 4-3 comeback victory over Atlantic Division runner-up Penn Fusion Soccer Academy. Trailing 3-2 with less than five minutes to play, FCV's Ellis Wheeler netted an 87th minute equalizer, and Olivia Migli followed up with the game-winner in the 90th minute.
FCV needed all three points in the finale against Penn Fusion in order to clinch the No. 1 seed, as they finished just ahead of Northeast Division champion New England FC (2.55 ppg).
Wheeler, a 2020 Penn State commit, ranked 8th in the U-18/19 Girls DA age group nationwide with 24 goals on the season. Migli (Duke 2020) and Victoria Powell (Virginia Tech 2020) netted 15 goals each, while U.S. U-18 Women's National Team player Alexis Theoret (Virginia 2020) highlighted FCV's dynamic midfield.
Defenders Victoria Haugen (Virginia Tech 2020) and Sydney Ash(Virginia Tech 2019) played key roles on the FCV back line throughout the regular season, starting 21 and 18 games, respectively.
At the Girls DA Playoffs in Oceanside, Calif. later this month, the FCV U-18/19 team will be joined by the club's U-15 and U-16/17 sides, as the club will be represented in all three playoff age groups.
The FCV U-15s claimed the No. 8 seed in the 32-team playoff field, earning a 21-4-7 record. They outscored opponents 86-35 on the season.
At the U-16/17 level, FCV came away with the No. 20 slot out of the 32-team postseason field. They won four straight games to finish the regular season, including three consecutive clean sheets. The winning streak sealed their postseason berth, with 1.42 points per game and a 12-12-4 record.
The Girls DA Summer Showcase and Playoffs are being held June 20-29 at the SoCal Sports Complex in Oceanside, Calif.