FC Virginia teams earn spots in all three Girls DA Playoff divisions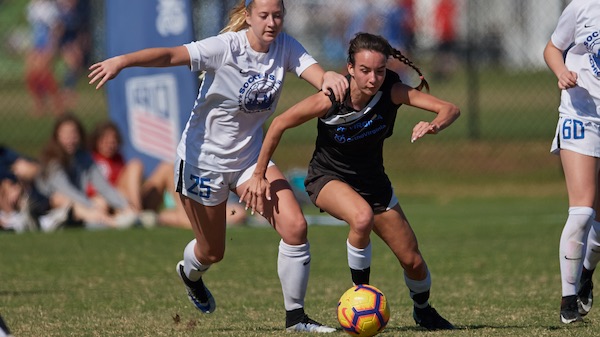 FC Virginia teams have locked up spots for all three U.S. Soccer Girls' Development Academy Playoff divisions, in the U-15, U-16/17 and U-18/19 age groups.
At the U-15 level, FCV has a stronghold on first place in the Atlantic Division with a 19-4-7 record. The side boasts the 4th-highest scoring offense out of 26 teams across the East Conference, with 78 goals through 30 games.
FCV is well on its way to earning a top-10 seed, currently sitting at No. 8, in the 32-team Girls' DA Playoff field. The FCV midfield triple-threat of Ella Carter (16 goals), Taylor Price (14 goals) and Courtney Anderson (12 goals) have combined for an astounding 42 scores for the squad's dynamic attack.
In the U-16/17 age group, FCV has ridden the Atlantic Division's second-highest scoring offense to a postseason berth. U.S. Youth National Team forward Brooke Potter has paced the attack, with 11 of their 48 total goals.
With two regular season games remaining the FCV U-16/17 side hold the No. 20 out of 32 playoff seeds, occupying the second of three automatic spots for the Atlantic Division.
Currently, FCV holds the Development Academy's No. 1 overall seed in the U-18/19 age group, with a 19-2-2 record. They have outscored opponents 82-21 on the season, a 61-goal margin through 23 regular season games.
Four players – forward Ellis Wheeler (21 goals), forward Victoria Powell (15 goals), midfielder Olivia Migli (14 goals) and forward Carrie McIntire (12 goals) – have racked up double-digit goals for FCV's high-powered attack.
Midfielder Alexis Theoret and Wheeler both represent the FCV U-18/19 squad as members of the U.S. Youth National Team player pool.
The U-18/19s will aim to lock up the No. 1 overall Girls DA Playoff seed with wins in their final two regular season games, coming up May 25 against PA Classics, and on June 1 against Penn Fusion Soccer Academy.