FC Dallas U-17/18s earn comeback win over Nomads SC in USSDA Semis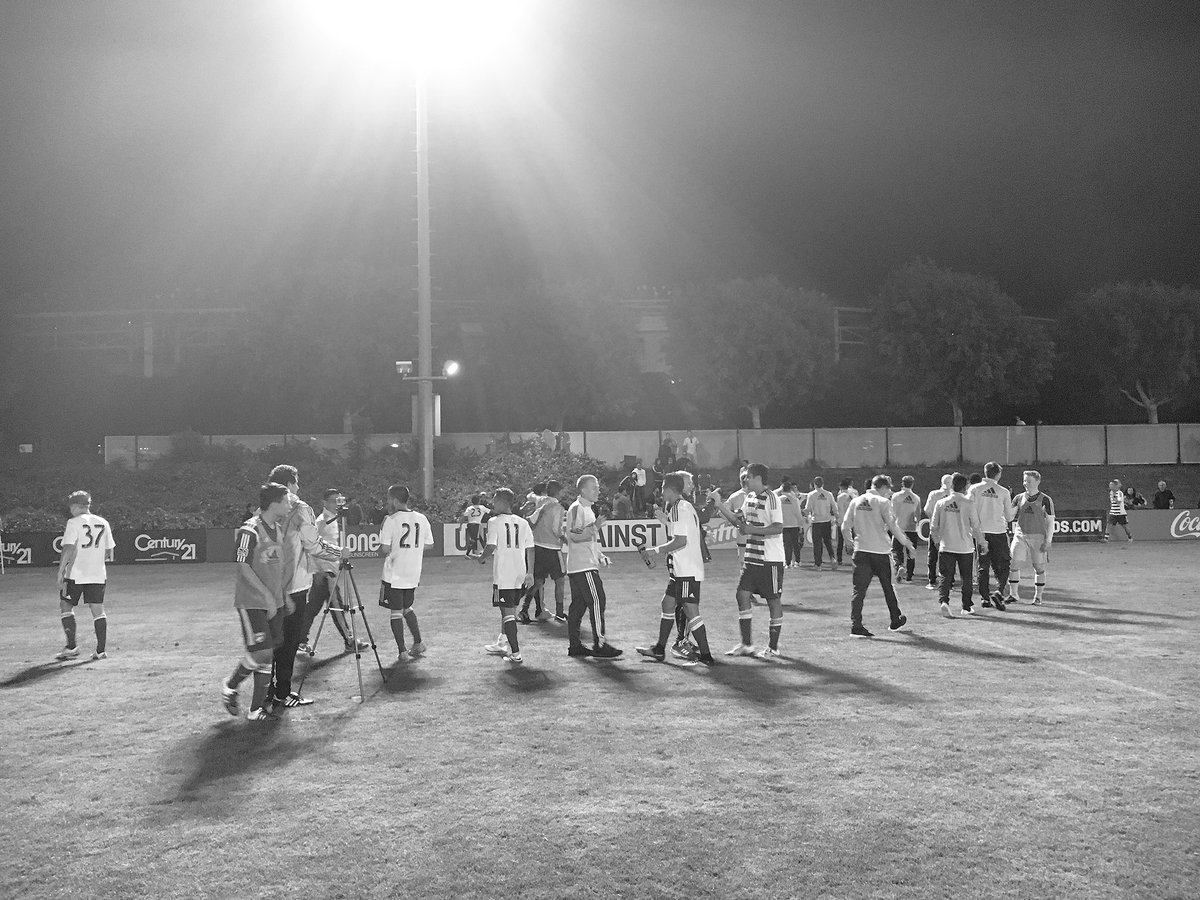 (Via FC Dallas) – Despite a 1-0 halftime deficit, second half goals from Hector Montalvo and Toshiki Yasuda earned FC Dallas a 2-1 comeback victory against Nomads SC and a place in Saturday's U-17/18 Final against Vancouver Whitecaps FC. This FC Dallas U-17/18 team is the defending champion from the 2014-15 season, with about 90 percent of the U-15/16 National Championship team from 2015 returning to Carson this year.
In an often physical affair, FC Dallas spent long stretches of the first half locked in Nomads' defensive end, coming close to goal on three different occasions.
After a foul was committed just outside the box in the 21st minute, midfielder Devin Vega stepped up to unleash a rocketing free kick that went just over the bar.
Up, up, up!#AcademyChampionships pic.twitter.com/HgrJf52S1t

— FC Dallas Youth (@FCDallasYouth) July 15, 2016
Following a hand ball just outside the box 11 minutes later, Vega stepped up just to the left of his first take and fired a blast that Nomads' keeper Carlos Arce tipped off the cross bar and out for a corner kick.
As FC Dallas continued to dominate play, the ball fell for Giovanni Montesdeoca at the top of the box, and the forward turned and saw his shot deflect off a Nomads' defender and loop just wide of the left post.
Nomads made their only chance of the initial 45 minutes count in first half stoppage time. Catching FC Dallas in transition, Augustine Williams broke down the left before playing a ball for Raymond Soro. The Nomads attacker fired a low blast that Dallas' keeper Ben Hale was equal to, but Williams followed up the shot and hit home the rebound to take Nomads into the half with a 1-0 lead.
+Read: Vancouver Whitecaps U-17/18s defeat PDA 4-1 in USSDA Semifinals
While the position wasn't a familiar one for FC Dallas, it was one head coach Francisco Molina said the team trained for over the past week.
"We ran through that scenario after the Quarterfinals," said Molina post-game. "We practiced a lot with being down 1-0 and the boys were prepared. They have a lot of personality and they won the championship last year so they know what it takes."
It didn't take long for FC Dallas to respond after halftime. In the 52nd minute, Toshiki Yasuda's corner kick from the right picked out center back Hector Montalvo, who nodded his effort inside the left post to level the score.
What a pass from Paxton to set up Yasuda! 2-1! #DTID pic.twitter.com/45RqfEnrfL

— FC Dallas Youth (@FCDallasYouth) July 15, 2016
With the equalizer in hand, Dallas pressed for the go-ahead goal in the 76th minute when Ben Cannon intercepted a ball in midfield and drove forward. Cannon centered for Montesdeoca who left it for Vega on the overlapping run, but the FCD attacker pulled his shot wide.
While he missed that chance, Vega would create the go-ahead goal a minute later, when he slipped Paxton Pomykal in alone on the left before a centering pass across the box found Yasuda, who buried his effort in the 77th minute.
"The team came out of halftime, reacted very well and we got that early goal," Montalvo said of the comeback. "It helped us a lot to gain momentum and pushed us to get the second goal."
+Read: FC Dallas U-15/16s reach USSDA Final with 1-0 win over Chicago Fire
As Nomads searched for a late equalizer, FC Dallas rebuffed every advance to earn a hard-fought comeback victory.
With the win, a majority of the FC Dallas U-17/18 players will play for a second-straight U.S. Soccer Development Academy championship when they face Vancouver Whitecaps FC in Saturday's Final at 7:30 p.m. PT.
The game will follow the U-15/16 championship, which also features FC Dallas taking on LA Galaxy at 5 p.m. PT. Both matches will be streamed live on U.S. Soccer's YouTube channel.