Fairfield University women's soccer signs six to National Letters of Intent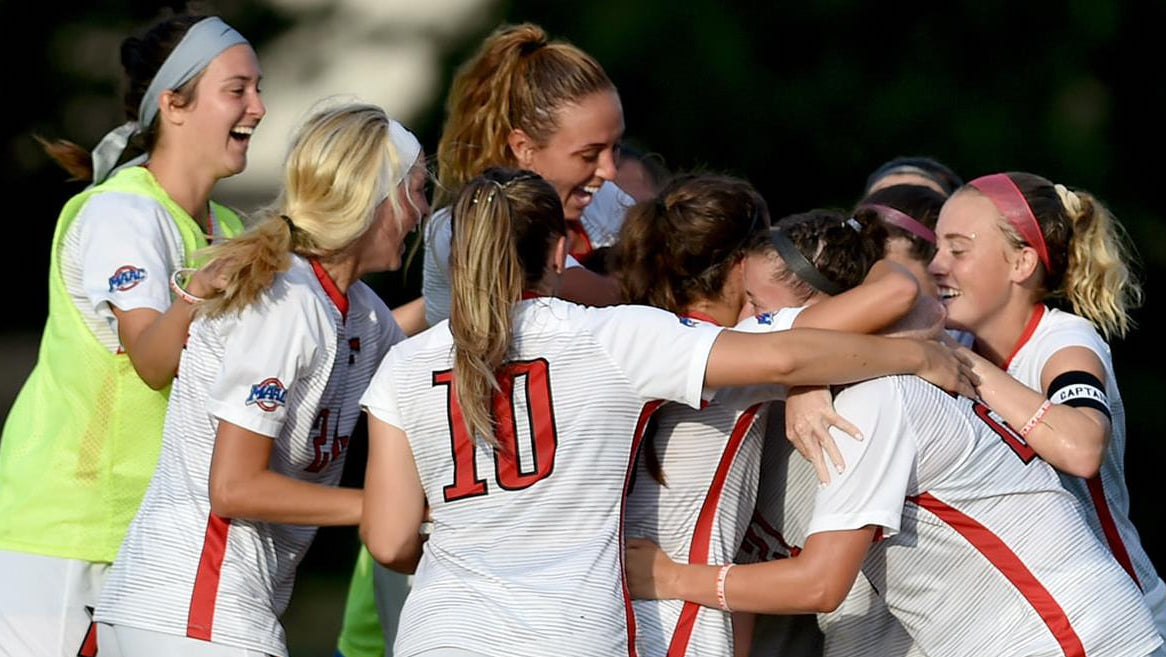 FAIRFIELD, Conn. – The Fairfield University women's soccer program has announced six student-athletes who have signed their National Letters of Intent to play for the Stags beginning in the fall of 2021.
Reagan Klarmann, Arden MacNeil, Samantha Erickson, Lexi Cosentino, Aubrey Silverman and Victoria Sarf have officially signed their commitment letters on National Signing Day. Each member of the group brings their own unique talents and experience to the Fairfield roster.
"I am really excited about this group of players," Head Coach David Barrett said. "Our staff worked really hard on recruiting this group of terrific young women and players, and today is the day we get to welcome them officially to our program. This is a very deep, diverse, and talented group. We think their signing represents another step on our journey towards becoming an elite soccer program in the MAAC and the region."
Reagan Klarmann | Upper Saddle River, N.J. | High School: Northern Highlands Regional | Club: Match Fit Academy ECNL
Klarmann is a three-time First Team All-League honoree for Northern Highlands Regional High School and has led her squad to two Bergen County Championships.  The attacking center midfielder netted 11 goals during her junior season, helping her earn a top-20 North 1 Regional selection. She also helped her high school squad to the Sectional State Championship, scoring the game-winning goal in both the semifinal and Championship matches.
Coach Barrett Quote: "Reagan comes to us with a lot of tools to be a fine soccer player for us. She's smart, skillful, and competitive. She can impact the game in a number of ways from the midfield. She's also a very tough player and I expect great things from her as she develops."

Samantha Erickson | Berkeley Heights, N.J. | High School: Governor Livingson | Club: PDA ECNL
Erickson is coming off her most successful season, being named to the All-County First Team and one of the top-17 players in the conference. She was named a team captain this season after leading her squad to the Conference Championships in 2019. She was also honored with an All-State Player Recognition for the state of New Jersey.
Coach Barrett Quote: "Sami is going to add a different element of athleticism in our team. She's got an ability to be explosive over short distances and impact a game with her physicality. We really like what she brings in the way of being a two-way player in midfield."

Lexi Cosentino | Middletown, Conn. | High School: Mercy | Club: Oakwood Soccer Club
Cosentino was a team captain for her club squad Oakwood in the US Development Academy. The midfielder started 14 matches for Oakwood and made an impact on both ends of the pitch.
Coach Barrett Quote: "Lexi is very technical and quick, and plays stronger than she looks! She is a skillful passer and sees the game well. She's played a lot of defensive midfielder for Oakwood, and I think she could do that role for us or perhaps other jobs in the middle as well."

Arden MacNeil | Hampton, N.J. | High School: North Hunterdon | Club: PDA ECNL
McNeil has had an accomplished high school career, being selected to the Skyland Conference First Team and chosen as North Hunterdon's offensive MVP. In her career, she helped lead the North Hunterdon Lions to a state championship and a No. 1 ranking in the state. The center midfielder was a part of the Sky Blue PDA Soccer Development Academy.
Barrett Quote: "Arden is a tough, mobile, and versatile player. Love her ability to cover ground on the field. She's got a great engine and is a tough competitor. Can see her fitting in as a midfielder or possibly outside back for us."

Aubrey Silverman | Ocean Township, N.J. | High School: Red Bank Catholic | Club: PDA ECNL
An outside back from Red Bank Catholic High School, Silverman was a First Team All-Conference selection and was also chosen for as a First Team State All-Non-Public. She led her squad to the 2019 Shore Conference Championship and the State Semifinals.  In her senior season, she has netted three goals and has dished out a team-high eight assists. She has also helped the defense record six clean sheets this season.
Barrett Quote: "Aubrey is a smooth and skillful left-sided player. She has experience playing mainly as an outside back, but I think she could also push up the field as well. She is also a very smart player who loves to compete."

Victoria Sarf| Manalapan, N.J. | High School: Manalapan | Club: PDA ECNL
Listed as one of the best high school forwards in the state of New Jersey, Sarf was among the state's leaders with 13 assists during her junior season. She has helped lead her squad on and off the pitch, being selected a team captain during her senior season after earning a spot on the school's High Honor Roll.
Coach Barrett Quote: "We really like Tori's explosiveness going forward. She's got a real nose for the goal and her pace allows her to get behind defenders to create danger. She's another really competitive player who wants to get forward."

The six players will join a Stags team that advanced to the MAAC Championship Match in 2019 and return eight All-MAAC players from that campaign.