Emerson Hyndman named U.S. U-20 MNT captain for World Cup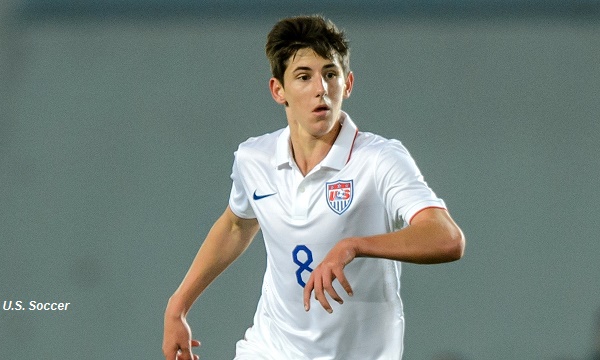 (Via U.S. Soccer) – U.S. Under-20 Men's National Team head coach Tab Ramos on Saturday evening announced to the team midfielder Emerson Hyndman will serve as captain at the FIFA Under-20 World Cup in New Zealand.
"We've been discussing with the staff trying to figure out who was going to be a good leader for us on the field and off the field," Ramos said. "We're very fortunate with this group that we definitely have three or four guys who could have taken that role, but we felt that Emerson was the right person to lead the way for the group. Obviously he's a good player, and at the same time I think he's very professional on the field and off the field and I think the type of person at U.S. Soccer we'd like to have as a leader."
Hyndman is one of six players who appeared in all six matches for the U-20 MNT at the 2015 CONCACAF U-20 Championship in Jamaica in January, where he scored once and led the team with three assists.
"It's obviously an honor to be captain of a World Cup team," Hyndman said. "I'm looking to bring all the same qualities from qualifying and really just help everyone on the team."
The 19-year-old has also earned a cap with the senior U.S. Men's National Team, debuting on September 3, 2014 as a second-half sub in the USA's 1-0 win against the Czech Republic. He also played a friendly with the U.S. U-23 MNT on October 14, 2014 when he started against Brazil in Brasilia.
"(Ramos) just told me that he doesn't want to put too much pressure on me, and he wanted me to be more of a leader," Hyndman said. "I feel like I can do that, so I'm up to the task."
A former Development Academy player with the Dallas Texans and the FC Dallas Academy, Hyndman signed a professional contract with Fulham in April 2013. He made his professional debut for the Cottagers on Aug. 9, 2014, going the full 90 minutes in a 2-1 loss to Ipswich Town in Championship play and made 11 first-team appearances for Fulham during the 2014-2015 season.