Ellis Pierre joins Maryland Rush Montgomery as Director of Coaching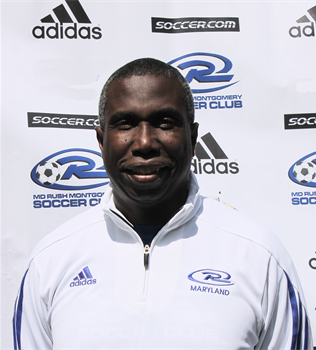 Rockville, MD (Via Maryland Rush Montgomery) – Ellis Pierre has joined Maryland Rush Montgomery as the club's new Director of Coaching.
In his new role, Pierre will work closely with age group coordinators to focus on elevating the level of coaching and play for boys and girls teams at all age levels and on providing exceptional player development across the club.
Pierre comes to MRM with 20 years of experience preparing youth to play soccer at the premier level. He is known for attracting and retaining top tier coaches and motivated players in the Washington, D.C., area, which is one of the most competitive soccer markets in the United States.
"We are excited to bring a DOC of Ellis Pierre's caliber to our club," said Kennedy Torres, president of Maryland Rush Montgomery. "This marks a special milestone in our growth, as we've evolved over the years from a small, parent-coached club, to one that offers the ability for motivated young players to succeed at high school varsity and college-level soccer and beyond."
Pierre is currently the associate head coach at Howard University, a NCAA Division 1 women's soccer program, and has also served as volunteer assistant coach at University of Maryland and George Washington University. He also was a staff coach for the Washington Freedom for eight years, a team that included soccer greats Mia Hamm and Abby Wambach. He recently served as age group director for boys U8-12 with McLean Youth Soccer; and also served for 12 years as director of coach and player development for Bethesda Soccer Club. As a coach/trainer, he has successfully won more than a dozen state cups, multiple regional championships and a national championship; effectively placed many players on the state, regional and national teams, and groomed numerous college-bound players who attended top academic and athletic programs. He also has served as an ECNL director, Super Y director, camp director, college liaison and in-service trainer.
"Ellis Pierre is not only an excellent coach, trainer and leader, but he's also a great role model who has made a profound impact on hundreds of young people in our area over the years. That was an important consideration for me and the Board as we chose to hire Ellis for the club," Torres added.
Maryland Rush Montgomery serves more than 700 youth and families across the Montgomery County, Howard County, Frederick and Washington, D,C., areas. The club is part of Rush Soccer Club, which represents over 34,000 youth soccer players nationwide. Rush Soccer is committed to the development of healthy youth through the game of soccer and to providing our members the finest soccer experience possible, teaching the fundamental skills of the game and developing athletes through organized leagues, teams, tournaments, training, coaches and athletic facilities.
Starting in 2009, Rush Soccer began expansion to International levels when it began a partnership with a small village in South Africa called Nkomazi. Since then, Rush has formed partnerships with clubs in Africa, South America, Europe, Asia, along with North and Central America and the islands of the Caribbean.