Elite level competition on display at Jefferson Cup Girls Showcase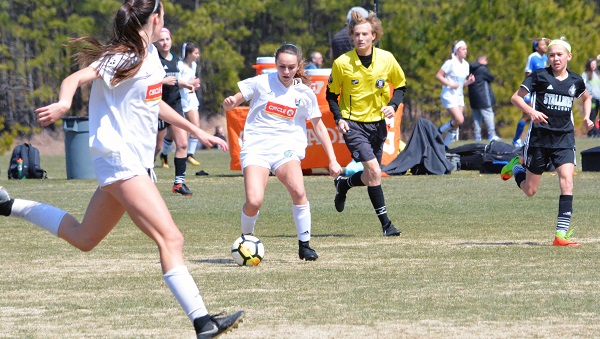 Follow the Jefferson Cup
Twitter | Instagram | Facebook
Girls Showcase: Full Results | College Coaches
The 2018 Jefferson Cup Girls Showcase wrapped up play on Sunday with multiple sides across each age bracket vying for top honors, competing in front of hundreds of college coaches.
U-15
BRYC Elite Academy U15 made it a perfect four-for-four in the Championship Division with a 1-0 win over Maryland United 2003 FC ECNL. BRYC punched their ticket to the finals after winning Group A with a 2-0 win over PDA 2003 ECNL on Sunday. As for Maryland, they clinched a spot in the finals with a 5-0 win over CSA Impact United 03G Nike. In the finals, BRYC earned their second shutout of the competition and pushed their goal scoring total to 13, most among any side in the U-15 age bracket.
U-16
McLean 03G ECNL (2-0-1, 23 points) completed their undefeated run through the U-16 Championship division with a 3-1 win over Lehigh Valley United 2002 G (1-2-0, 9 points). After a tough 2-2 draw to start their 2018 Showcase, the ECNL side claimed top honors by outscoring their opponents 9-2 (they defeated Massapequa NPL 02 LIL Rowdies 6-1 on Saturday).
+READ: Division standings take shape at Jefferson Cup Girls Showcase
CESA U16 ECNL (2-0-1, 21 points) came close to toppling McLean in their Sunday morning encounter against Marin FC 02 Blue (1-0-2, 18 points), a match that ended in a 0-0 draw. CESA goalkeeper Anna Hammer faced considerable pressure in the match from Marin, but kept her side in it with several daring stops. In the second half, CESA nearly took the lead when midfielder Madison Luckett nearly found the net with a shot towards the far right post in the 62nd minute. However, Marin defender Rachel Dougherty raced back towards goal and made the clear to keep the match level.
U-17
McLean 01G (2-0-1, 24 points) finished atop the U-17 Championship Division after defeating third-place finishers SUSA NPL G01 (2-1-0, 19 points) on Sunday. McLean raced out to a 3-0 lead in the first half with goals from Natalie Wilson (23'), Angela Caloia (24') and Gabriella Nastasi (30'). SUSA cut McLean's lead to two thanks to a blistering strike from Jessica Graziano. Graziano hit a half-volley towards the upper-right corner of the McLean goal, just beyond the goalkeeper's reach. But McLean would not let them get any closer, with Nikki Debayo-Doherty (61') and Becky Myers (78' and 80') sealing the win with a trio of second half goals.
After a difficult start to their tournament, NorCal NPL side Marin FC G01 Blue (1-1-1, 13 points) ended their tournament on a high note with a 6-1 win over Albertson SC Fury '01 ECNL (1-2-0, 10 points). Midfielder Grace Bouton's five goals (20', 21', 29', 36', and 58') set the tone for the Northern California squad. Their sixth would come from Reilly Johnson in the 42nd minute. Albertson's lone goal came off of a Chloe Schitt header in the 37th minute.
U-18
NJ Stallions '00 Stampede (3-0-0,26 points) finished first in the U-18 Championship Division on Sunday thanks to a 1-0 win over Chattanooga FC Academy 00/0 (0-1-2, 8 points). Goalkeeper Sarah Ghorashi and the back line combined for the team's third shutout of the tournament. NJ Stallions were the only side in the U-19 age bracket not to allow a single goal over the weekend.
Finishing second in the group was SUSA NPL G00 (2-1-0, 21 points), who earned a shutout against GPS MA Elite Red 00 Girls (1-2-0, 9 points) 4-0. After allowing eight goals against Princeton Premier SA Elite on Saturday, SUSA ramped up their defensive effort on Sunday, with defenders Yomary Cordero and Jennifer Bonifazio, and goalkeeper Alexis Saladino leading the defensive unit in their first clean sheet of the tournament.
Speaking of Princeton (2-1-0, 19 points), they too would end the tournament on a high note with a 4-1 win over NVSC JR. Majestics 00 (1-2-0, 11 points), sealing up third place. After a 3-1 loss to GPS to start the tournament, the Princeton attack pounced on their opponents for the remaining two matches. Their 10 goals were the most among all sides in the U-18 age bracket.
U-19
It wasn't easy, but McLean 99/00G ECNL (3-0-0, 28 points) captured the U-19 Championship Division title with a 5-4 win over Sunrise Sting 1999 Black (1-2-0, 13 points). McLean took a 2-1 lead into halftime thanks to a brace from Aleigh Gambone (12' and 24'). Sunrise cut it to one just before the break with a goal from Chloe O'Neill (40'). In the second half, Sunrise equalized thanks to a goal courtesy of forward Samantha Wild in the 56th minute. But McLean's attack would hit three in 11 minutes, with Gambone adding two to her already impressive haul (57' and 67') and Maria Pareja finding the back of the net in the 66th minute. Sunrise clawed their way back though, with O'Neill knocking home the penalty kick goal in the 68th minute and Tori Alfero scoring in the 75th minute. But the McLean's defense held on to seal the win and their tournament title.
Bethesda SC ECNL Hype '00 (3-0-0, 26 points) nearly overtook McLean in the U-19 Championship finale on Sunday afternoon, but ultimately their 6-0 win over VYS Phoenix (1-1-1, 13 points) gave them second place in the group. Bethesda never scored less than two goals in their matches on the weekend, and their 10 goals was third-highest among all U-19 sides (Ohio Elite ECNL of the Elite Division was first with 12, followed by McLean with 11).
Third place in the U-19 Championship Division would go to Continental FC Delco ECNL (2-0-1, 22 points) who defeated PDA Shore 99's (0-2-1, 5 points) 4-1 on Sunday.
U15 – U-19 Girls Showcase Champions
U-15
Championship Division
BRYC Elite Academy U15
Elite Orange
Richmond United ECNL 03
Elite Black
Sunrise Sting 2003 Black XI
Superior Orange
PDA South NOVA
Superior Black
Continental FC ECNL '03f
Platinum Orange
AFFC Force
Platinum Black
OPSA Magic
Platinum White
NEFC BBA 2003 West Elite
Classic Orange
Penn Fusion SA Preacademy 2003
Classic Black
Inter Atlanta FC 03G Elite
Classic White
Premier SC Navy 2003
Elite Premier
SYA Cardinals 03G Red
U-16
Championship Division
McLean 02G ECNL
Elite Orange
Beach FC 02G Red
Elite Black
Albertson Fury 02 ECNL
Superior Orange
Nashville United SA 02G MAR
Superior Black
AFC Lightning '02 GOLD
Platinum Orange
CSA Impact United 02G NIKE MRL
Platinum Black
QUICKSTRIKE FC 02 NPL
U-17
Championship
McLean 01G ECNL
Elite
AZ Arsenal 01 Premier TEAL
Superior Orange
Collierville Soccer
Superior Black
FSA FC Girls 01 ECNL
Platinum Orange
Harford FC United 0
Platinum Black
FC Stars NPL 01
Classic
SF ELITE Academy SFEA NPL 0
U-18
Championship
NJ Stallions 00 Stampede NP
Elite
Connecticut United FC ECNL
U-19
Championship
McLean 99/00G ECNL
Elite
Ohio Elite ECNL