Elite Boys Academy, Sporting Iowa SC join Central States NPL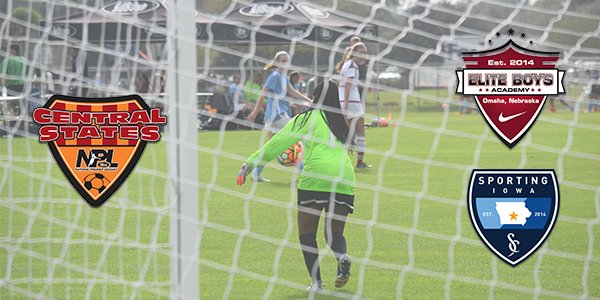 nationalpremierleagues.com | Central States NPL
(Via US Club Soccer) – Two years after its inception, the Central States NPL will see two new member clubs in the 2019-20 season with the expansion of Elite Boys Academy and Sporting Iowa SC. These two clubs will compete amongst other members of the Central States NPL For ENPL and NPL Postseason opportunities in the summer 2020.
"We are extremely excited to be joining the NPL and compete against other high-level organizations," said John Sheridan, Executive Director of Sporting Iowa. "We are committed to ensuring that we place our players in developmentally appropriate environments. Joining the NPL will only provide us with that opportunity."
The league will be comprised of the following member clubs in 2019-20:
• Des Moines Menace Academy (Iowa)
• Elite Boys Academy (Neb.)
• FC United (Iowa)
• Gretna SC (Neb.)
• Kansas Rush (Kan.)
• KC Fusion (Kan.)
• Lou Fusz SC (Mo.)
• Sporting Iowa SC (Iowa)
• Sporting Omaha FC (Neb.)
• Sporting St. Louis (Mo.)
• Vision Soccer Academy (Iowa)
"As a relatively young club on the boys side, we've steadily looked to build both in terms of our staff and our player opportunities," said Chris Dunford, Technical Director of Elite Boys Academy. "The biggest issue with our older teams is that due to the Nebraska high school season setup as it is, playing opportunities are at a premium in terms of league and events in the Fall season. The opportunity to join the Central States NPL gives our high school-age teams a higher level platform in combination with local league play to give more meaningful games and environments to develop in."
Central States NPL league champions' postseason pathways vary based on gender and age group. Girls league champions will advance to the annual Girls NPL Finals, to be held July 11-15 at Dick's Sporting Goods in Commerce City, Colorado. The top 13-U and 14-U boys teams will advance to the National Cup Finals, while 15-U through 17-U division winners will qualify to the ENPL National Playoff. The 19-U boys regular season champion will advance to the ENPL 19-U Second Division Championship.
"The additional chances to qualify for postseason play, and again, enjoy more competitive experiences made the Central States NPL a perfect fit," added Dunford. "In addition, for our U-13 and U-14 teams it's another opportunity to play against more regional clubs and test themselves versus a higher level to aid development. With the boys program becoming an NPL member club, we're all excited for the challenges ahead and look forward to helping the Central States NPL further develop over the coming years and can't wait for the Elite Boys Academy teams to get going."
This past fall, Central States NPL hosted a Player Development Program (PDP), serving 59 2004-05 born athletes. One Central States member club made news recently as Vision Soccer Academy was announced amongst the latest class of Players First licensed clubs after proving their commitment to providing a holistic club soccer experience for parents and players, which emphasizes the development of each individual to his or her full potential, and helps parents make better choices about where their children should play.