Nine teams qualify for 2015 Jefferson Cup at Capital Fall Classic Girls Weekend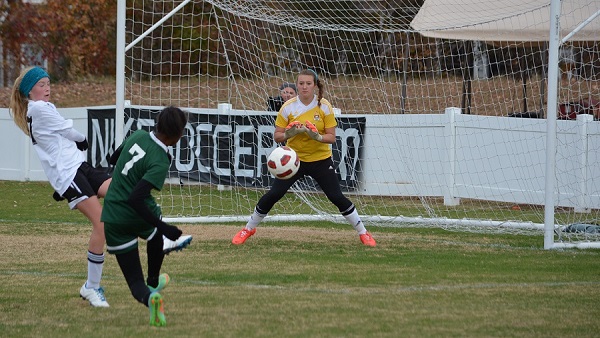 (Via Richmond Strikers) – The Capital Fall Classic Girls Weekend wrapped up on Sunday with 34 teams claiming division championships, eight of which have earned automatic acceptance into the 2015 Jefferson Cup by winning Premier Division titles.
Jefferson Cup qualification took place at River City SportsPlex and Striker Park on Championship Sunday, with the following eight teams securing their places in the 2015 tournament: Richmond Kickers Elite (U10), Arlington SA SOL (U11) Future SC Monarchs White (U12), FC Richmond Mystx 01 (U13), Virginia Legacy Elite (U14), Chantilly SC Storm (U15), SYC Stampede (U16), West Virginia Chaos 97 (U17) and Stafford Revolution 96 (U18).
+READ: Nine teams earn early Jefferson Cup bids at Capital Fall Classic Boys Weekend
The college showcase Premier Divisions, played at River City, each saw their championship matches come down to the final whistle, as the teams battled it out for the coveted Jefferson Cup slots. The U16, U17 and U18 Premier finals were all 1-0 contests with strong defensive performances across the board.
In the U16 Premier Division final, SYC Stampede leading 1-0 for most of the match, held Vienna YS Thunder Gold without an equalizer in the closing minutes despite a furious rally by Vienna.
"It took a little bit of gamesmanship, a little bit of luck and a little bit of determination," said SYC coach Lee Chang. "Our goalkeeper made some nice saves and our defenders made some nice last ditch tackles. We managed to put one in, but it could have gone either way."
Chang said he didn't tell his players about the Jefferson Cup qualification aspect of the Capital Fall Classic, in order to keep the pressure off, but that it was a major goal of their to play in the event after being declined in 2014.
"I told them let's just play, it's a nice field and a good opponent, I just wanted to keep them in the moment," Chang said.
West Virginia Chaos ran the table in the Capital Fall Classic U17 Premier Division, allowing just one goal in four total matches while scoring 21. However, the final against FC Virginia was a struggle until the end, as Chaos were pushed to their limit but held on to win 1-0 after scoring a first half goal.
"One of the biggest things for us is to qualify for the Jefferson Cup, and that's a huge deal, it's a prestigious event and it means a lot to us," said Chaos coach Nicolette Bell.
Stafford Revolution 96 came into the Capital Fall Classic as a completely banged up team, with only nine or 10 healthy players on the roster for the last several weeks. Along with major contributions from four guest players brought up from WAGS Division 3 and 4, Stafford went 2-0-1 in group play before grinding out a 1-0 win in the U18 Premier Division final over Central Virginia United White.
"We had a lot of great efforts by a lot of people this weekend, our keeper playing with a sprained ankle and no subs, which is how it's been for us all season," said Stafford coach Walt Lenar. "It was a great battle, everybody we played this weekend gave us a great challenge."
Lenar added that when his team returns to Richmond for the Jefferson Cup in March, the guest players who helped them qualify at the Capital Fall Classic will be included on the roster.
"I'm grateful to their coaches for letting them play with us," he said. "Without any subs they hung in there for us and did a great job."
The 2015 Jefferson Cup will be played over three weekends in March. The Boys Weekend is set for March 6-8, the U10-U14 Girls Weekend will be March 14-15 and the U15-U19 Girls Weekend is March 20-22.