EDP Foundation funding costs for all players at EDP College Combine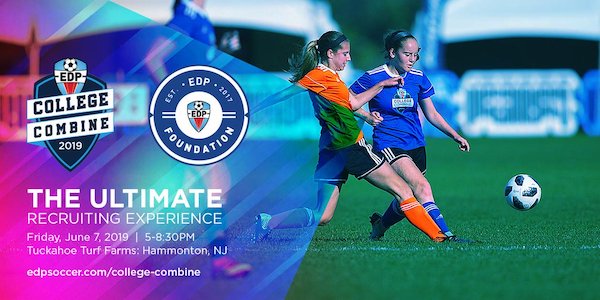 (Via EDP Soccer) – The EDP Foundation will cover the full cost of participation for all players taking part in the 2019 EDP College Combine, which will be held on Friday, June 7 in conjunction with the EDP Cup Spring Showcase on June 8-9.
Only 64 boys and 64 girls will take part in this valuable gateway for players on the pathway to college. Participants must be current high school sophomores or juniors, and they must be on a team that's already registered for the Spring Showcase.
At the Combine, players will be divided into four teams of 16 for a smaller, more-targeted gameplay environment in front of a large group of college coaches.  Coaches representing schools in all three NCAA divisions attended last year's event, which greatly increased the exposure of the participants, and similar coach attendance is expected this year.
A tremendous recruiting opportunity, this Combine serves the needs of both players and coaches.  Players can display their skills in a more intimate setting, while coaches can efficiently evaluate multiple players on four fields at once in a highly-competitive environment.  Taking part in the College Combine will not impact a player's availability for their club team in the Spring Showcase.
All games will be played on the professional-grade natural grass fields at the Tuckahoe Turf Farms in Hammonton, NJ.  EDP will film every contest and provide the participating players and college coaches with free access to the video footage.
"This is a novel approach to offer a 'combine' in conjunction with a successful college showcase," EDP Foundation Chairman Peter Gooding noted.  "It is a very effective way to serve a large number of prospective college student-athletes."
In addition, there will be seminar programming—again 100 percent funded by the EDP Foundation—on important topics relevant to college-bound players.  This will include special guest presenters and educational advisory sessions with college coaches, followed by an open Q & A and networking opportunities.  These presentations will be exclusively for College Combine participants and their parents.
Applications for the College Combine will be accepted on a first-come, first-served basis until May 7, with the 128 players announced shortly thereafter.  Because of the limited space, there will be a waiting list that will be used to fill team rosters if there are any late withdrawals.