ECNL U15-U17 National Finals field set, 'Rivah Draw' awaits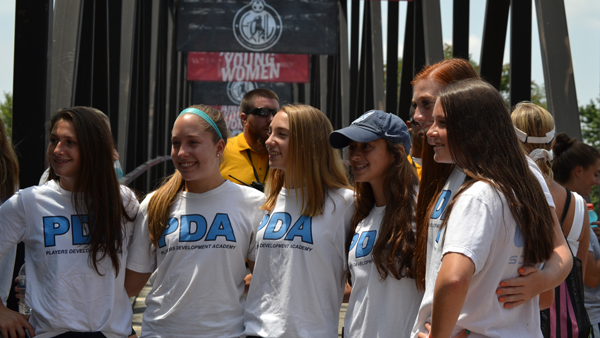 The Elite Clubs National League (ECNL) U-15 to U-17 Champions League National Finals run from July 14-18 in Richmond, Va.
Eight teams in each age group qualified for the league's biggest stage by winning groups at the ECNL Playoffs in Seattle, and will compete for national titles once again in the home city of the league's front office.
West Coast FC (CA), So Cal Blues (CA), Crossfire Premier (WA) and Real Colorado (CO) each have two of the 24 total teams that have qualified for the National Finals.
Other clubs that have reached the event include Solar Chelsea SC (TX), D'Feeters SC (TX), Michigan Hawks (MI), Colorado Storm (CO), De Anza Force (CA),  Match Fit Academy (NJ), FC Stars of Massachusetts (MA), Lonestar SC (TX), Orlando City SC (FL), Las Vegas Premier (NV), Eclipse Select SC (IL), San Diego Surf (CA), Slammers FC (CA), Dallas Sting (TX), Santa Rosa United (CA) and Players Development Academy (NJ).
+Read: ECNL Playoffs: National titles, qualifiers decided in Seattle
Eight teams from six California clubs will be competing in this year's National Finals, making up a third of the overall field.
Four Texas clubs will send one team each, including the Eclipse Select U-17s, who will be seeking a "three peat" after winning the U-15 and U-16 Champions League titles the past two seasons. Eclipse claimed the 2013-2014 U-16 title with a 3-1 win in the final over in-state foe Dallas Texans, with goals by Alia Martin, Lea Waddle and Marissa Bosco.
Match Fit Academy and 2014 overall club champions PDA will represent New Jersey. Led by U.S. Youth National team standout Frankie Tagliaferri and a host of other top prospects, PDA's U-17 squad enters the National Finals as one of the favorites. The team went 14-1-1 in the regular season with 63 goals and only 13 allowed in the tough Northeast Conference, and swept Group C at the ECNL Playoffs with a perfect 3-0-0 record, 8 goals and 2 allowed.
The event is annually one of the most widely attended in the country by top NCAA Women's Division I programs. In a league where 90 percent of the athletes go on to play at the college level, the National Finals always draws top programs from every corner of the U.S. Texas A&M, North Carolina State, Akron, Columbia, Michigan, Virginia Tech, Seton Hall, Washington State, Marquette, Arizona, Southern Methodist (SMU), West Virginia, Kansas State, William & Mary, Virginia Commonwealth (VCU), South Carolina and Cornell are among the notable programs to have registered so far.
With the 24 team field already decided, all that awaits is the "Rivah Draw", an annual ECNL tradition where teams and families gather for a social event and also find out their competitive schedules the day before the games kick off. This year's draw will be held Monday, July 13 from 2-5 p.m. in the Thalhimer Pavilion at the Science Museum of Virginia.
+ECNL National Finals homepage
U-15 Champions League
Crossfire Premier, Solar Chelsea SC, So Cal Blues, Real Colorado, D'Feeters SC, Michigan Hawks, West Coast FC, Colorado Storm
U-16 Champions League
Group Winners: De Anza Force, So Cal Blues SC, Match Fit Academy, FC Stars of Massachusetts, Lonestar SC, West Coast FC, Orlando City SC, Las Vegas Premier
U-17 Champions League
Group Winners: Eclipse Select SC, San Diego Surf, PDA, Slammers FC, Real Colorado, Crossfire Premier, Dallas Sting, Santa Rosa United