ECNL PDP Midwest (Madison) schedule and rosters announced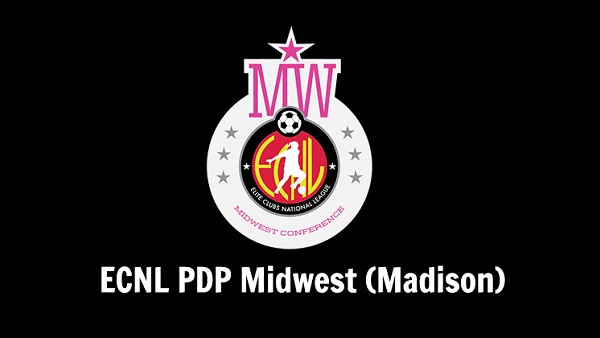 RICHMOND, Va. (Via ECNL) – The rosters and schedule for the Elite Clubs National League Player Development Program (PDP) event to be held in Madison, Wisconsin on February 3, 2018, have been announced.
The event will be held at the University of Wisconsin's indoor McClain Athletic Facility, with some of the best players from the following ECNL clubs in the Midwest Conference: Eclipse Select, Elite Girl's Academy, FC Wisconsin, Minnesota Thunder Academy, St. Louis Scott Gallagher – IL, and St. Louis Scott Gallagher – MO.
Player Development Programs (PDPs) are identification and development programs within US Club Soccer's id2 Program with three primary goals: (i) provide top players with an opportunity to be identified and evaluated for higher levels of play; (ii) provide a high-quality developmental experience; and (iii) recognize and reward individual performance and achievement. PDPs are operated in conjunction with elite leagues sanctioned by US Club Soccer.
+NCAA Women's Soccer Commitment Announcements: January 2018
The ECNL PDP in Madison will include a training session and two 11 vs. 11 games over two days. Top players from each ECNL PDP, along with other players scouted in ECNL competition throughout the year, will be considered for invitations to the ECNL / id2 National Training Camp in July.
Team One
| | | | |
| --- | --- | --- | --- |
| Jersey # | Player Name | Position | Club |
| 56 | Tara Tesmond | GK | Eclipse Select SC |
| 57 | Emily Puricelli | GK | SLSG – MO |
| 1 | Peighton Steffen | D | FC Wisconsin |
| 2 | Emily Ehlert | D | FC Wisconsin |
| 3 | Sydney Beach | D | SLSG – IL |
| 4 | Mary Gasaway | D | SLSG – IL |
| 5 | Riley Combs | D | SLSG – MO |
| 6 | Gabby Holtrop | D | SLSG – IL |
| 7 | Ann Luo | M | Eclipse Select |
| 8 | Piper Biziorek | M | Eclipse Select |
| 9 | Katie Stoneburner | M | EGA |
| 10 | Sophia Boman | M | Minnesota Thunder |
| 11 | Sydney Stephens | M | SLSG – MO |
| 12 | Aryssa Mahrt | F | FC Wisconsin |
| 13 | Kaitlin MaBean | F | Minnesota Thunder |
| 14 | Khyah Harper | F | Minnesota Thunder |
| 15 | Sydni Stevens | F | SLSG – IL |
Team Two
| | | | |
| --- | --- | --- | --- |
| Jersey # | Player Name | Position | Club |
| 58 | Claire Gagne | GK | Minnesota Thunder |
| 59 | Sara Sanabria | GK | SLSG – MO |
| 16 | Kiara Pralle | D | Eclipse Select |
| 17 | MacKenzie Boeve | D | EGA |
| 18 | Jordan Jeffers | D | FC Wisconsin |
| 19 | Hayley Lindaman | D | Minnesota Thunder |
| 20 | Maddie Zurmuehlen | D | SLSG – MO |
| 21 | Nanni Lombardi | M | Eclipse Select |
| 22 | Kiera Fullick | D | Eclipse Select |
| 23 | Abi Santana | M | FC Wisconsin |
| 24 | Emma Dutko | M | SLSG – IL |
| 25 | Rileigh Kuhns | M | SLSG – IL |
| 26 | Rachel Dallet | F | FC Wisconsin |
| 27 | Linnea Yacobella | F | Minnesota Thunder |
| 28 | Naomi Ferguson | F | SLSG – MO |
| 29 | Ava Tankersley | F | SLSG – MO |
| 30 | Porter List | F | EGA |
Team Three
| | | | |
| --- | --- | --- | --- |
| Jersey # | Player Name | Position | Club |
| 60 | Alexus Townsend | GK | EGA |
| 61 | Sarah Bozeman | GK | SLSG – MO |
| 31 | Lindsey Birch | D | Minnesota Thunder |
| 32 | Maria Voss | D | SLSG – IL |
| 33 | Erin Connolly | D | SLSG – MO |
| 34 | Emily Prososki | M | EGA |
| 35 | Dri Alberts | M | FC Wisconsin |
| 36 | Corrine Henson | M | Minnesota Thunder |
| 37 | Kendra Rust | M | Minnesota Thunder |
| 38 | Maci Teater | M | SLSG – MO |
| 39 | Katie Landwehr | M | SLSG – MO |
| 40 | Lilliah Blum | F | FC Wisconsin |
| 41 | Avery Christopher | F | SLSG – IL |
| 42 | Payton Federmann | F | SLSG – IL |
Team Four
| | | | |
| --- | --- | --- | --- |
| Jersey # | Player Name | Position | Club |
| 62 | Payton Cahill | GK | Minnesota Thunder |
| 43 | Lauren Anglim | D | EGA |
| 44 | Lucia Englund | D | FC Wisconsin |
| 45 | Mackenzie James | D | SLSG – IL |
| 46 | Ashley Martinez | D | SLSG – MO |
| 47 | Hannah Tate | M | EGA |
| 48 | Izzy Arnold | M | FC Wisconsin |
| 49 | Maddie Poor | M | Minnesota Thunder |
| 50 | Molly Knoblauch | M | Minnesota Thunder |
| 51 | Tori Calvert | M | SLSG – IL |
| 52 | Tori Schrimpf | M | SLSG – IL |
| 53 | Kinley Brown | M | SLSG – MO |
| 54 | Grace Bindbeutel | F | SLSG – MO |