ECNL PDP Midwest schedule, rosters announced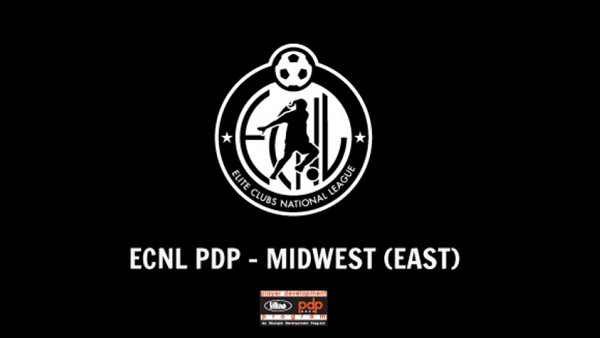 RICHMOND, VA (Via ECNL) –The rosters and schedule for the Elite Clubs National League (ECNL) Player Development Program event to be held in Mt. Pleasant, MI on Feb. 21, 2016, have been announced.  The event will be held at Central Michigan University's Indoor Athletic Complex (Turf Bay), with some of the best players from the following ECNL clubs in the Midwest: Indiana Fire, Internationals SC, Michigan Hawks, Ohio Elite SA, Ohio Premier, and Vardar.
For a full roster of the participating players, including team assignments and schedule for this event, click here.​
Player Development Programs (PDPs) are regionally-based identification and development programs within US Club Soccer's id2 Program with three primary goals: (i) provide topplayers within specified elite leagues with an opportunity to be identified and evaluated for higher levels of play; (ii) provide a high quality developmental experience; and (iii) recognize and reward individual performance and achievement.  PDPs are operated in conjunction with elite leagues sanctioned by US Club Soccer.
The ECNL PDP in Midwest (East) will include a training session and an 11 vs. 11 game. Top players from each ECNL PDP, along with other players scouted in ECNL competition throughout the year, will be considered for invitations to the ECNL / id2 National Training Camp in August.
Players are selected for the ECNL PDPs based on their scouted performance in ECNL competitions, and by objective recommendations from ECNL Directors across the country.  ECNL will be hosting eleven ECNL PDP events across the country over the next three months, providing an opportunity for top players in every ECNL club. There are no costs for participation in ECNL PDPs. The ECNL covers all staffing, facility rental and equipment costs for the ECNL PDPs. The only responsibility for participating players will be the cost of travel and accommodation (when necessary).
To view the full schedule of 2016 ECNL PDP events, click here.
SCHEDULE & TEAM ROSTERS  
2016 ECNL PDP – MIDWEST (EAST)  |  FEBRUARY 21, 2016
Team One
| | | | |
| --- | --- | --- | --- |
| Jersey # | Player Name | Position | Club |
| 62 | Bethany Kopel | GK | Michigan Hawks |
| 1 | Conner Huggins | D | Vardar |
| 2 | Alyssa Walker | M | Ohio Premier |
| 3 | Alyssa Baumbick | M | Internationals SC |
| 4 | Nikki Cox | F | Ohio Premier |
| 5 | Lauren Weimer | D | Ohio Elite |
| 6 | Jordan Brewster | F | Internationals |
| 7 | Grace Krygier | M | Michigan Hawks |
| 8 | Aubree Lewis | M | Ohio Premier |
| 9 | Kamryn Davis | M | Ohio Premier |
| 10 | Zoe Morse | D | Michigan Hawks |
| 11 | Christina Trickett | M | Internationals SC |
| 12 | Zoe Gaffney | M | Vardar |
| 13 | Lexxe Lipsey | F | Michigan Hawks |
| 14 | Sarah Mitchell | D | Michigan Hawks |
Team Two
| | | | |
| --- | --- | --- | --- |
| Jersey # | Player Name | Position | Club |
| 15 | Gabriala Jodzis | M | Vardar |
| 16 | Allison Klimkowski | D | Ohio Elite |
| 17 | Izzy Rodriguez | M | Michigan Hawks |
| 18 | Madison Wolfbauer | F | Michigan Hawks |
| 19 | Mikayla Hampton | F | Ohio Elite |
| 20 | Rachel Rasins | F | Vardar |
| 21 | Loren Sfecik | M | Internationals SC |
| 22 | Kimberly Ito | M | Internationals SC |
| 23 | Charlier Kern | D | Ohio Premier |
| 24 | Katie Soderstrom | F | Indiana Fire |
| 25 | Natalie Winter | D | Michigan Hawks |
| 26 | Abigail Zoeller | M | Ohio Elite |
| 27 | Blair Cowan | M | Ohio Premier |
Team Three
| | | | |
| --- | --- | --- | --- |
| Jersey # | Player Name | Position | Club |
| 28 | Madison Burrier | M | Ohio Premier |
| 29 | Madi Moroi | F | Ohio Premier |
| 30 | Maria Kaschalk | D | Vardar |
| 31 | Kristina Lynch | F | Indiana Fire |
| 32 | Sydney Dawson | M | Internationals SC |
| 33 | Mya Fregoli | M | Vardar |
| 34 | Paige Knorr | D | Ohio Elite |
| 35 | Taylor Crowe | M | Indiana Fire |
| 36 | Diane Senkowski | D | Michigan Hawks |
| 37 | Emma Tokuyama | F | Michigan Hawks |
| 38 | Ravin Alexander | F | Ohio Elite |
| 39 | Ashley Zugay | D | Vardar |
| 40 | Natalie Viggiano | M | Michigan Hawks |
Team Four
| | | | |
| --- | --- | --- | --- |
| Jersey # | Player Name | Position | Club |
| 63 | Gabrielle Kouzelos | GK | Internationals SC |
| 41 | Ryanne Brown | F | Indiana Fire |
| 42 | Grace Bahr | M | Internationals SC |
| 43 | Lauren Rice | F | Indiana Fire |
| 44 | Brooke VanDyck | M | Indiana Fire |
| 45 | Remington Eades | F | Ohio Premier |
| 46 | Shannon Casey | M | Vardar |
| 47 | Sam Kleedtke | D | Michigan Hawks |
| 48 | Abby Steiner | D | Ohio Premier |
| 49 | Alivia Milesky | M | Ohio Premier |
| 50 | Sarah Clark | D | Michigan Hawks |
| 51 | Hope VanWagner | M | Indiana Fire |