ECNL National Finals conclude with U14-U17 title matches in Richmond, Va.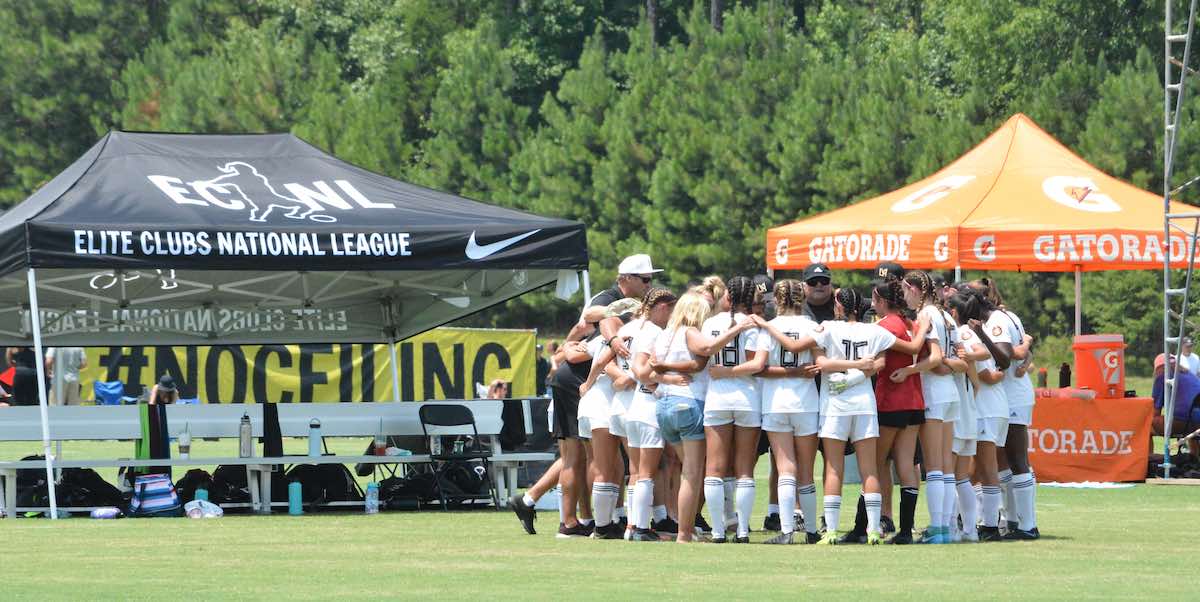 Players Development Academy (PDA) won the ECNL's U-14 and U-17 Champions League titles on Saturday at the ECNL National Finals, joining the club's U-13 squad as 2018-2019 national champions.
While PDA added their 2nd and 3rd ECNL Champions League trophies, So Cal Blues claimed their club's second of the season on Saturday, in the U-16 age group. The So Cal U-16s joined the club's U-18/19 squad as reigning national champs.
Saturday's ECNL National Finals action at West Creek Complex in Richmond, Va. also saw Georgia's Gwinnett Soccer Academy (GSA) win it all in the U-15 age group, shutting out PDA Blue 2-0.
[+Players That Impressed: 2019 ECNL National Finals]
See below for a full listing of ECNL Champions League title winners for the 2018-2019 season, along with recaps from Saturday's U14-U17 National Finals:
U-13: PDA Blue (NJ)
U-14: PDA Blue (NJ)
U-15: Gwinnett Soccer Academy (GA)
U-16: So Cal Blues (CA)
U-17: PDA Blue (NJ)
U-18/19: So Cal Blues (CA)
ECNL National Finals U14-U17 Recaps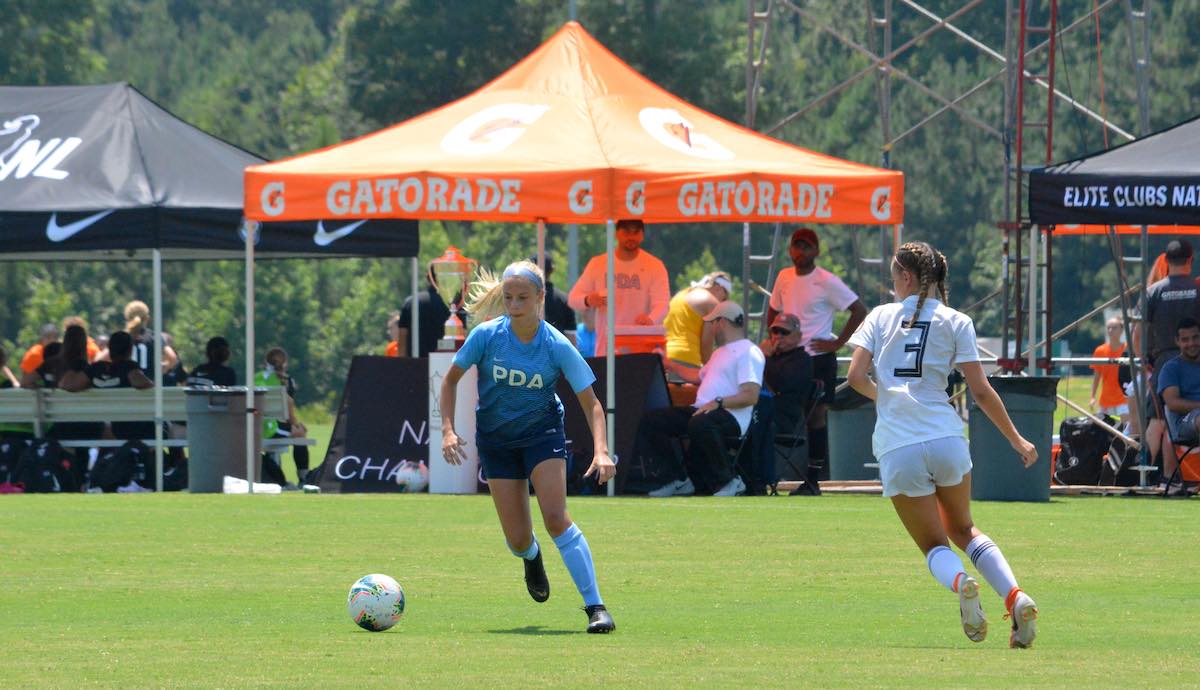 U-14: PDA Blue 3, LAFC Slammers 2
In the last timeslot of the day, PDA and LAFC Slammers put on a 2nd half spectacle for one of the most dramatic finishes of the ECNL postseason.
PDA took a 2-0 lead into halftime thanks to a 1st half brace from Alexandra Barry, as she finished off a pair of great feeds from Kennedy Garcia and Alyssa Martinez.
LAFC opened the 2nd half with clear urgency, winning the possession battle and earning numerous set pieces, before they finally broke through in the 58th minute.
Kristine Ramirez Orozco put LAFC on the scoreboard with a sliding finish from point blank range, as she found herself in perfect position for a rebound off a deflected save by PDA's keeper.
Trailing 2-1, LAFC found the equalizer in the 70th minute, on a sensational strike from 10 yards outside the box by Maribel Flores. The long-distance blast from Flores was struck perfectly, tucking just under the crossbar into the upper 90.
Tied at 2-2 with overtime looming, PDA's attack came through with a championship-winning play. Barry completed her hat trick by scoring the game-winner on a leaping volley, to finish off a sliding cross sent in by Olivia Marrone.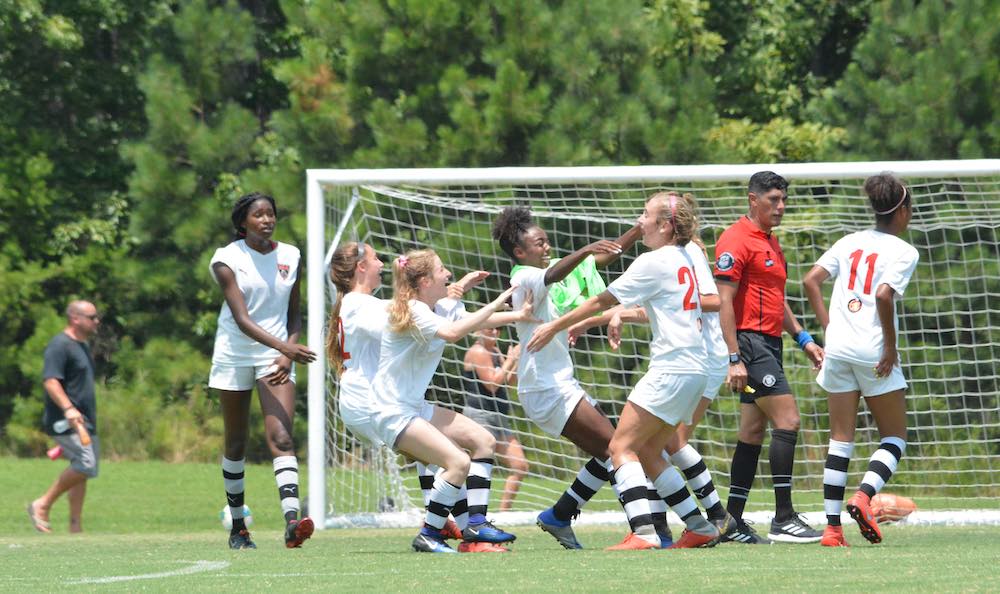 U-15: GSA 2, PDA Blue 0
GSA allowed only 12 goals during their 22-game campaign in the Southeast Conference this season, and they continued to show throughout the postseason why they are one of the most dominant defensive sides in the country.
Saturday's national title match proved to be GSA's grand finale, as they notched a 2-0 clean sheet victory over a tough PDA side. Goalkeeper Katie Oakley was outstanding between the posts for GSA, making a couple challenging saves in each half.
Oakley was assisted by GSA's strong back line and team-wide defensive pressure, particularly in the midfield. Njeri Butts played a key role from her right back position, covering extensive ground up-and-down the field.
Forward Bailey Wagenknecht sparked GSA's offense, scoring what proved to be the game-winning goal on a breakaway in the opening minutes of the 1st half.
In the 2nd half, Wagenknecht helped GSA add an insurance goal when she made another dangerous run into the box, before being taken down and awarded a penalty kick. Ashlyn Fernandez converted the PK, giving GSA breathing room as they cruised to the 2-0 win.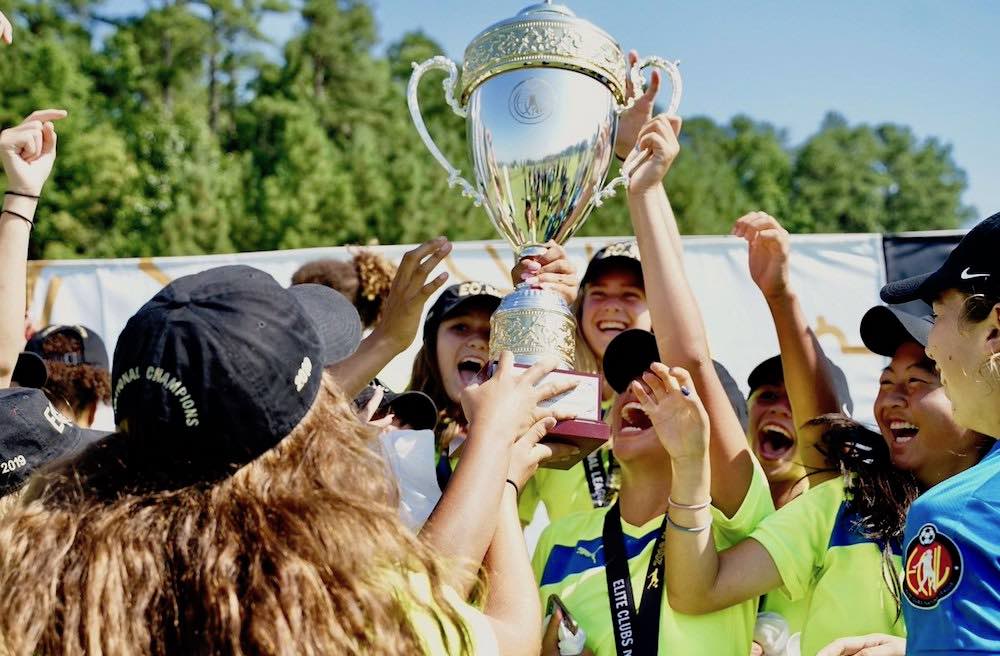 U-16: So Cal Blues 1, Michigan Hawks 0
Behind an outstanding team-wide defensive effort and strong possession play, So Cal Blues outlasted Michigan Hawks 1-0 to win the U-16 national title.
Alyssa Mendoza scored the game-winning goal midway through the 2nd half, finding the net on a crafty shot from distance. Sophia Aragon provided the assist on the play, linking up with Mendoza in open space along the right side of the attacking third.
Goalkeepers Kira Ybarra and Mia Ranson split the game in net, combining with the So Cal back line for the clean sheet. Center backs Khalia Gathright and Shaye Douglas anchored the defense, while U.S. U-17 National Team midfielder Annie Karich and the Blues' offense controlled possession for long portions of the match.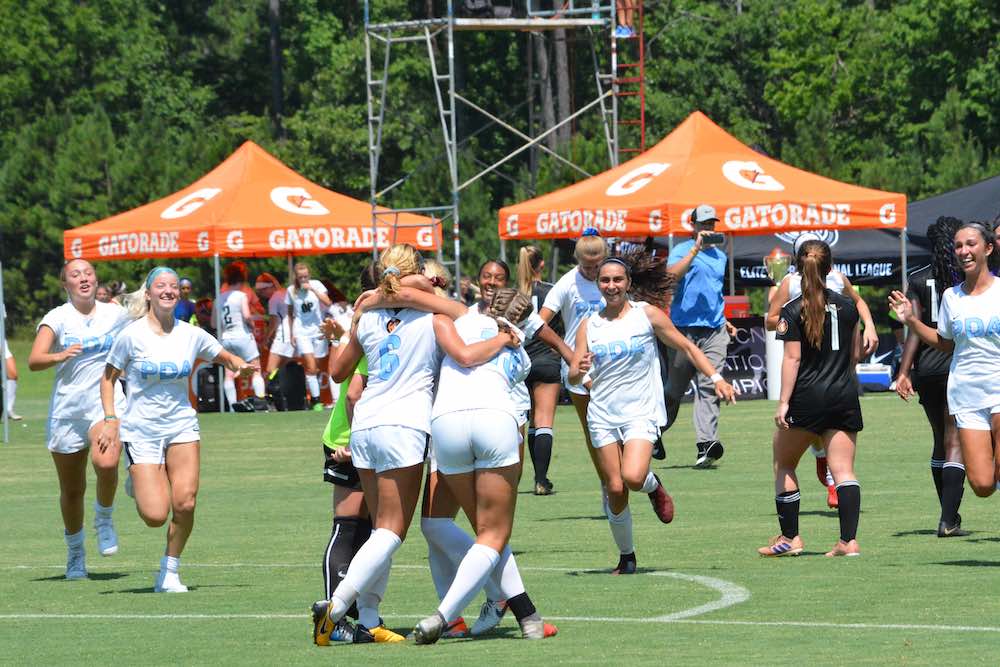 U-17: PDA Blue 4, LAFC Slammers 1
A three-goal outburst in the opening half set the tone for a dominant 4-1 victory by PDA's U-17 squad in their national championship coronation.
Kylie Daigle put PDA on top early against LAFC Slammers, as she began the scoring with a long-range rocket just a few minutes in.
Corinna Zullo assisted Daigle on PDA's next goal, working the ball from the right sideline toward the center of the field following a throw-in. She sent a long pass over to Daigle who was in prime position outside the top of the box. Daigle juked her defender and placed a shot into the bottom corner of the net, putting her side up 2-0.
Daigle completed her first half hat trick in the 33rd minute, when she out-jumped the LAFC defense and powered home an athletic header, on a corner kick sent in by Natalie Nevins.
LAFC pulled one back just before halftime, when Grace Watkins finished off a point blank opportunity after recovering a loose ball in front of the post.
Despite a 2nd half push by Watkins and the LAFC offense, the PDA back line held them scoreless the rest of the match, thanks in large part due to a dominant performance by the center back duo of Emily Royson and Sydney Urban.
PDA padded their lead with a penalty kick earned by Zullo and converted by Daigle, as she finished her season with an electrifying 4-goal performance.