ECNL Girls alumni comprise 70 percent of players in Women's College Cup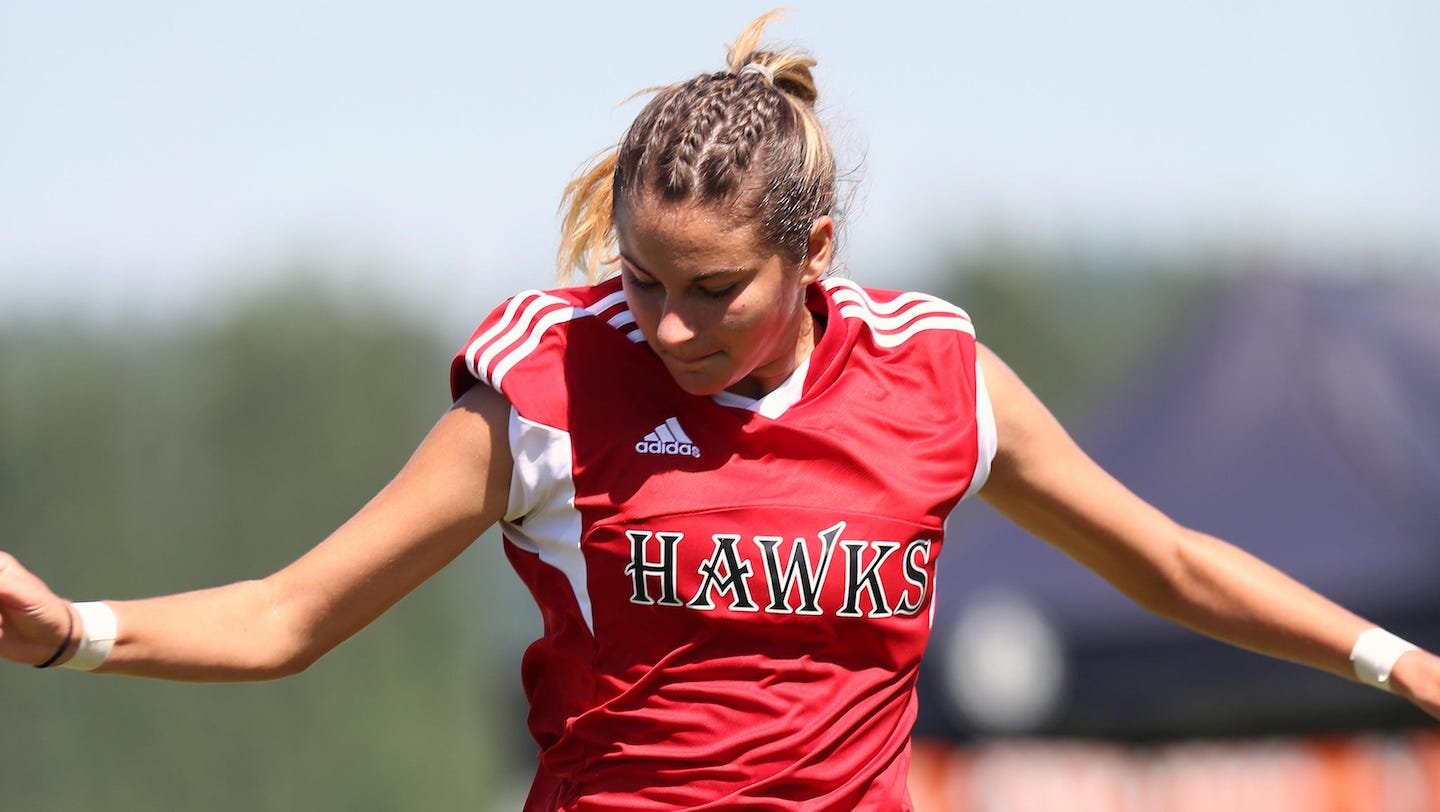 RICHMOND, VA – The NCAA Division I Women's College Cup is currently taking place in Cary, North Carolina and this year, much like every other season, it is brimming with ECNL alumni.
In total, the four teams competing – Florida State, North Carolina, Santa Clara and Virginia – combine for 80 ECNL alumni among the four rosters, making up 70 percent of all players in the Final Four.
Over the past five seasons, the ECNL has averaged more than 75 ECNL alumni each year competing in the Final Four, and this year the ECNL cleared that benchmark with room to spare.
"We are incredibly proud of all of the talented ECNL alumni who continue to lead their teams to the pinnacle of college soccer, and congratulate them and their college programs," said ECNL Girls Commissioner Jen Winnagle. "Beyond the great work this season, this accomplishment is also a testament to the preparation the players received in their youth clubs, the challenge of a league environment designed to continuously push the nation's best athletes, and to the players' own incredible work and dedication to improve for years. We are proud to have been a part of their journey, celebrate their contribution to the sport and look forward to watching some phenomenal play this weekend."
Below is a brief look at each team and the ECNL alums rostered, along with quick facts about each program.
Florida State
56 percent of rostered players are ECNL alumni
Top seeded team in College Cup in 2020
Reaches 11th College Cup, tied for third-most in NCAA history
Two previous College Cup championships (2014, 2018), both of which included ECNL alumni
| | |
| --- | --- |
| Malia Berkley (Michigan Hawks) | Emily Madril (FC Nova) |
| Brooke Bollinger (Orlando City Youth) | Kristen McFarland (Ohio Premier) |
| Jody Brown (Florida Krush) | Gianna Mitchell (FC Stars) |
| Alyssa Conarton (West Florida Flames) | Jenna Nighswonger (Slammers FC) |
| Lauren Flynn (McLean YSA) | Kirsten Pavlisko (Florida Elite SA) |
| Jaelin Howell (Real Colorado) | Cristina Roque (Florida Krush) |
| Kristina Lynch (Indiana Fire Juniors) | Kaitlyn Zipay (Florida Krush) |
North Carolina
74.2 percent of rostered players are ECNL alumni
Reaches 30th College Cup, the most in women's soccer history
Winningest program in women's college history with 21 national championships
Last won College Cup in 2012, starting a streak of eight consecutive seasons with ECNL alumni on the championship team
| | |
| --- | --- |
| Mollie Baker (Arizona Arsenal) | Mary Elliott McCabe (Charlotte SA) |
| Brooke Bingham (NC Fusion) | Libby Moore (Wilmington Hammerheads) |
| Isabel Cox (NC Fusion) | Avery Patterson (Florida Elite SA) |
| Claudia Dickey (Charlotte SA) | Maggie Pierce (CASL) |
| Talia Dellaperuta (Tophat SC) | Brianna Pinto (CASL) |
| Julia Dorsey (Bethesda SC) | Anna Priborkina (PDA) |
| Rachael Dowart (Penn Fusion) | Madi Pry (NC Fusion) |
| Aleigh Gambone (McLean YSA) | Riley Quinlan (NCFC Youth) |
| Kai Hayes (Jacksonville FC ) | Laura Sparling (CASL) |
| Marz Josephson (CASL) | Alexis Strickland (CASL) |
| Cameron Keating (NC Fusion) | Paige Tolentino (CASL) |
| Hallie Klanke (Sporting Blue Valley) | |
Santa Clara
69.2 percent of rostered players are ECNL alumni
Seeded 11th in College Cup in 2020
Reaches 11th College Cup, tied for third-most in NCAA history, and its first since 2004
Won the College Cup in 2001
| | |
| --- | --- |
| Rachel Baston (So Cal Blues) | Sally Menti (Crossfire Premier) |
| Marisa Bubnis (So Cal Blues) | Lucy Mitchell (Concorde Fire) |
| Izzy D'Aquilla (So Cal Blues) | Diana Morales (De Anza Force) |
| Julie Doyle (San Diego Surf) | Marlee Nicolos (San Juan SC) |
| Kylie Foutch (Crossfire Premier) | Emma Reeves (San Diego Surf) |
| Ellie Glenn (Tophat SC) | Skylar Smith (So Cal Blues) |
| Sofia Jones (MVLA) | Nicole Sweeney (MVLA) |
| Alex Loera (Colorado Storm) | Kelsey Turnbow (SC Del Sol) |
| Vanessa Mejia (Pleasanton Rage) | Eden White (FC Portland) |
Virginia
80.6 percent of rostered players are ECNL alumni
Only non-seeded team to reach 2020 College Cup
Reaches fourth College Cup, and first since 2014
Searching for first-ever College Cup championship
| | |
| --- | --- |
| McKenna Angotti (De Anza Force) | Lacey McCormack (Bethesda SC) |
| Sarah Clark (Michigan Hawks) | Diana Ordonez (FC Dallas) |
| Claire Constant (McLean YSA) | Laney Rouse (CASL) |
| Emma Dawson (FC Dallas) | Laughlin Ryan (Charlotte SA) |
| Jansen Eichenlaub (Vardar) | Ashlynn Serepca (Carolina Rapids) |
| Maggie Fralin (Richmond United) | Lizzy Sieracki (Concorde Fire) |
| Peyton Goldthwaite (CASL) | Alexa Spaanstra (Michigan Hawks) |
| Alissa Gorzak (Eclipse Select SC) | Talia Staude (Tophat SC) |
| Lauren Hinton (DKSC) | Alexis Theoret (FC Virginia) |
| Laurel Ivory (West Florida Flames) | Taryn Torres (FC Dallas) |
| Brianna Jablonowski (Albertson Fury) | Cayla White (McLean YSA) |
| Rebecca Jarrett (World Class FC) | Sydney Zandi (Penn Fusion) |
| Kira Maguire (Boston Breakers) | |