ECNL Finals: De Anza Force, San Diego Surf turn heads in epic U-14 semifinal
By Charles Boehm
MIDLOTHIAN, Va. – It's not unusual for casual observers to be drawn in by a quality match at a major event like the Elite Clubs National League's Finals week, currently taking place in the Richmond, Va. area.
But when one of those observers is the women's technical director for U.S. Soccer, something special is happening.
April Heinrichs was on site at the River City Sportsplex, the synthetic-turf fields complex where Sunday's matches were relocated due to heavy rains over the past week, to scout talent from the 1996 birth year (mainly for the U.S. U-18 squad) for the national-team program.
Yet she – like dozens of others, including scouts from top NCAA Division I programs – was lured in by the gripping U-14 national semifinal clash between California sides De Anza Force (Bay Area) and San Diego Surf, an instant classic which went into overtime thanks to an injury-time equalizer by Force after Surf led 2-1 for much of the second half.
"Two really good teams," Heinrichs told SoccerWire.com. "That's good soccer. Look how many people are watching that game, just because the soccer's good. The youngest ones here are inspiring the rest of us."
Surf looked more likely to win for much of the afternoon. Brazilian scoring phenom Catarina Macário continued her amazing exploits, scoring both their goals to run her Finals week total to a whopping 10.
"She scored five goals in the first game, in the round of 16, she scored three goals in the quarterfinals and she scored two goals today," said Surf coach Chris Lemay. "She's got 10 goals in three games, playing against the best teams in the country, so she's very special."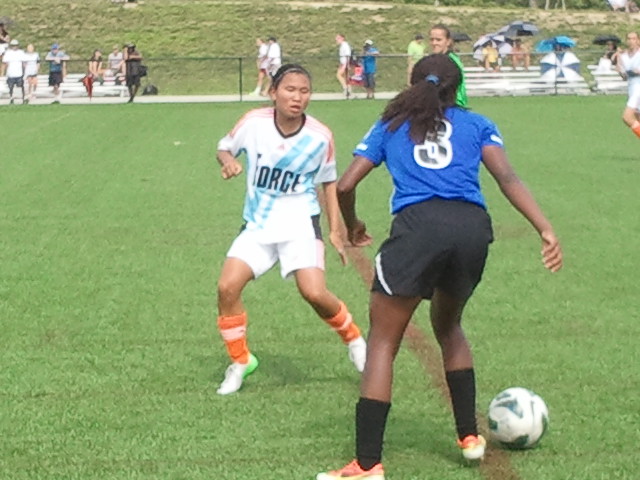 Quick, smart and seemingly capable of beating defenders at will with her dribbling skills, Macário looked certain to add to her total but was denied by Force goalkeeper Alyssa Fagel on a few important occasions. Meanwhile De Anza struggled to finish the many chances they created during regulation time and were moments away from a crushing defeat.
But Fagel's work set the stage for her team's late, late fightback and when overtime was required, De Anza found another gear, grabbing an early lead and taking a chokehold on possession that forced the tiring Surf to chase.
As their San Diego rivals took risks in search of an equalizer, Force's fluid ball movement carved them open for two more goals to run the final score to a deceptive 5-2. Luca Deza struck twice, while Amanda Tuazon provided steady, intelligent distribution as Force's pivot at the base of midfield.
"That's the concept of play that we have been trying to teach these girls since they were little," said De Anza's Barcelona-bred coach (and Luca's father) Andres Deza afterwards. "So I was very impressed by the fact that they kept poised until the last second. They never rushed, they never booted the ball, even though we were 2-1 down."
Lemay, who like his players was left shocked and distraught by the game's sudden turnabout, expressed his frustration with the more than five minutes of injury time given by the referee. But he also paid tribute to Surf's incipient upstate rivals, with the teams having split their two regular-season meetings, which were also high-quality affairs.
"I'm super-proud. Obviously when you're up 2-1 in the 45th minute and you play 40-minute [halves], it's difficult to swallow that you give up a goal to have it go into overtime," said Lemay, who is also an assistant coach at San Diego State. "[De Anza] was unbelievable, they're very well organized and we knew it was going to a battle – and it certainly turned out to be one. It's just that we ended up on the wrong side of it.
"That's the level we want to play at, and that's the level of exposure that they need to get, because these kids are now freshmen, [some] going into sophomore year of high school – having college coaches here is good."
The ECNL has gradually ramped up its  U-14 programming over the years and the level of play on display was outstanding on Sunday, as the SoCal-NorCal battle played out alongside a similarly impressive match on the other side of the bracket between PDA (N.J.) and FC Stars of Massachusetts.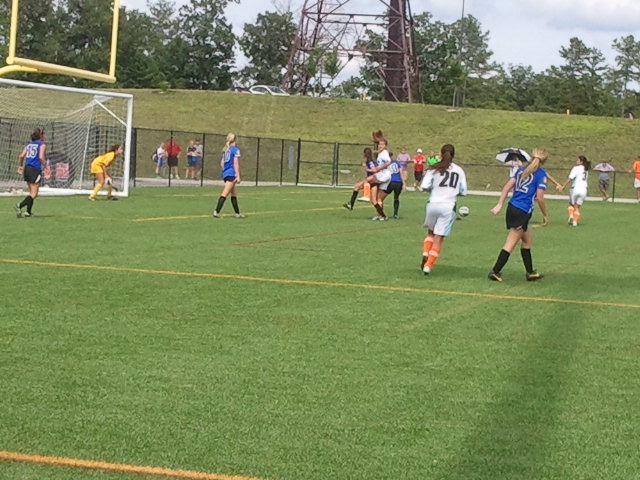 On Monday Deza and his team will meet PDA – 3-0 winners over FC Stars – for the ECNL's top prize. It's a hard-earned moment on a nationwide stage that grows more brightly lit with each passing year, thanks to the recruiting battles and early college commitments which have made elite U-14 and U-15 competitions more important than ever.
"They've always been a good group – I think now is when it is starting to matter for them, at many levels," said Deza of the girls he has coached since their U-9 days. "And for me, it's very rewarding to see a team that tries to play the game in a certain way that we the coaching staff believe in very fondly, that prevails.
"Sometimes, unfortunately, many people look at the results, not how the team plays or doesn't play. And I think being able to play the way we played today, and be able to win and be in the finals of an ECNL event like this, is huge."