ECNL Boys 2023 Texas National Event Day 3 Recap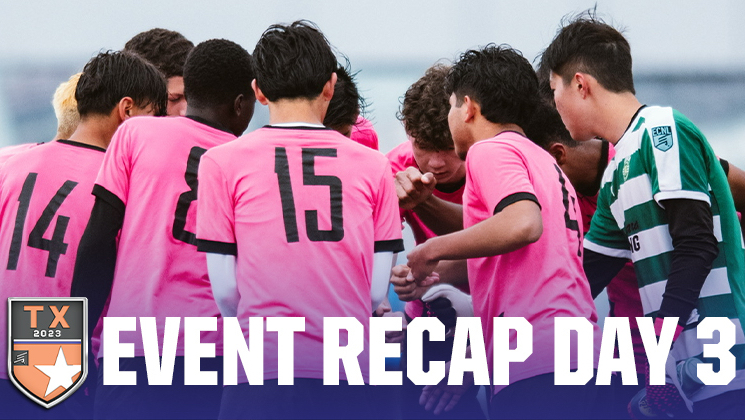 The ECNL Boys Texas National Event concluded Sunday with the third and final day of competition. See below for a rundown of a few of the day's top matchups.
ECNL Texas Recaps: Day 1 | Day 2
(Players That Impressed)
Day 3 Recaps
Phoenix Rising vs De Anza Force 2-2
In Sunday's morning action at ECNL Texas, Phoenix Rising rallied back from two goals down to earn a 2-2 draw against De Anza Force in the 07 age group.
After a very defensive first half, things really opened up with the two sides combining to score four second half goals.
The first two goals came from De Anza Force's Langdon Huynh who scored right out of halftime in the 41st minute and then added on a second to double the De Anza Force lead in the 51st minute of the match.
In the 57th minute, Phoenix Rising began their comeback and cut the lead down to 2-1, before adding on the game tying goal off a corner kick that was put in by Jonathan Manley in the 66th minute.
Both sides pushed for the game winner in the closing minutes, but neither side could find the third goal to win the game and it finished 2-2.
"We're proud of the boys," said Phoenix Rising Head Coach William Malott. "De Anza was excellent. They put us under a lot of pressure and made it really difficult for us. Their pressing structure, specifically with the two nines up top, made it really difficult for our center backs to come up with solutions. So, it's always nice when you have to go against a puzzle that makes things more difficult for you."
Rise SC vs Marin FC 2-1
Also during Sunday's ECNL Texas action, Rise SC defeated Marin FC 2-1 in the 07 age group, helped in large part to a second half goal off a set piece.
Rise SC took a 1-0 lead into the half following a strong first half performance on the defensive side to limit Marin FC's scoring opportunities.
In the second half, Rise SC took advantage of a set piece opportunity from a dangerous spot on the field. Alex Hart was able to find himself on the other end of a great cross from the free kick and headed it home to double the Rise SC.
Marin FC cut the lead in half with about ten minutes to play on a goal from Donovan Topete Alvarado, but the Rise SC defense managed to see out the final ten minutes of the match and come away with the 2-1 victory.
"The performance today I thought was very good," said Rise SC Boys Director Tarik Guendouzi. "It was probably their best game actually."
Guendouzi also added that he was extremely pleased with the defensive effort the team put forward throughout the game. "Defensively we did quite well, because they had the wind and we dealt with the aerial balls."