ECNL Best XI announced following conclusion of National Training Camp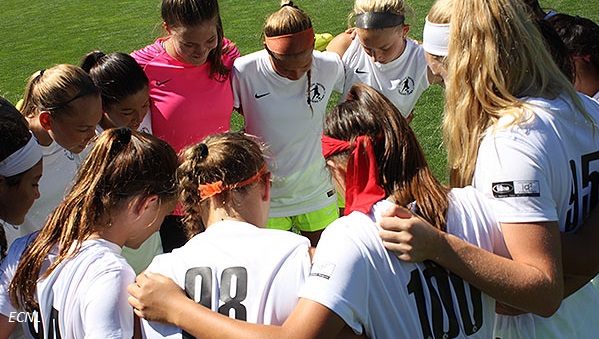 PORTLAND, OR (July 31, 2017) – The 2017 ECNL National Training Camp took place at the University of Portland in Portland, Oregon from July 27-31, 2017, with over 90 of the best players from across the country born in 2001, 2000, and 1999 coming together to train and compete under the guidance of some of the best coaches in youth soccer.
With a combination of top level competition, impeccable facilities, and an incredible atmosphere of excitement, the 2017 ECNL National Training Camp was, once again, an incomparable experience for the players.  For the third consecutive year, the US Club Soccer id2 girls National Selection Team was also a part of the camp, this year consisting of players born in 2002 based on their performances at id2 camps throughout the year.
The 2017 ECNL National Training Camp featured three training sessions and two 11v11 matches for the players.  The coaching emphasis in all sessions was on concepts and cues for progressing through the thirds of the field, and decision-making on when, how and why to break lines and penetrate.  A full Technical Report of key concepts and themes from the camp will be provided to ECNL clubs and coaches across the country.  The camp was held primarily at the fantastic facilities of the University of Portland, with the concluding day held at Nike World Headquarters.
"Every year this camp has a big impact not only on the players in terms of their learning and aspirations, but also on the coaches in terms of sharing new ideas and concepts, and discussing different training methodologies and topics in the game," said ECNL President Christian Lavers.  "This event has been inspiring and challenging players for eight years, and we will be making some great new additions to the ECNL Player Development Program this year as we continue to raise the standard of play across the country, invest in development and growth of top players, and provide opportunity for youth club coaches to learn, share ideas, and innovate in the game."
On the final day of camp, the top 11 performers of the event were named to the ECNL Best XI based on the quality of their play throughout the event.
The 2017 ECNL Best XI: 
(GK) Meaghan McClelland – PDA
(D) Emily Crocco – Richmond United
(D) Caitlyn Haislip – Eclipse SC
(D) Taylor Huff – Internationals SC
(D) Sydny Nasello – Tampa Bay United
(M) Eleanor Glenn – Tophat SC
(M) Leah Chancey – Solar Chelsea SC
(M) Julianne Leskauskas – PDA
(M) Natalie Viggiano – Michigan Hawks
(F) Ravin Alexander – Ohio Elite
(F) Olyvia Dowell – Sting Dallas