ECNL announces Overall Club Top 10 Rankings for 2014-2015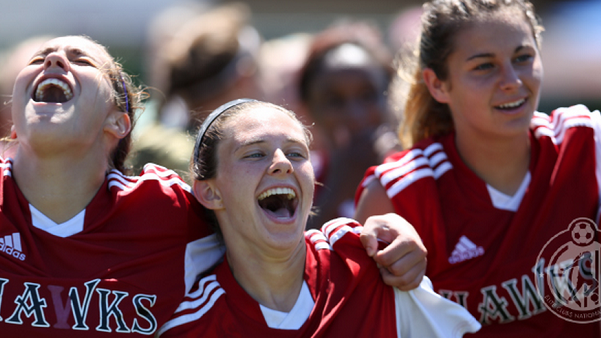 Richmond, VA (Via ECNL) – The ECNL Overall Club Championship is the most coveted award in the ECNL, as it recognizes consistent competitive excellence across every age group in the club. The 2014-15 season has seen a new winner of the award, but a club that has been consistently in the top 10 every year of the ECNL – Michigan Hawks.
Previous winners of the ECNL Overall Club Championship have been PDA (NJ) (2013, 2014), Slammers (CA) (2012), and Eclipse Select (IL) (2011).
The Michigan Hawks have been in the top 10 of the ECNL club standings every year, and every year have multiple teams challenging for ECNL National Championships.  This year, the Michigan Hawks U14, U15 and U16 each teams finished first in the Midwest Conference, and the Hawks U17 and U18 teams both finished second.  The Michigan Hawks ECNL teams had a combined conference record of (56-8-16), with the ECNL U14 team going undefeated in conference play. While playing in one of the most difficult conferences in the country, the Hawks' 2014-15 dominating performances are even more impressive.
"We are thrilled to have won the ECNL Overall Club Championship this year." said Doug Landefeld, Director of Coaching. "The Michigan Hawks set out to be the top club in the country every year, and to have accomplished this goal is surreal.  Thank you to all of the parents, coaches, support staff and especially to our players in the Michigan Wolves and Hawks Soccer Club for everything you do to make this possible. Thank you for an incredible year!"
Below is the Overall Club Top 10 Ranking for the 2014-2015 season.
2015 Overall Club Championship – Top 10
Michigan Hawks

Crossfire Premier

West Coast FC

So Cal Blues

Slammers FC

FC Stars of Mass

San Diego Surf

Real Colorado

PDA

Dallas Texans
ECNL Crowns 2015 Champions League National Champions
Congratulations to the teams that won the 2015 ECNL Champions League National Finals! The ECNL Champions League is the most difficult and demanding female youth soccer competition in the world, requiring consistent performance at the highest levels throughout the entire year, against the most competitive teams in the United States.  Teams that win the ECNL Champions League have proven over 12 months to be the best teams in American female youth soccer.
U14 – Slammers FC

U15 – So Cal Blues

U16 – West Coast FC

U17 – PDA

U18 – Michigan Hawks

U23 – FC Virginia
The ECNL also congratulates the 2015 ECNL North American Cup winners, crowned in Seattle, WA:
U15 – Dallas Sting (TX)

U16 – Minnesota Thunder (MN)

U17 – Minnesota Thunder (MN)